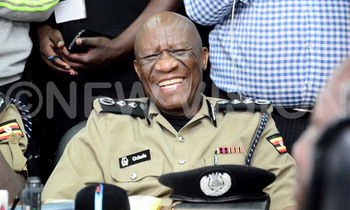 KAMPALA - Opposition legislators have asked the Inspector General of Police Okoth Ochola to resign over police suppressing activities of opposition politicians.

The opposition legislators who included Francis Mwijuckye (Buhweju County), Joseph Ssewungu (Kalungu West), Fred Turyamuheza (Rujumbura County), and Roland Kaginda (Rukungiri County) told journalists on Tuesday at Parliament that Uganda Police has greatly become politically partisan by always disrupting activities of opposition leaders.

The MPs premised their remarks on the recent crackdown on opposition meetings in Mbarara, Tororo, and Jinja.

"When Ochola had just been appointed, he promised us in the parliament appointments committee that he wouldn't be politically partisan and that he wouldn't allow the violation of the rights of opposition leaders. Even the Speaker of Parliament cautioned him against it but the violations have continued," said Ssewungu.

The legislators admonished the Uganda Human Rights Commission and the Parliament Human Rights Committee led by Mitooma MP Jova Kamateeka for doing nothing when people's rights are being violated.

Ssewungu asked the IGP Okoth Ochola and the Uganda Human Rights boss Med Kaggwa to resign for failing to live to the expectations of Ugandans.

Reading section 4(2)b of the Public Order Management Act, Mwijuckye argued that political party activities are not among the categories of public meetings that have to be authorised by the police.