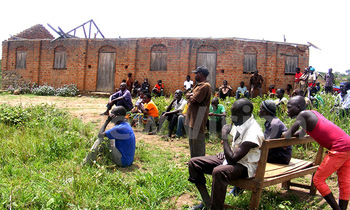 TRAGEDY

ARUA - Christians of Kanan Anglican church in Lazebu parish, Logiri sub-county are forced to pray in the open following a hailstorm that blew off the church roof in late January.

Three months down the road, over 200 Christians who gather at the Anglican Church still pray in the open.

When it rains, the church service is stopped and Christians are dispersed to go home as there is no nearby shade to take shelter.

The church properties including tables, chairs, table clothes, were all destroyed in the heavy storm.
Nixon Agenonga, the church teacher told New Vision on Tuesday, that the biggest challenge is the Christians finding it difficult to urgently raise funds to roof the church.

From the time the church roof was blown off, only 150,000/= has been raised from the Christians.

Currently, the church needs about sh60m to restore it to the previous state. Gloria Adania, an official working with state house who resides in Arivu sub-county in Vurra gave a support of sh200,000 towards procuring timber to start roofing the church.

Adania appealed to the Christians to join hands and restore the church back to its previous state.

Kanan church is located in Lazebu parish, Logiri sub-county in Arua district, but administratively it is managed by Nebbi diocese due to its closeness.

The church teacher appeals to the dioceses officials to come to their aid and improve the state of the church.

Godfrey Nasser the diocesan secretary for Madi and West Nile diocese says he will consult the archdeacon of Logiri Archdeaconry who is close to the church and a decision will be taken to support the Christians.