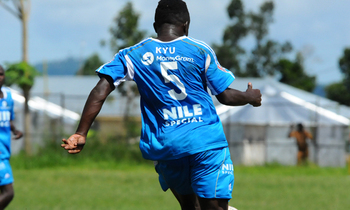 Pepsi University Football League

Results

Kyambogo 1 Kumi 0

Busitema 1 KIU 1

Current Pepsi University Football League holders, Kyambogo became the third team to book their place in this year's knockout phase following a 1-0 victory over Kumi on Saturday.

Mwesigwa Emma scored the only goal of the game as the champions will now seek to take home a second consecutive crown.

The result comes a few days after Kyambogo lost their two year unbeaten run in a 2-0 loss at KIU and the holders now join KIU and MUBS in the knock out stage.

Meanwhile, Busitema came from behind to hold KIU to a 1-1 draw on Sunday afternoon.

Tijjan Sadiq put the visitors a goal up in the 30th minute before it was cancelled out on the hour mark by the hosts' Ocen Samuel.

Action in the UFL will continue tomorrow when Bishop Stuart host YMCA.