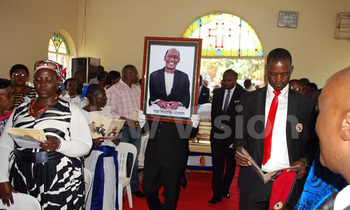 FARE THEE WELL
KAMPALA - Hundreds of mourners gathered at St. Luke Nkumba Church of Uganda today to attend the funeral service of Mzee John Mulumba Luswata, father to Her Royal Highness Nabagereka of Buganda, Sylvia Nagginda.
This is the second service for the late, as the first one was held on Monday at St. Paul's Cathedral Namirembe.
In attendance, is the family of the late Luswata, officials from Buganda Kingdom, the central government, politicians, members of Mother's and Father's Unions, Nkumba residents and others.
Mzee Luswata is expected to be laid to rest today at 4pm, at his ancestor's home in Nkumba about 3kms from St. Luke Church.
May his soul rest in peace.