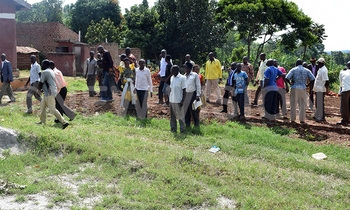 HEALTH

KAGADI - Although the world is working towards achieving the sustainable development goals by 2030, some parts of the country have a long journey to match world standards as mothers have to walk for over 10kms to access health care in Kagadi district.

The third sustainable development goal (SDGs) looks at good health and well-being and this can hardly be attained if mothers continue delivering in the hands of unskilled traditional birth attendants (TBAs) in this era of HIV.

Residents from 33 villages in Kagadi Sub County have resorted to contribute funds and materials for the construction of a health centre after waiting for the Government's support for over 30 years.

The most affected people in the area are women who walk for over 10kms to access health care either from Kagadi hospital or Isunga health centre III which is very costly and unreliable.

Rovinsa Nsimenta, a mother from Busirabo village told New Vision that sometimes mothers foot to Kagadi hospital and by the time they reach, they find that the health workers have already stopped working.

Nsimenta said one day she went to Isunga health centre III for immunization and arrived at around 1:00 pm. However, she was told that the exercise had ended and was asked to wait until the following day.

"We mothers are suffering to access health care, especially seeking antenatal services because when you use a boda-boda, the only means of transport available, you are charged sh10,000 one way yet we cannot afford such expenses as rural women," said Nsimenta.

Orupah Ithungu, a mother of four from Kanyangoma village said that they have to part with at least sh25, 000 to go for health services in Kagadi, which is very costly for the locals.

Ithungu who doubles as parish councillor for Kanyangoma in Kagadi Sub County said sometimes they forego immunization and other antenatal services when they have no money to meet such transport costs.
Sylvia Muganyizi, chairperson women council Kagadi Sub County noted that most HIV positive people cannot access ARVs because of the long distance from the village to Kagadi hospital. This has led to a serious setback in viral suppression.
"At times we forego immunization and antenatal when we don't have money and our husbands do not have the money to always facilitate us," said Ithungu.

Augustine Kabanaku, the chairman LCI Kenga central noted that since 1988, leaders have been promising to construct a health centre in the area in vain.
Damiano Kato, the Chairman construction committee for the health centre asked the locals to contribute towards the construction.
"We should help ourselves because we have waited for long for the government but no progress has been realised. Mothers are delivering from the village because of the long distances to the health facilities," Kato said.

The area population is over 30, 000.

Leaders intervene

The Buyaga East Member of Parliament (MP) Eric Musana, with support from Janepher Mbabazi, the Kagadi district woman MP joined by four others from different constituencies to support the community plan to construct a health centre III.

Speaking during a fundraising drive, Musana noted that although it's the responsibility of government to construct health centres, as leaders, when the community breeds an idea, they ought to support it.

"We have to support the community's initiatives, where the government has delayed delivering. Service must be demand driven so that government can come in and fulfil its obligation," he said.

Musana who contributed sh5m towards the construction said that the people should continue working hard to improve on their household incomes so that they can meet their needs.

Janepher Mbabazi asked the people to start routine medical check-ups instead of waiting for the time when they fall sick.

Mbabazi asked the people to test for Hepatitis B virus, which very dangerous and kills faster than HIV/AIDS.

She said when diagnosed early, many illnesses can be treated instead of waiting for the advanced stages where treatment becomes impossible and people end up dying of treatable diseases.

"You need to invest in your health because life is expensive," said Mbabazi.

She contributed 20 bags of cement towards the construction of the health centre.

Other MPs who contributed sh500, 000 each were Jackson Kafuuzi (Kyaka South County), Pius Wakaba ( Bugahya County), Lawrence Akugizibwe (Mwenge North), and Onesmas Twinamatsiko( Bugangaizi East).

Kafuuzi asked the people of Kagadi to desist from politics or tribalism and work towards the development of their area.