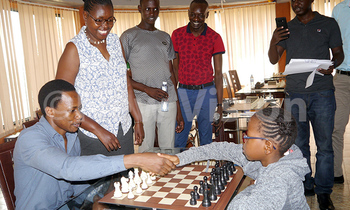 SPORTS | CHESS
Lighthouse Uganda Open Chess Championship

Venue: Xanadu Hotel, Nakasero

Top 10 after round-two;

Patrick Kawuma 2 points

Haruna Nsubuga 2

Simon Gonza 2

Rajab Kamoga 2

Micheal Mawanda 2

Paul Katula Frobisha 2

Mach Ajak Duany 2

Kalule Caxton 2

Shakira Ampaire 2

Isaac Mudangi 2

The absence of the defending champion Harold Wanyama at the Lighthouse Uganda Open Chess Championship has lifted Bob Bibasa's hopes of walking away with the title this time round.

The former national coach believes, this is an opportunity to also avenge his recent defeat after he lost the Sabasajja Memorial title to Micheal Mawanda last month.

Bibasa seeded-six, started the four-day event with a bang after defeating Isaac Culo but later registered a hard fought draw against Daniel Kamya to pick 1.5 points in two rounds.

He is scheduled to take on Gong Thon of South Sudan in the other round today but Bibasa is still optimistic that he will walk away with the winning sh1.5m cash prize and the 25 Grandpre points on Sunday.

"I need to make a comeback show this year and a win in this event is all I need." he said.

Bibasa also noted that only Arthur Ssegwanyi, Patrick Kawuma and Elijah Emojong could risk standing his way at the four-day event at Xanadu Hotel in Nakasero, Kampala.

"The start has been good although I just need to strengthen it even more." Bibasa stated.

Leading the table is Patrick Kawuma, Haruna Nsubuga and Simon Gonza who tied at 2 points but in first, second and third positions respectively.

In the women's side, Fide Master's Gorettie Angolikin, Peninah Nakabo, Christine Namaganda, Maria Nakanyike and Candidate Master Shakira Ampaire have not been left out.
The event sponsored by Lighthouse club from Kenya has attracted 116 players from Seychelles, South Sudan, Afghanistan, Nigeria, Somalia, Kenya and host Uganda.