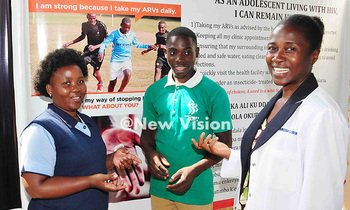 LIVING POSITIVELY

Wilson Sekadde, who is now 23, is the last-born of eight children. He was born with the HIV virus.

His father told him he used to be sickly as a baby, which he initially thought was as a result of lack of breast feeding. Sekadde's mother, who has since passed on, developed a mental problem a few weeks after giving birth and was therefore unable to breast-feed.

Because of the baby's persistent diarrohea, fever and lack of appetite, Sekadde's father took him to The AIDS Support Organisation (TASO) in Masaka in 1999, where both father and child were tested and found to be HIV-positive.

At the time, Sekadde's father felt he was too young to be told of his status and only did so five years later when the boy was in Primary Three.

"Like any other person, I was devastated, but I thank my father for being supportive. We continued visiting TASO with him after the death of my mum and I used to enjoy the milk tea we always received and other delicious food items, but I didn't know why we had to keep on visiting the place," he reveals.

His father told him that the other friends he would meet at TASO were also HIV-positive and just like him, needed to take the life-saving anti-retroviral drugs (ARVs) - and at the right time.

"He also bought me a wrist-watch to ensure I took my medicine on time."


TB attack

The year 2009 was a low one for Sekadde. He dropped and remained out of school for two years due to stigma.

He at times missed taking his drugs because he feared his friends would ask questions.

"Once, I went to stay with my grandma for a few days, where we would take the animals to graze over the weekend with friends from the neighbourhood. My father had set the time for taking our drugs at 8.00am, but we would be away looking after the animals at the time. I feared to carry the medicine along with me," recalls Sekadde.

Hoping that he would resume his normal drug-taking schedule after the visit, Sekadde suddenly went down with a severe fever and was later diagnosed with tuberculosis. "I will never forget the bitter challenge of taking both tuberculosis drugs and ARVs everyday. I was on treatment for TB for eight months."


Fighting stigma

He returned to school in 2011, sat his Primary Leaving Examinations (PLE) and later joined secondary school, at the end of which he sat his final exams (O' level) in 2015.

The determined lad attended a guiding and counselling training at Health Nest Uganda in Entebbe, where a good Samaritan named Edward Kafeero offered him accommodation for the period of the training. Sekadde did his internship at Kisubi Hospital, where he was later retained based on his spirit of hard work and his skills.


After joining Kisubi Hospital on full-time basis, he fought off stigma by interacting with youth counsellors.

"For the first time, I was meeting people of my age in the counselling rooms as well as our youth groups, where I ended up learning to share my challenges with them. The older people I had been meeting the previous years were gentle and caring but I never felt free to share with them personal challenges," he says.


Committed to helping fellow youths

Today, Sekadde has overcome stigma and is part of a group who do field visits in the communities of Kasanje, Nakawuka, Bwerenga and nearby places to train and counsel the youth.

"One time I noted that about three of our clients had missed their sessions for some time and I decided to visit them. They had a challenge of lack of transport to the hospital [Kisubi] and so I came up with an idea."

He set up nursery gardens for each of them and helped them plant vegetables at their homes. "I wanted them to get money out of the gardens while at the same time they would benefit by getting nutritional value from consuming the 'greens' as part of their diet," says Sekadde.

He is appealing to the youth to make sure the virus stops with them and those who are HIV-negative to avoid getting infected with the virus by living responsibly.


Future plans

Going forward, Sekadde plans to further his studies and get a Diploma in HIV Counselling and Guidance.

He hopes to marry his HIV-negative girlfriend after studies and then sire HIV-free children.

Most importantly, he is determined to stick to his medication. He is happy that his girlfriend is ready to share a life of marriage with him.



WHAT THEY SAY


Winfred Nagawa, HIV services co-ordinator at Kisubi Hospital

To fight against HIV, everybody must know their status through screening. Since April last year, our department has embarked on a 'home testing' sensitization programme after realizing those who fear to go through screening will not show up even when they hear announcements.

Through our positive clients and working hand-in-hand with the village health teams, we have reached out to many people who were hiding. Screening pregnant women has also been helpful as once they test positive, the medical team will come up with ways of tracing their husbands for testing too. Convincing husbands or people identified by village health teams to come out for screening needs great tactics. At times, we have had to go to the extent of meeting them at their malwa [local brew] drinking places.

__________________________


Benedicto Male, counsellor and senior nursing officer at Kisubi Hospital

Getting Wilson Sekadde on our team has boosted our mission and I wish more youths who are HIV-positive come out and declare their status.

There are many out there who were born with the virus, like Sekadde, but they fear to come out for treatment yet this will cause harm to their lives. We should stop stigma and discrimination of people living with HIV while noting that you can remain healthy by taking your drugs as prescribed by a healthy worker.


__________________________



Dr. Robert Asaba, medical superintendent at Kisubi Hospital

It is necessary for everyone to know their status as this will help those infected to start on medication soon while those found to be negative should avoid getting the virus. In order to increase the opportunities of screening those claiming to be busy, our HIV testing department puts in extra time and work up to 8.00pm while there is someone on duty even on Saturdays and Sundays.

We encourage all those who have tested positive to start on drugs immediately and also embrace joining groups where they share experiences, something that has helped many overcome stigma.