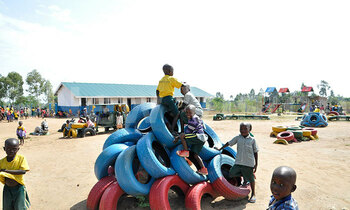 Under the scotching sun, pupils are busy playing under the guidance of adults.
Some pupils swing on the see-saw; others are playing on painted car tires while others are busy singing with a teacher.
The look on the faces of these children, shows how relived they are from traumatic events that have happened in their lives. Most of them are either orphaned or survivors of the ongoing humanitarian crisis experience or experiencing post-traumatic stress.
The children are in child friendly spaces (CFS). They are set up by various humanitarian organisations as a solution to psychosocial support to children in refugee settlements and host communities.
Currently Uganda hosts 1,223,033 total refugees and asylum seekers, sixty per cent of all refugees are children, many of whom have experienced violence, abuse, exploitation, family separation and psychological distress.
According to Ronald Odongo, child protection in emergency specialist at Plan International Uganda, CFS are a source of integral protection, educational and psychosocial support activities to restore sense of normality and continuity to children and young people in humanitarian context.
"They help restore a sense of normality and continuity to children whose lives have been disrupted by war, natural disaster, or other emergencies. And also provide children with opportunities to develop, play, learn, and strengthen resiliency either after a crisis or during a protracted emergency in a safe environment," she noted.
According to Odongo, as part of psychosocial support children participate in traditional music, dance and drama, playing with puzzles, sports, games like football and netball, paintings and drawings among others with support of well-trained animators.
"For many south Sudanese refugee children, the child friendly spaces have become a safe haven for them to regain a sense of normalcy," he notes.
Eight years old Joseph Otim, is among the many children who was playing football in one of the child friendly spaces. He says that he likes playing football whenever he is at the center because he feels safer and also forgets all that he went through back home in South Sudan.
According to Odongo, in the 31 CFS they have established, they use them also as avenues for other protection services such as case management to identify children at risk, these include unaccompanied, separated and children living with disability.
"The Spaces have significantly contributed to reduction in conflict among the children, promoted peaceful co-existence between the nationals and refugees since the facilities are equally utilised by both," says Odongo.