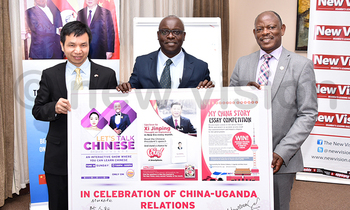 The Chinese Embassy in Uganda in partnership with Vision Group has launched three media projects that will see fifteen outstanding Ugandans win a fully paid trip to China.
The three projects that include, My China Story essay competition, Up close to Xi Jinping Thought on Diplomacy and Let's Talk Chinese were launched on Tuesday at a function held at Protea Hotel in Kampala.
Speaking to guests who attended the launch, the Chinese Embassy Deputy Head of Mission Chen Huixin said; "we are quite happy and proud to be in this precious partnership with you,"
"What I am sure is that, as in incentive for the participants to better understand China, five most active and outstanding participants from each of the three projects, will be entitled to a week-long fully-paid trip to China."
Huixin who has adopted a Kiganda name Musoke commended Vision Group and Makerere University, for taking the initiative, devoting resources and for their hard work in the three projects.
Makerere is hosting the Confucius Institute which is championing the teaching of Chinese in Uganda.
"Nothing could have happened without your consistent, tireless and professional endeavour,"
He noted that for those who want to learn more about China and her relations with other countries including Uganda, studying the Xi Jinping Thought on Diplomacy would be the shortcut.
"It is indeed very visionary for the Vision Group, who initiated the fresh project of Upclose to the Xi Jinping Thought on Diplomacy. I think you have just taken a vital step in furthering the mutual understanding of China and Uganda," he said.
Vision Group Chief Executive Officer, Robert Kabushenga, pledged total commitment towards the collaborations between the Chinese Embassy and the New Vision.
He asked the Chinese Embassy to consider bringing Jack Ma and Ren Zhengfei to Uganda to attend one of the Pakasa forums.
Ma is a co-founder and executive chairman of the Alibaba Group, a multinational technology conglomerate while Zhengfei is the founder and CEO of Shenzhen-based Huawei, the world's largest manufacturer of telecommunications equipment and second largest manufacturer of smartphones.
"I know I have a bit removed the feet from the gas pedal but as the Embassy why don't you bring us Jack Ma or Ren Zhengfei to speak to Ugandans. We will be happy to host them as Vision Group," Kabushenga said.
When asked about it, Huixin said it is possible for Jack Ma to be brought to Uganda but Vision Group has to make a case why he has to come.
"Before coming to Uganda two months back I was thinking about the same. Jack Ma has been in Rwanda and I would encourage him to come to Uganda. He always has a plan to visit three African countries every year and I think he will come because Vision Group has very good initiatives," Huixin said.
The Vice Chancellor of Makerere University Prof Barnabas Nawangwe thanked the embassy and Vision Group for its support towards the development of Makerere and Uganda at large.
"We are very proud with the relationship we have with China. Currently, the embassy has introduced 30 scholarships for financially undermined students every year," Nawangwe says.
He said Ugandans need to learn from China's transformational journey which is encompassed on discipline.
"One thing we must learn from China is discipline. This is what helped China transform itself in the last 30 years. If you are to do a job well, you must have discipline," Nawangwe says.
He asked the Chinese government to consider building the headquarters of the Confucius Institute in Africa at Makerere University.
Vision Group's Editor-in-Chief, Barbara Kaija, encouraged Ugandans to fully participate in the competitions which have come with lots of opportunities.
To participate in the competition, read the Chinese Presidents speech answer some simple questions and stand a chance to win a smartphone and trip to China. Answers to this competition can only be sent to the Chinese Embassy Twitter handle @ChineseEmb_Uga.
"The quiz is derived from the book and it is a very simple book to read and I would encourage all Ugandans to look out for it in the New Vision every second Tuesday of the month in the New Era," Kaija said.
The competition will run from March to September.
For My China Story competitions, participants must submit their essays to the New Vision head office clearly marked MY CHINA STORY or send them to mychina@newvision.co.ug.
"They should be original pieces and if participants can send a video that will also be welcome. The competition will be on for six months," Kaija says.
'Let's Talk Chinese' runs under a partnership between Vision Group and the Confucius Institute at Makerere University. It is intended to improve communication between Ugandans and Chinese.
The Chinese language programme complements New Era, an in-depth monthly pull-out focusing on China-Uganda ties.
At the end of the TV show, three viewers are selected after responding to quizzes via phone calls, Twitter and Facebook. The first group of winners is due to be unveiled soon.
The programme will run for five months, after which the winners will be hosted for a dinner which will feature a draw. Five winners of the draw will win an all-expenses-paid trip to China.