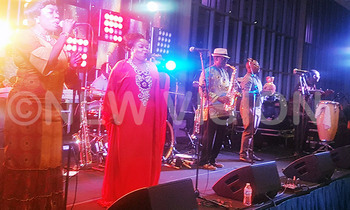 DIASPORA - When Afrigo band ascended to the stage at the magnificent Gaylord National Resort and Convention Center in Washington DC last year, the audience went gaga. On their feet were thousands of Ugandans living in the diaspora and well-wishers who had gathered for the Uganda Festival and Business Expo 2018.

A warm, ecstatic reception it was for the band that has grooved Ugandans for over 40 years. From millennials to geezers, the ballroom sounded like a choir as fans chanted and sung along and danced to the outfit's timeless hits like Jim, Oswadde Nyo and Musik.

At the end, the revellers were yearning for more. Anyway, that is the story of every Afrigo's performance. Both home and diaspora, fans rarely get enough of the band.


Luckily for the diaspora community in North American, the band has been confirmed to yet again perform at UNAA Causes' Uganda Festival and Business Expo in New York, US.

Perhaps this time the outfit will quench the thirst of their fans at the event also dubbed the 'Summer's Ultimate Event' which is scheduled for August 29 to September 02 at the Grand Hyatt in New York.

Afrigo Band's co-director, James Wasula is confident of the band's entertainment abilities.

Confirming their anticipated performance at the festival, Wasula promised nothing but the electrifying experience that Afrigo is famed for.

"Obviously the quality of our products distinguishes us. Our entertainment is impeccable, and that is what we can promise our fans," he told New Vision.

On the difference between last year's and this upcoming act, Wasula said their wide collection of songs allows them to be versatile, noting that they have many songs they didn't perform last year.

UNAA Causes CEO, David Muwanga noted that Afrigo band's memorable performance in Washington D.C last year immediately sparked the decision to have them again this year.

"We have done this before with David Lutalo. Last year we had Paul Okoye (PSQUARE) perform after his amazing show in Las Vegas in 2017," Muwanga explained.

Wasula said the band has a repertoire of new songs produced since they last performed in US—that Ugandan US diaspora community hasn't listened to. "People enjoy the oldies so much. But to balance the need, we play both the new ones and oldies. We try to balance between the vogue and the past," he relayed.

The festival, organised by Ugandans in North America under their umbrella, Uganda North American Association Causes (UNAA - Causes), will be a mixed bag of activities, including entertainment, a glamorous fashion showcase, dinner, business and community engagement.

The entertainment buffet has David Lutalo, Cindy Sanyu, Spice Diana, Chosen Becky, guitarist Myko Ouma and Saxophonist Joseph Sax and Ugandan-Denmark sensational vocalist Joanita Lubega Zachariassen and her band.

RELATED TO THE STORY