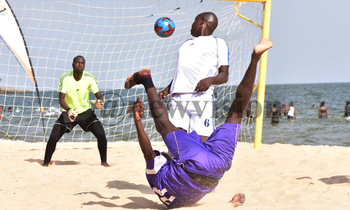 National Beach Soccer League
Results
Entebbe Sharks 1Buganda Royal 3
Talented 4 Mutoola 7
Buganda Royal 5 Stormers 3
MUBS 4 KIU 3
KIU 4 MS SandLions 3
Stormers 5 MUBS 3
MUBS remain on track to win their fourth National Beach Soccer League title.
The Nakawa based side defeated KIU 4-3 before going down 5-3 to Stormers as the second round of the league got underway on Sunday at Mutoola Resort Beach in Ntenjeru, Mukono district.
The win saw MUBS move to 29 points, three above second-placed Buganda Royal.
MUBS who didn't make it to the playoffs last season last won the league title in 2017, 2015 and 2012
Elsewhere, Geoffrey Akabway and Ibrahim Babatunde each had a brace as last season runners up KIU defeated MS SandLions, Talented went down 7-4 to the hosts Mutoola.
Buganda Royal who had tremendous performance over the weekend managed to defeat Stormers 5-3 and bottom side Entebbe Sharks 3-1. Debutantes Entebbe Sharks who risk beeing relegated have not won any of their last eleven games in the league.