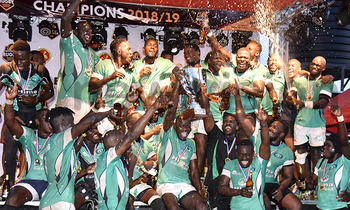 The Hima Cement Heathens emerged as the 2018/9 Nile Special Premier Rugby League champions with 80 points last weekend after they were made to prove their full credentials by the Dusupay Warriors at Kyadondo.
The game was fraught with a couple of some school boy errors from both sides but with full intent to win the game which kept their respective fans on their toes for most of the game.
It was befitting that the top most improved sides from last year were meeting on this final weekend. The Heathens last year finished a distant 5th.
The Warriors, on the other hand, had survived relegation by a whisker to end this season as 4th best-their best ever finish in their brief history in the top flight and with 48 points.
So the Heathens jumped from number five to number one while Warriors moved from position nine to four.
Congratulations to the champions Hima Cement Heathens and deep commiserations to the rest.
There are many lessons to learn from the steep rises from the Heathens and Warriors as there are from those who posted declines.
A very big clap goes to the Toyota Buffaloes whom at the beginning of the season seemed to surely heading towards relegation after losing many players to the Heathens during the transfer period but ended up a respectable 5th.
The Betway Kobs were at one point looking as the team to beat especially after they assumed leadership atop the log.
They are allowed to feel short charged after getting a total of 77 points and really looking as the champions in waiting.
Their second position is better than the 3rd position from last season. They lost a total of 2 games to the Heathens' 1.
The 2017/8 Champions Stanbic Black Pirates managed a total of 73 points and despite looking very dangerous they failed on consistency where they were geniuses in some games and came looking limp in some especially in the first round when they lost to Heathens at Legends and to Kobs at the Kings Park.
The Pirates offered the best news over the period by opening the Kings Park. The Plascon Mongers finished 6th with 35 points and from some of their games you could see their great promise. They almost shocked Kobs in one of their second round game.
It will be interesting to see the lessons they have picked as a team after the campaign. The Hippos with 33 points at 7th position were a better outfit than last year.
Their fortunes seemed to get better in the 2nd round after Robert Seguya joined their coaching ranks.
The Shell Rimula Rhinos (8th with 28 points) and Rams (9th with 12 points) will want to forget this season as quickly as possible and plan for the next challenges.
The Walukuba Barbarians finished 10th and their pending relegation has awakened ideas of expanding the Premier 10 to 12.
Why should such promise from outside Kampala be relegated?