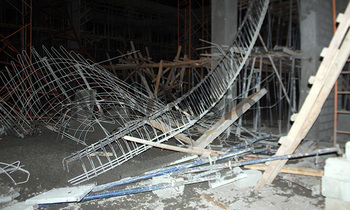 BUILDING COLLAPSES
MOROTO - Two people sustained serious injuries after a section of the Moroto market, that's currently under construction, collapsed at the upper camp Swahili ward in South Division, Moroto municipality in Moroto district.

The injured were rushed to Moroto regional referral hospital for treatment. Fortunately, no life was lost.

The Ambitious construction company safety manager Eng. Darrius Kamohu confirmed the development saying only two people were injured, identifying them as Eng. Masebe Wilfred and Daniel Angella, a porter. The two were casting beam at the time the foam design collapsed.

The clerk to works at the municipality, John Ociti attributed the collapse to poor workmanship of the foam work, saying there must have been some errors in the fixing of the wood, concrete and timber works.

"So the foam swayed, collapsing with the two survivors to the floor." he said.

Ociti added that the loss was minor as compared to what public had anticipated at the site.

"We are going to establish what could have caused the collapse of the foam works." he stressed adding the incident could have been a poor probe for foam work support that caused the swaying.

The 20 billion shilling market is being built by Ambitious Construction Company Limited under phase two of Markets and Agricultural Trade Improvement Programme (MATIP 11).

The market infrastructure will sit on 2.5 acres of land with 734 stalls, 60 peaches and over 400 lock-ups. The central market in the fast-developing municipality will also house barber shops, day care, clinics, automated teller machines, restaurants and offices.