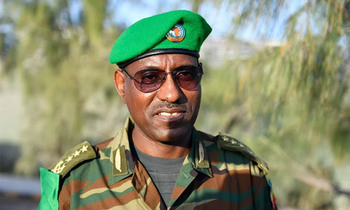 The African Union Mission in Somalia (AMISOM) has taken control of Sablid town, one of the few remaining key Al-Shabaab operation areas, in Somalia.
AMISOM troops captured Sablid town on April 1, following a joint night operation executed by AMISOM and the Somali National Army.
The contingent that drove Al-Shabaab from Sablid town, which had majority troops from the Uganda People's Defence Forces (UPDF), was commanded by Lt. Gen. Tigabu Yilma, the AMISOM force commander.
According to a statement issued Thursday by the African Union, the joint capture and liberation of Sablid town, has paved way for the full implementation of the newly formulated Concept of Operations (CONOPS), which provides a comprehensive basis for conducting the operation, including training and mentoring of Somali army and police.
Under CONOPS, which was launched early this year, AMISOM was mandated to also create a useful framework for stabilisation, civil-military activities, early recovery and reconstruction.
Sablid town is situated in Lower Shabelle region of Somalia, one of the remaining stronghold territories with Al-Shabaab.
Yesterday, the UPDF spokesperson, Lt.Col. Deo Akiki told New Vision that the liberation of Sablid was a major military score, emphasising that the capture was a joint effort by all troop-contributing countries and the Somalia National Army.
Ambassador Francisco Madeira, the African Union special representative for Somalia described the liberation of Sablid town as a "strategic" milestone to the fight against Al-Shabaab.
The Al-Shabaab have been using Sablid town as a bridge to access other Lower Shabelle areas in order to conduct their activities.
"This operation is a concrete delivery in the implementation of the Somali Transition Plan in enhanced joint operations between AMISOM and Somali National Army. We will eventually accomplish the implementation of the first phase of the transition plan in the region with the liberation of other important and strategic targets," Madeira said.
Uganda, Kenya, Djibouti, Burundi and Ethiopia are the AMISOM troop-contributing countries.
As part of the implementation of the Transition Plan, AMISOM has been tasked to secure the remaining few areas under Al-Shabaab, including Main Supply Routes.
The mandate of AMISOM was in July last year extended by the United Nations Security Council resolution 2434 underscoring a gradual and conditional withdraw of boots by 2020.
There are over 21, 000 African Union troops in Somalia, with Uganda contributing the largest portion.