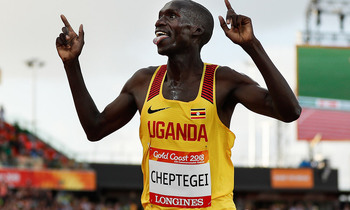 The unfairness!
Redemption came but with no fanfare, no emotional equality to the original humiliation.
Two years on from his nadir, Joshua Cheptegei reached the pinnacle of the IAAF World Cross-country Championships yet the contrast between his Aarhus high and his Kololo low could not have been starker.
The only Ugandan to win gold in the IAAF senior men's World Cross-country championship race certainly felt the emotional force of his victory, kneeling down in deep-felt thanksgiving after his victory.
"(This win) is so special to me, having lost in 2017," Cheptegei said afterwards.
But the glory of his conquest was devoid of the oomph it would have had had it arrived when everybody thought it was arriving. When an adoring home crowd that included President Yoweri Museveni cheered on Cheptegei as he run what was one of the greatest runs in the history of the race.
Or rather what was supposed to be but ended up as Cheptegei's worst nightmare, a perfectly-timed moment turn epic tactical miscalculation. It's one thing to fall, another to fall to pieces and Cheptegei's Waterloo was more mystifying than heart-breaking.
Cheptegei had a 60m-lead on eventual champion Geoffrey Kamworor at the start of the final lap on that fateful Kololo afternoon but the Ugandan fell to 30th and the Kenyan gold as well as a swipe at Cheptegei's tactical "suicide".
Safe to say Kamworor had no queries about Cheptegei's tactics in Denmark after finishing behind the Ugandan in the third spot.
"I'm a front-runner, I don't like being behind," Cheptegei said after his Aarhus win.
Cheptegei has been the hottest property in long-distance running over the last two years without a world title, an anomaly that had to be rectified before turning into some kind of mental barrier.
Consider it solved.
And in many ways, this is just the beginning for Cheptegei, who is rightly looking forward to many years at the top of 5,000m and 10,000m racing.
"My ambition is to dominate the track for the next five or six years," Cheptegei says.
Now that is the talk of the redeemed.
Cheptegei's breakthrough may have come two years late but in so doing, it came with all the ingredients to make it one of the greatest stories in the history of Ugandan sport.
cmutebi@newvision.co.ug