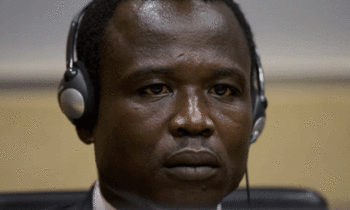 CONFLICT
A former Local Defence Unit (LDU) officer has told the International Criminal Court (ICC) that when Joseph Kony's Lord's Resistance Army (LRA) attacked Abok camp for internally displaced people (IDP), the army commander guarding the camp fled.
Bosco Ogwang, told the court on Monday that when Uganda People's Defense Forces (UPDF) officer commanding them fled, they were left perplexed and were easily overwhelmed by the rebels. This allegedly took place 15 years ago.
He made the revelation while testifying in the trial of former LRA commander Dominic Ongwen, who is facing 13 counts of war crimes and crimes against humanity for his alleged role in the June 8, 2004 attack on Abok.
Ongwen has also been charged for his alleged role in attacks on three other IDP camps; sexual and gender-based crimes; and conscripting child soldiers. In total, he is facing 70 counts of war crimes and crimes against humanity. He has pleaded not guilty to all charges.
Ogwang, who joined LDU in 1991 after a six months training under the UPDF, said there were as many as 10,000 LDU's trained, divided into units and deployed to different places in the war ravaged region.
When asked by Gordon Kifudde, one of Ongwen's lawyers, why he joined the LDU, he said; "Because the LRA was disturbing the communities. They were abducting the children forcefully and also sleeping with them forcefully. Even my sister was abducted and taken to the bush from St. Mary's. She's not been found up to now."
Ogwang said he, together with other LDUs, was deployed to Abok on June 1, 2004 under the command of a UPDF officer called Mugabe.
He said Abok was attacked on June 8, 2004, adding that earlier in the day, before the attack, he spotted some LRA fighters eating mangoes near the camp and he cycled to the Ugandan army at Barrio to alert them of the LRA presence in the area. The attack took place in Abok after sunset.
Ogwang said during the attack, he and other LDU members fought the LRA in three firefights before the LDU ran out of bullets and retreated towards Barrio.
He said at Abok there were usually LDU members and UPDF soldiers guarding the camp, but on that night there were only LDU members. Their commanding officer, a one Mugabe, allegedly fled.
However, hours later, he said, a UPDF armored vehicle, commonly referred to as Mamba, arrived in the camp.
"When the Mamba came at about 11:00pm it started shooting some trees, and it shot twice and then there was silence. We told them [soldiers] we need to withdraw because when a Mamba comes it starts shooting without caring whether you are a government soldier or the LRA.
Some people and goats had been burnt in the fire. Others we found had been hit on the head and died," said Ogwang.
He also testified that during the fire exchange, he was not able to see who was commanding the rebels.
He said after the attack, they sat and tried to analyse their weakness but the talk got overwhelmed by their anger at the actions of the commander who allegedly fled with chicken, leaving them to die.
Asked if it was necessary for the camp to be established and whether people voluntarily moved to it, he said the civilians were not interested in staying in the camp.
"The government ordered [it], but since people were already spending their nights in the bush, and you would be hunted down for using a torch in the bush … Some of the girls would be abducted and raped and taken to the bush," he said.