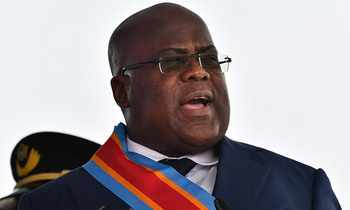 DR Congo officials confirmed that parliamentary elections will be held on Sunday in parts of the country which were unable to participate in December's vote due to security issues and an ongoing Ebola epidemic.
The vote, which will also involve municipal elections, will take place in Beni and Butembo, two cities in North Kivu, which lies on the country's eastern border with Uganda.
Elections will also take place in the western Yumbi region some 300 kilometres (185 miles) north of the capital Kinshasa.
At stake are 15 seats in DR Congo's lower house of parliament, which counts 500 lawmakers.
Millions of Congolese voters went to the polls on December 30 for long-delayed presidential and parliamentary elections.
Veteran opposition leader Felix Tshisekedi was elected president in the country's first peaceful transfer of power since independence from Belgium in 1960.
But the vote did not take place Beni and Butembo which have been badly hit by an Ebola epidemic which broke out in August and has so far killed more than 650 people.
It was also delayed in Yumbi, where at least 535 civilians were killed in three days of intercommunal bloodshed just a fortnight before the elections, according to UN figures.