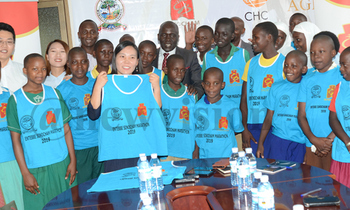 Old boys and girls of the 15 Universal Primary Education schools in Entebbe will be reunited on Saturday when they participate in the Entebbe SINOCHAM Marathon.
Runners including the Chinese community in Uganda, corporates, pupils, and individuals will have a chance to participate in either the 21, 10, 5km races in the "Run for improvement of Universal Primary Education Schools" unique marathon that is linked to the China Wuhan International Marathon.
The top three runners in the longer races will fly to China to participate in the Wuhan Marathon that has already registered over 150,000 runners for this year's race.
While interacting with the main sponsors of the run SINOCHAM on Wednesday, Entebbe Mayor Vincent Kayanja thanked the sponsors and called on the business community and all residents of Entebbe to join the run whose proceeds go towards improving UPE schools in Entebbe.
"This year some schools will opt for a facelift, mending perimeter fences, acquiring computers for their administration, compound pavement and drinking water and several others initiatives which are now treasured because the community, the OB's, the pupils all have an input and a sense of ownership for the schools that have been improved," Kayanja stated.
He said this year's race targets to raise over sh70m which will go to the various schools.
Some of the other sponsors that have committed to the run include Africa Gold Refinery, CHE Analysis, Global Paper, Air Serve, Centenary Bank, Civil Aviation Authority, Bank of Africa, Imperial Group, Uganda Wildlife Education Center and the National Research Organisation that provides the Botanical Gardens free of charge.
The top runners from last year's marathon included Alfred Kiptoyek who won the 42km race in 2:13.58 where Robert Lubega and Wycliff Simotwa made 2:14.57 and 2:17.50 to finish second and third respectively.
Gonzaga Ssebuuma, Abdumajid Hizak and Ausi Balikowa where the top runners in the 21km men's race while Chemutai Fabia and Mariam Kawuma won the women's 21km category.