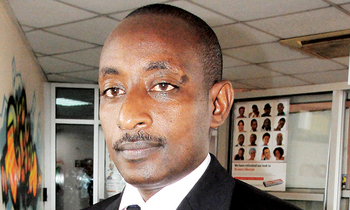 By James Katongana
'For God and My Country of Asylum'- A tribute to Uganda's progressive refugee hosting laws. This was Susan Grace Duku's words in her concluding remarks when speaking about her experience at the IGAD High Level Experts and Ministerial Meetings on the Livelihoods and Self Reliance for refugees, returnees and Host communities.
Talking about her escape from war in South Sudan and arrival in Uganda as a refugee. Feeling detached from her life and community several times cause of the conflict in South Sudan, she found in Uganda a place called home. Duku's experience is shared by many refugees fleeing armed conflict to Uganda.
Today Uganda is host to over 1,223,033 refugees and asylum-seekers from South Sudan (801,555, 65.5%); DRC (326,383 :26.7%); Burundi (36,256: 3%); Somalia (26,577: 2.2%); Rwanda (14,974: 1.2%) and others (17,288: 1.4%). Some like Grace have been refugees in Uganda more than three times.
Life as a refugee is very difficult in absence of progressive laws and policies that enhance one's wellbeing. Looking at the IGAD countries, Uganda and until recently Ethiopia has the most progressive refugee policies that gives refugees a conducive asylum that not only encourages protection but also social integration in support of livelihoods.
IGAD member states have adopted the Regional Migration Policy Framework (RMPF, 2012) and recently adopted the Nairobi Declaration1. IGAD is the only regional block that has developed a designate refugee response framework. IGAD region is host to over five million refugees and Asylum seekers. The UNHCR puts the number of displaced as: 295,000 in South Sudan; 1,090,000 in Sudan, 33,000 in Somalia, 29,000 in Djibouti, 906,000 in Ethiopia, 475,0000 in Kenya, and 1,200,000 Uganda. Furthermore, there are over seven million Internally Displaced Persons that have not crossed an international border and remain within their countries of residence. These include 2.1 million in Somalia- some of whom are recent returnees from countries of asylum; approximately two million in both Sudan and South Sudan, and 1.4 million in Ethiopia. Notable here is the fact that over 59 % of refugees are young people below the age of 18 years and over 81% are women and children.
About 82% of refugees and displaced persons live in camps or settlements and subsist on humanitarian assistance while 13% are in urban centers - capital cities and approximately 5% are self-settled within their countries of asylum - living alongside the host population.
Uganda has long provided asylum to refugees and has some of the most progressive refugee hosting laws in the world. The Refugee Act of 2006 and the Refugee Policy of 2010 are largely considered pro refugees. The country has also gone a step further to include refugees in the National Development Plan II. This has translated into the settlement Transformative Agenda (STA) and the subsequence Refugee and host Population Empowerment Strategy (ReHoPe).
Since July 2016, however, Uganda's refugee policies have been tested by a large influx of over 1.2 million refugees and asylum seekers making Uganda one of the largest refugee host countries in the world. The influx of refugees has not only strained assistance-delivery capacities, strained host community relations, and has had a deleterious effect on NAP commitments but also energy and funding needed for emergency response programming.
To ameliorate the country hosted a United Nations-backed Solidarity Summit in June 2017, which raised about $357m. While this met some of the needs, much more is needed to meet to effectively support refugees such as Grace who look at Uganda as a second home. Currently, maintaining asylum space and Uganda's settlement approach are the main priorities given the influx of refugees into the country. Uganda has a long history of hosting refugees
James Katongana is a Pan-Africanist