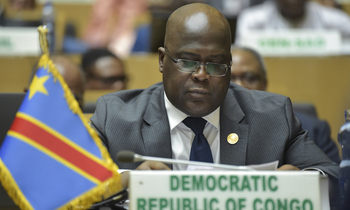 The new leader of DR Congo Felix Tshisekedi and Rwandan President Paul Kagame on Tuesday agreed to put their two nations' troubled past behind them and work together to end violence along their borders.
The resource-rich Democratic Republic of Congo was massively destabilised by the 1994 genocide in Rwanda in which at least 800,000 people -- mainly minority Tutsis and moderate Hutus -- were killed in 100 days.
The bloodshed led to tens of thousands of Hutu refugees, some of them perpetrators of the genocide, flooding into eastern DRC, unleashing a chain of events that led to two major wars between 1996 and 2003.
"Our countries will always be neighbours and as leaders, we are just passing by. These wars are just a waste of the time we could have used for better things," President Tshisekedi said during the Africa CEO Forum hosted in Rwanda.
He was speaking on a panel alongside Kagame.
"Armed groups in DRC are petty interest groups without ideology but have become more like business people in a negative way," Tshisekedi said.
"We are working hard with development partners to reintegrate them and discourage them from pursuing these activities."
Among the numerous armed groups in the eastern DRC are Rwandan rebels opposed to Kagame, which have in the past carried out cross-border attacks on Rwandan forces.
Meanwhile, Rwanda has been accused of smuggling minerals from the DRC by the UN and rights groups -- an allegation that Kigali has always denied.
Kagame said he was willing to work to improve bilateral relations with his neighbour.
"My problems in Rwanda end up being the problems of people in DRC and vice versa. We have to address these challenges," said Kagame.
"Tshisekedi has made commitments to the people of DRC and the people of the region. We must believe him and extend our hand of cooperation, as he does with us, and see how far we can go," he pledged.
Meanwhile, Tshisekedi said he had held talks with both Kagame and Ugandan President Yoweri Museveni over political tensions between their two countries which have escalated in recent weeks.
Rwanda has for over 30 days barred its nationals from traveling to Uganda, contending that its citizens are being illegally arrested and tortured there.
Both countries have traded accusations over espionage and escalated trade barriers on goods moving across their borders.
Kagame said that he was committed to negotiations with Uganda, but would not allow foreigners to dictate how he should run the country.
He has accused Kampala of backing rebels opposing him.
"It is next to impossible that you will change Kagame as an outsider and put someone you want because you don't like Kagame," he said.
"We must continue to talk about our problems. We must exhaust the logic of continuing to undermine each other and understand that we need to cooperate and accept each other."
Museveni and Kagame are now the longest-serving leaders in East Africa.