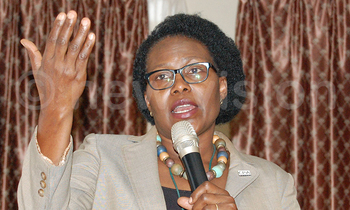 At least 157,229 government positions are vacant, the latest Auditor General's (AG) report has revealed.
The assistant Auditor General Keto Nyapendi Kayemba said out of the total Government staff establishment of 469,216 positions, only 311,987 positions had been filled leaving a gap of 157,229 (34%) of vacant posts across ministries, departments, authorities and local governments.
She said that the vacant posts include key staffing posts such as doctors, clinical officers, professors, theatre staff, human resource officers, legal officers and commissioners among others.
"Inadequate staffing affects the timely implementation of entity activities and it's a hindrance to Vision 2040," Kayemba noted.
She was on Monday presenting common findings in local governments financial management and accountability process to local government public accounts chairpersons and internal auditors at Africana Hotel in Kampala.
The Auditor General's report on understaffing in government entities comes at a time when the government is grappling with youth unemployment.
According to 2018 state of Uganda Population report 2018, over 1.2 million youth in Uganda between the ages of 15 and 29 are idle. The proportion of idle female youth was almost three times higher than that of their male counterparts.
Public Service ministry responds
The permanent secretary Ministry of Public Service, Catherine Musingwiire, said the vacant posts are cut across various government entities and require a multi-sectoral approach to be filled.
According to Musingwiire, inadequate budgetary allocations, high turnover in some careers, unfavourable policies among other issues are responsible for the vacancies.
She said each of the government recruitment agencies; the Health Service Commission, Education Service Commission, Judicial Service Commission and Public Service Commission have valid reasons for the inability to recruit staff.
"We have always encouraged recruitment of staff but the most affected are local governments because of the hard-to-reach areas. Some professionals like engineers and medical workers do not want to be posted in low urban coverage," Musingwiire said.
She said her ministry is pushing for a salary enhancement plan for all public servants.
Unverified pension and gratuity
According to the 2017/18 financial year report, the AG discovered sh32.8b in consolidated statements as gratuity and pension liabilities as of June 30, 2018. Of that sh14.5b was not properly supported with documentation.
"Accounting officers should ensure that arrears are paid after a comprehensive verification of the supporting documents," Kayemba said.
Undisposed assets
The Public Procurement and Disposal of Public Assets Authority (PPDA) director for inspection and monitoring Dr Aloysius Byarahunga said local governments have a lot of undisposed off assets.
"It is easy forthe government to buy than to dispose of. In some districts, property which should have fetched money upon disposal is left to rot in the bush," he noted.