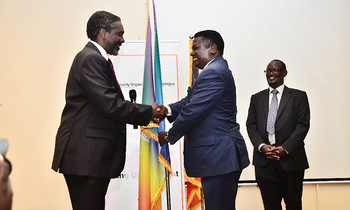 The Uganda People's Congress (UPC) party president also Lira Municipality MP, Jimmy Akena, has handed over the chairmanship of the Inter-Party Organisation for Dialogue (IPOD) to Norbert Mao, the president general of the Democratic Party (DP).
Akena handed over the chairmanship to Mao during an IPOD council meeting held on Monday at IPOD offices in Kampala.
The meeting was also attended by JEEMA's party president, Asuman Basalirwa, the secretary general of the Democratic Party (DP), Dr Gerald Siranda, the deputy treasurer of the ruling National Resistance Movement, Dr. Kenneth Omona and the Forum for Democratic Change (FDC) party chairperson for the eastern region, Salaamu Musumba.
Akena's hands over at a time when IPOD members are planning a summit on May 15 to review last years' resolutions.
A statement issued by the IPOD secretariat noted that Mao's reign as chairperson of IPOD will last for six months. Mao is also expected to steer the organisation of the IPOD May summit.
In December last year, IPOD party presidents, NRM party chairman President Yoweri Museveni, DP party president Norbert Mao, UPC's Akena and JEEMA's Basalirwa met at Speke Resort in Munyonyo and passed several resolutions that the IPOD summit in May will review.
The Munyonyo summit which was boycotted by FDC discussed four issues—strengthening political parties, consolidation of constitutional and electoral reforms, promotion of inclusiveness in national politics and enhancement of good governance, human rights and the rule of law.