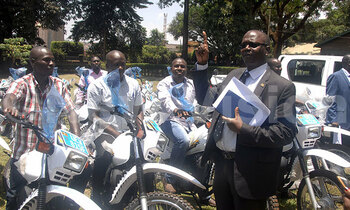 It is often frustrating when encroachers and illegal loggers keep stalking the precious natural forests under your watch and you can stop them. The barrier is often due to lack of transport to get to the trouble spots in good time.
This is expected to change for some patrol men and forestry officers under the National Forestry Authority (NFA). The top forestry body has purchased 46 Yamaha DT motorcycles, two land cruisers and two Toyota Hilux pickups totaling sh1.6b.
"We have invested in strong and durable vehicles which are suitable for rough forestry terrains. These vehicles and motorcycles will supplement the old fleet that is being used in forestry operations," said Tom Okello Obongo, the executive director of National Forestry Authority (NFA).
Okello added, "I am aware transport has been one of the major hindrances to many of our planned activities in the field.
NFA has had challenges in fighting illegal activities partly because of inadequate transport to effectively patrol central forest reserves, respond to emergencies and secure boundary lines.
Because of this the, board and management of NFA have priotised acquisition of vehicles and motorcycles for forestry management activities."
He was speaking on Tuesday at the headquarters of NFA during a press conference organised to commission the vehicles and trucks.
He also commended his staff particularly the foot soldiers of the forestry body who have worked amidst the challenges. Hover, he warned that misuse of the vehicles and trucks will not be tolerated.
NFA set up by an ACT of Parliament and started its operations in 2004. The forestry body manages 506 central forest reserves across the country.