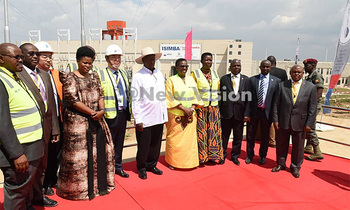 The 183MW Isimba Hydro Power Plant is being commissioned this Thursday. Owen Wagabaza asked Dr. Eng Harrison Mutikanga, the chief executive officer of Uganda Electricity Generation Company Limited (UEGCL), the company mandated to run the plant, about its readiness to operate the dam, among others issues. Below are the excerpts.
Eng. Harrison Mutikanga

How close are we to attaining the 17,000MW target by 2028 as set by the President?
On the side of UEGCL, we have already delivered the 183MW from Isimba towards that promise, but I also know that in January this year, the President commissioned a 20MW solar power plant in Kabulasoke, Gomba district. When you add the two, you get 203MW that have been added to the national grid in regard to the target.

How would you describe the progress so far?
The progress is slow. On average, we should be doing 1,700MW per year. We, therefore, have a lot of work to do.

What needs to be done then, to achieve that target?
For Uganda to realise an additional 17,000MW of installed generation capacity over the next decade, it will require close to $51b in new investments based on the average unit investment cost of $3m per MW of the ongoing and recently developed large hydropower projects in the country. The challenge for the Government will be how to mobilise the huge capital investments amid public debt ceiling constraints and requirements from other priority public sectors such as health and education.

The Government will certainly need support from development partners, foreign and domestic private investments, international financial institutions such as the World Bank, inter-country joint investments, expanding and integrating the regional electricity market and trade, and floating government infrastructure bonds.

Innovative ways of securing foreign finance such as securitisation of a portion of future oil revenues should be considered by the Government to obtain low-cost finance and circumvent the debt ceiling.

We could also allow UEGCL a return on investment, say for example (we are commissioning Isimba dam), if we allow a reasonable return on investments over the years, we can accumulate enough money that we could use to invest in new electricity generation infrastructure.

This is what our counterparts in Kenya are doing. The Energy Regulatory Commission (ERC) in Kenya has empowered KenGen, a government company similar to UEGCL, to execute infrastructure investment projects. KenGen posted a profit of $90m in 2017, according to that year's annual report. In the past 10 years, KenGen has executed investments worth $2.2b from internally generated cash fl ows and added over 700MW new capacity, bringing the total installed capacity to 1,631MW.

All this has been achieved while ensuring competitive tariffs within the region. KenGen's good financial health has enabled the company to list on the stock exchange, thus making it easy to mobilise infrastructure investment funds.

What are some of the challenges to attaining that target?
The challenge is the debt-ceiling limitations.

The Government now has a limit on how much they can borrow, after Karuma, Isimba and other infrastructural projects going on in the country. The other challenge is that the Government has already signed memoranda of understanding with potential investors for a cascade of hydropower plants along River Nile, with a total of 1,862MW (Ayago-840, Oriang-392, Kiba-330 and Uhuru-300).

These projects have been ring-fenced, but the investors are finding it hard to get the money. The Government has to find a way to partner with the private sector to develop these projects and the best way is to capitalise UEGCL or allow the company a return on investments.

This needs to be done quickly because if we develop all these projects on the River Nile, another 1,862MW would be added to the national grid.

But also, we need an energy mix so that we don't entirely depend on hydropower, but go into solar and explore the geothermal potential along the rift valley. That is being done under the department of geology in the energy ministry. Unfortunately, those people (Geology department) don't have targets like we do.

What we see as a priority may not be so to them. There is, therefore, need for internal reforms.

But do we need all this power, do we have the capacity? The current demand is just 500MW?
Electricity access in Uganda is estimated at 22%, implying that over 30 million Ugandans have no access to electricity.

With an annual average electricity consumption of 80 kWh per capita, this translates into suppressed demand of over 500MW. If this demand is unlocked through the new government Electricity Connection Policy (2018-2027), with an annual target of providing 300,000 free on-grid connections, it is likely that the whole of Karuma (600MW) could be exhausted by 2028.

In the past few months, the President and Cabinet have presided over breaking of the ground ceremonies and commissioning of several new factories. When all these factories are in full operation, they are likely to exhaust the Isimba 183MW.

This boom in factories has already created over 20,000 jobs. More job creation and the anticipated revenues from oil exports will enhance per capita income and with it per capita growth in electricity consumption. From the 2014 National Population Census data, Uganda's population will be about 53.3 million by 2028, assuming the average annual growth rate of 3.0%.

In the event that the National Development Plan (NDP II) goal of middle-income status by 2020 is achieved, the average per capita consumption in 2028 could be about 1,874 kWh (World Bank dataset for low-middle income). Allowing for 22% energy system losses and a capacity factor of 70%, Uganda will need not only 17,000MW, but 20,505MW in installed generation capacity by 2028.

You are talking of 300,000 new connections every year, but the cost price of electricity is too high. What are you doing to lower it?
We are working efficiently. We are taking over Isimba dam and to keep the tariff down, we have to operate efficiently.

The Government has also made a deliberate strategy not to leave public infrastructure investments in the hands of the private sector. The Government borrowed money for Karuma and Isimba at a low interest rate — what we call concessional rates. That is why the cost of electricity from Karuma and Isimba is much lower than what we have at Bujagali. Karuma is to be at 5 cents and Isimba at 4.1 cents and this is cheap.

We are also working with our sister agencies in distribution and rural electrification to increase demand. The more demand you get, the less the tariff. The Natural Resources Committee of Parliament recently visited Jinja and recommended the termination of Eskom due to poor performance.

Eskom is earning a return on investment of 12%. If those plants came back to UEGCL and we earned a return on investment of say 5%, instead of 12%, this would result into a reduction of tariff. All these are efforts being made by UEGCL to bring down the cost of electricity.

UEGCL will be taking over the operation and maintenance of Isimba hydro power plant. How equipped are you in regard to running the facility?
We have spent the last two years recruiting and training young engineers and technicians.

We got support from development partners and we were able to place the young engineers in plants in China, France, Laos and Zambia. They have also been participating in factory acceptance tests, in the commissioning and testing of the equipment and are basically the ones running the plant. In that aspect, therefore, we are good to go.