CHILD MARRIAGE

KAMPALA - At 16 years, Jalia Namubiru was misled by her boyfriend into having a sexual relationship. However, the then senior two female student was abandoned by the boyfriend when pregnancy signs started.

Unfortunately, the daughter she produced also gave birth at the age of 15 and dropped out of school.

Like a curse, Namubiru's granddaughter was pregnant by the time she turned 13.

They all failed to complete their studies and Namubiru explains that their children are also suffering as poverty rotates within the family.

Child marriages and teenage pregnancies are closely related to high levels of school drop-outs.

The 2011 UDHS indicates that 15% of ever married women aged 20 - 49yrs were married by the age of 15 while 49% were married by the age of 18.

'Equality Now' meeting:

During a recent meeting organized by 'Equality Now' at Speke Resort Munyonyo, leaders from various Civil Society Organisations (CSOs) met to explore joint initiatives in advocacy against child marriage in East Africa and also share experiences on engaging legislators on advocacy for good laws against child marriage.

These include; Joy for Children, Women and Girl Child Development Association and Raising Teenagers from Uganda, Equality Now from Kenya, Legal and Human Rights Centre, Tanzania; Children's Dignity Forum - Misichana; Restless Development Zambia and Rights Institute for Social Empowerment, Malawi).

Participants urged stakeholders especially men to join the struggle of fighting off early marriages.

Participants explained that child marriages and teenage pregnancies are closely related to high levels of girl school drop-outs.

Unfortunately they noted that while early child birth is a leading cause of maternal deaths and injuries for teenage girls across the East African region, sensitization about its dangers is minimal.

Others who are forced into marriage by their families may not even know where to report such cases as their fathers will threaten them with being expelled from their families.

Participants noted that high levels of poverty have always forced many parents to withdraw their daughters from school and give them out to older men for financial benefits.

Meanwhile, it was noted that governments around the region have not done enough to help in retaining girls in school.

"Let our governments provide all the necessary school requirements to enable these girls complete their education.

The unfortunate ones who become pregnant along the way should be allowed to continue with education after giving birth," participants recommended.



Why CSO's are worried:

The national prevalence of child marriage in Kenya is 23%, Tanzania 31% while Uganda is at 40%.

The 2013 World Vision study ranked Uganda 16th among the 25 countries with the highest rates of early marriages where about 12% girls are married before 15yrs and 46% are married before the age of 18yrs.

It was also noted that Uganda's adolescent fertility rate is the highest in East and Southern Africa.

Statistics have also shown that age at first intercourse is reducing, suggesting that today's young adults are becoming sexually active at younger ages.

Similarly, various reports indicate that so many young girls whose dreams have revolved around becoming doctors, lawyers, nurses or journalists plus other professions many times fail to achieve their goals due to early marriages or pregnancies.

Reports from World Vision indicate that 5 out of every 10 girls are married off before the mandatory age of 18 yrs.

These reports appeal to parents, or care givers to provide support to their children in completing their education whenever things get out of hand.

Families are advised not to force young girls who become pregnant into marriage but instead send them back to school in order to complete their education for a better future.

What others say: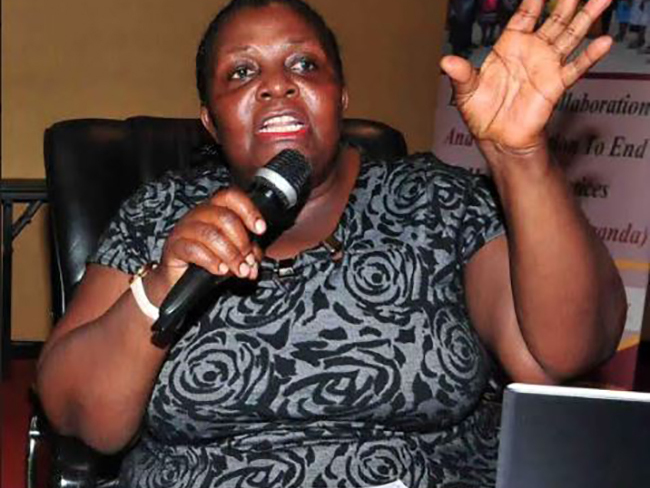 MP representing People With Disabilities, Sofia Nalule Juuko Photo by Gladys Kalibbala

Girls who drop out of school due to pregnancy never get a chance to return and complete their education.

This may create a big illiterate population with jobless young teenage mothers who cannot even bargain with their husbands as to how many children they are able to cater for.

I believe men's involvement may help a great deal as they can talk to fathers who think of their daughters as items which can bring riches into their families.

Politicians should also stop linking child marriage to votes. It's absurd when they turn a deaf ear towards such cases fearing to lose votes once they intervene.

Our governments need to look into cultures which are no longer relevant.

We have tribes which believe a girl of 14yrs is due for marriage where the suitor will just abduct her straight to his house and inform her family later. We appeal for good laws to fight off child marriage as well as FGM.

Judy Kosgei - Communications Officer (Equality Now - Kenya):


"In this fight to end child marriage, we need the media to set the agenda and frame the stories in a manner that communities, government and individuals will understand the irreversible effects of child marriage. Child marriage is a human rights violation.

The fourth estate therefore, needs to come out strong and tell these stories. Let's not forget the stories of hope, girls who've escaped the harmful traditional practice and communities who've protected their children from this human rights violation.

We need a shift our reporting because it is also crucial to highlight how child marriage is sexual violence, how it robs lives and how as a society we need to change our attitude, shift the focus from blaming, shaming and denying young girls education and focus on bringing perpetrators to justice."

Fundikila Wazambi - Program Officer - Research for Legal and Human Rights Centre (LHRC) at Dar-es - Salaam, Tanzania

In Tanzania the law of marriage Act 1971 allows a girl child aged 14 and 15 to get married under sections 13 and 14.

It's one of the countries with high prevalence where 2 out of 5 girls are forced to marry before the age of 18.

In Shinyanga its 59%, Tabora 58% while Mara is 55%.

The Ministry responsible for Social Welfare has been working with CSO's to address child marriages but government has been reluctant to change the law insisting there is need for wider consensus.

Tendai Chiweshe - Project Manager - Restless Development in Lusaka, Zambia

Because child marriage is associated with levels of poverty, it's mostly seen as a rural phenomenon although there are some reported cases of child marriage in urban areas.

Girls married early are more vulnerable to Gender Based Violence so we need to embark on serious sensitization to the masses.

Elliot Orizaarwa (Executive Director - Women and Child Development Association - Uganda):

While we have put all the attention on girls, young boys have been abused by older girls and the poor boys who have not been sensitized as to what to do fear to come out thinking it's a shame.

Some boys have also dropped out of school not due to pregnancy but poverty in their homes and few have been helped.

Government should emphasize community country wide sensitization over children's issues where protection of young boys is inclusive.



It's unfortunate that once child marriage cases are reported, family members are many times so poor that they cannot follow up cases in courts of law.

Likewise Probation offices which should have given them a hand also complain of having no funds to follow up such issues.

The concerned ministries should address such matters if we're to succeed in this fight.

Moses Ntenga (Executive Director - Joy for Children - Uganda):

Communities should be sensitized about the importance of allowing their girls complete education.

They should accept the hidden costs of UPE (uniform, lunch and books) for their girls to attain better opportunities where they can later cater for their families.

With proper education these girls will build for you good houses and help in supporting their siblings.