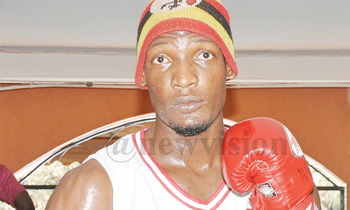 Friday, 6 pm, Lugogo Arena
Heavyweight
S. Kiwanuka v O. Mwangi
Live on Urban TV
It is 14 years since Uganda had a world boxing champion. Boxing promoter Emmanuel Mwesigwa believes the long wait is about to end.
In heavyweight, the promoter sees Shafik Kiwanuka as the country's next champion.
Kiwanuka, 23, will make his professional debut on Friday in a six-round contest against Kenyan Obadiah Mwangi at the MTN Arena, Lugogo.
"Kiwanuka has everything to give him the world crown in the next two years. He is young, strong and has a huge appetite for the title," stated Mwesigwa.
But probably Kiwanuka's (pictured left) biggest asset could be his height.
At 6ft 5in he has very good reach. His handlers, however, have to work on his weight.
His 90 kilograms could be light in a division where weight is critical. Anthony Joshua, the current IBF, WBA and WBO champion, weighs 13 kilograms more than Kiwanuka's 90kg.
Former champion Tyson Fury weighs 117kg when in shape while current WBC champion Deontay Wilder tips the scale at 96kg.
Mwesigwa insists that Kiwanuka is Uganda's best prospect to emerge in the paid ranks at heavyweight.
All Uganda's previous world champions Kassim "The Dream" Ouma, John "The Beast" Mugabi, Boza Edwards, Ayub Kalule and Jackson "Action" Asiku have been at lower weights.
Mwesigwa plans to have Kiwanuka fighting at least five times this year.
"Our target is to have him win the Africa title in a year's time. With the African crown, he will be automatically ranked in the top 10 of the world's big ranking bodies. That will give him a chance to take a world title shot."
Fred Kaddu, George Ajjo, and Peter Okello are some of Uganda's heavyweight who were successful as amateurs but failed to make it big as professionals.
Kiwanuka joins the paid ranks after an amateur career of 18 wins, 2 losses, and 12 knockouts. His wins include an East African title.
Besides Friday's main event, the organisers have put together an exciting collection of undercards.