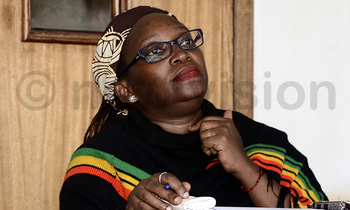 KAMPALA- A police officer attached to the cyber-crime directorate has testified that Stella Nyanzi's Facebook post made on September 16, 2018 contained obscene and indecent words against President Yoweri Museveni.
Testifying in court on Wednesday, Bill Ndyamuhaki, 33, said he searched for Stella Nyanzi's Facebook page on the instructions on Grace Akullo, the director of the criminal Investigations Division on September 17, 2018.
"I came across several other similar pages in the names of Stella Nyanzi but I established that the offensive communication was on one page which I zeroed on," Ndyamuhaki said.
Adding, "When I read through Nyanzi's post, I noted that some content were obscene, vulgar and I cannot reconstruct the sentences in court because they are obscene," the witness stated.
Nyanzi, the mother of three is charged with two counts of cyber harassment and offensive communication in regard to her alleged indecent communication against President Museveni and his late mother Esiteeri Kokundeka.
She has been on remand since November last year after she opted not to apply for bail.
A number of activists who jammed court had their mouth wrapped with paper sole tapes.
Ndyamuhaki also a cyber-crime investigator attached to the police Crime Investigation Division (CID) told court that the indecent post was allegedly made by Nyanzi on September 16, 2018 at about 4:08pm.
"I was instructed to investigate this case by the Director of Director Criminal Investigations Grace Akullo over alleged cyber harassment and offensive communication by Nyanzi against President Yoweri Museveni and his mother late Esteeri Kokundeka," Ndyamuhaki said.
Ndyamuhaki said he possess a Bachelor's degree in computer science from Makerere University in addition to a certificate in cyber-crime investigation and electronic evidence from a Tanzanian institute.
He gave the evidence on the guidance of Buganda Road Court resident State Attorney Janat Kitimbo. The court was presided over by Grade One Magistrate Gladys Kamasanyu.
However, the Ndyamuhaki did not complete his testimony after the defence lawyer Isaac Ssemakadde objected to tendering in court of some documents which were not served to him.
Following the objection, the magistrate adjourned the matter until April 9.
The case
Prosecution alleges that on September 16, 2018, Nyanzi posted on her Facebook wall indecent words against the president and his late mother.
According to the prosecution, the said posts were intended to disturb their peace, quiet and right to privacy.
The law
Under the law, Any person who willfully and repeatedly uses electronic communication to disturb or attempts to disturb the peace or right of privacy of any person with no purpose of legitimate communication is liable on conviction to a fine not exceeding twenty four currency points or imprisonment not exceeding one year or both.
In regard to Cyber Harassment, a person who willfully, maliciously and repeatedly uses electronic communication to harass another person and makes a threat with the intent to place that person in reasonable fear for his or her safety or to a member of that person's immediate family commits the crime of cyber stalking and is liable to a fine or imprisonment term not exceeding five years or both.