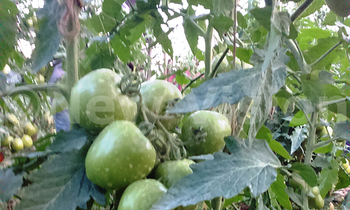 Tomato growing is fun and an easy activity. Besides beautifying a home, they are also edible.
Huzaifah Rutonyi, a gardening expert, says tomatoes grow well under warm conditions and fertile soils (organically or inorganically enriched). Money maker, heinz, Asla and neo-grand are the commonly grown varieties.
Prepare a nursery bed and put it under a shelter to reduce the amount of sunlight reaching it.
Sow the seeds and cover them with a thin layer of soil but water them every day in the morning and evening depending on the weather. They will sprout after a week.
"Harden the seedlings by gradually exposing them to the weather," he says.
Rutonyi says after six weeks, move the seedlings to the garden but plant them one-and-a-half feet apart. Apply organic manure or fertilizers like DAP and NPK and they should be watered every day.
Pests and diseases
Rutonyi explains that fungal diseases like blight cause dry brown patches on leaves, however, one can prevent this by using fungicides like M45.Blossom end rot, affects tomatoes but it can be prevented by mulching (a covering of straw, compost, or plastic sheeting, spread on the ground around plants to prevent excessive evaporation or erosion, to conserve moisture, improve the fertility and health of the soil and reduce weed growth.
Rutonyi says tomatoes are also attacked by green caterpillars called horn worms, which are dangerous to them. But spraying pesticides like rocket will get rid of them.
Maturity
Tomatoes are harvested within three months