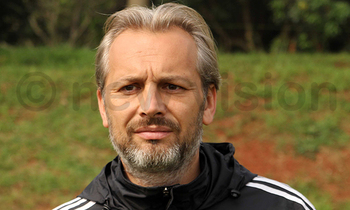 Uganda Cranes coach Sebastian Desabre has hailed the attitude of the players in camp following the numerous training sessions he has overseen at the Startimes Stadium in Lugogo.
"Wednesday's session has been a success. I am happy with the boys and they have done well so let's see how it goes. One week is not enough to get the best of the available players but we are going to do all we can in the available time," stated Desabre.
Cranes are preparing for the final qualifier of the 2019 AFCON against Tanzania later this month.
Desabre was particularly impressed with Police midfielder Juma Balinya.
"I have followed him for a very long time. He is really good. His body language has been very important. I usually speak to him and other players of course," Desabre said.
Balinya expressed his pride and eagerness to impress at the national team level.
"I am extremely happy for my first call. We have very good forwards but I believe my abilities will elevate me to the first team. Of course, being called for the first time puts a little bit of pressure on me but I believe my abilities will put me where I want to be," noted Balinya.
He was part of the local players that were taken through drills.
Nine locally-based players will be selected after regional tour match this weekend to join 15 foreign-based players who will camp in Cairo, Egypt from March 18th-22nd.
From Cairo, the team will travel to Dar-es-Salaam for the encounter against Tanzania.