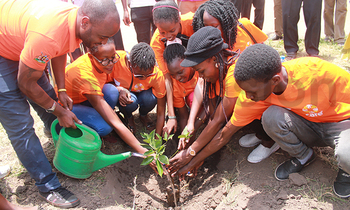 Like a snail that leaves behind a trail, the entourage led by Geoffrey Walker Ayeni has left behind has left a big mark on the lives of women along the walking expedition from Kampala to Adjumani.
The stopover at Nakasongola was not only about tree planting by the walkers. It also attracted local women near River Kafu in Nakasongola, dignitaries from Care International (Uganda) and Makerere University.
Ayeni's expedition hit Nakasongola on March 8th which was also playing host to the commemoration of the International Women's Day celebrations.
The speakers did not disappoint. They connected climate change and the solution which they strongly believe lies in empowering women.
"Climate change is one of the most pressing ongoing emergencies facing the planet today. It is a critical situation for all, but most especially women and girls, who, because of existing gender inequality and vulnerability, are the ones most impacted by emergencies," said Tara Agaba from Care Uganda.
"They are often excluded from decision-making and leadership while becoming increasingly vulnerable to violence stemming from disrupted social structures and dynamics. Gender inequality means neglecting women's specific needs, exposing them to violence, and preventing them from innovating solutions," she added.
However, the climate emergency can also highlight the critical importance of opening new opportunities for women. "Gender equity is one of the keys to averting climate change disaster," said Agaba.
Women make up most of the smallholder farmers in the world, producing the majority of the food in lower-income countries, according to Agaba.
"But they do this with fewer resources and access than are available to men, meaning they are able to produce a smaller yield from the same amount of land," she said.
The inability to produce enough food leads to encroachment into forests, which are critical to the reduction of carbon in the atmosphere.
"Gender equity will mean that women are able to increase their yield, feeding many more people on much less land, and dramatically increasing the planet's ability to fight climate change," Agaba said.
She concluded that women's empowerment can have another key impact on forests because women are also more likely to plant and nurture trees than men.