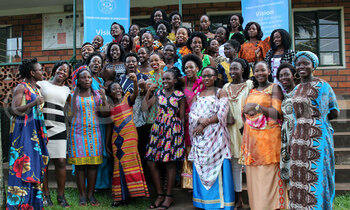 Despite the odds against women, a number of them have shone in various careers and have set a precedent for other young women.
The former Leader of Opposition in Parliament, Winnie Kiiza, is among those women to look out for.
Kiiza joins a list of outstanding women personalities in the country such as Winnie Byamyima (Oxfam boss), Dr. Miria Matembe (former ethics minister) and Dr. Specioza Wandira Kazibwe (first woman Vice President 1993-2004 in Africa) among others.
Away from their academic successes, these women are known for strongly advocating for women rights.
"If I had not stood for what I wanted to help my people; I would still be a village woman suffering in silence," Kiiza said at the Alternative and Transformative Training for young women leaders at Foyer De Charite in Namugongo, Wakiso district.
The training organised by Forum for Women in Democracy (FOWODE) aims at empowering women through various skills to lift their ability and live sustainable lives.
Kiiza is among the prominent beneficiaries of this training.
Her rise
Born in 1972, in a remote village of Nsenyi, Kisinga Sub County, Kasese district, Kiiza started fending for her siblings at about 10 years; shortly after her father's death.
"I used to do brick laying, vending pancakes, yellow bananas, sugarcanes and also worked in people's gardens to help my mother raise our school fees," she narrates.
Through hustling, she managed to complete her primary education at Kisinga Primary School. She joined Saadi Memorial for O'level, and later St. Maria Goretti Fort Portal for A-Level before enrolling at Makerere Business School (MUBS).
Her life changed in 1991 during her senior four vacation, when she was selected among the students to represent Uganda at the Rights of Children Convention in Norway.
Kiiza says this opened up her mind. "I started looking at things differently upon return."
"I started talking to parents in our community about children rights especially the right to education and its importance. I also started joining various groups like Red Cross and debating clubs at school among others," she adds.
After graduation, Kiiza opted to join politics as a district councilor for Kisinga and Kyondo sub counties in 1998 - 2001, till 2006 when she stood for Kasese district Woman MP.
"Many women in our community believed in me because I helped many who were being oppressed by men to know their rights.
Kiiza says the transformative training by FOWODE, helped her to stand for the MP seat with confidence.
"I gained knowledge and communication skills, which gave me courage. I resolved to go and fight for our rights at the governance level because it is where everything is done. It helped me discover who I am," she says.
The FOWODE training helps young women to understand women issues from an informed perspective, thus raising strong and fearless leaders who are equally informed to provide the necessary checks and balances to those holding leadership positions.
Kiiza emphasises the importance of education among women if they are to compete equally with men, stressing that it is the only way to penetrate the current system dominated by men.
Need for more credible leaders
Closing the third session of the 24th transformation camp 2018, former ethics minister, Miria Matembe said there are still a number of barriers holding women back compared to their male counterparts.
She observed the need to train more transformative leaders to drive women issues at various levels.
"We fought for the rights of women but I am so disappointed in some of the women who hold leadership positions in government. They have let us down. They never stand up for what is right. They keep changing from one side to another. That is why; we want to have young transformative leaders who can follow Godly values and bridge the gap," she notes.
She says young women leaders should look up to the legacy of their predecessors who have been advocating for women rights and good leadership.
Matembe stresses that breaking the barriers is not enough for women, but "what you do to improve women's lives is most important."
She notes that unlike their time where they had no one to look up to; young women leaders today have many figures to learn from.
The power of politics and education
Matembe encourages women to take up places where decisions are made if they want to change things.
"Women will never achieve much if they do not join politics. Decisions are made at the political level. All decisions which affect women and everyone are made at the political level," she notes.
She says more women need to get educated and know their rights.
"Of course without education and being informed, it will be impossible to influence on anything. We still need quality education for all girls up to university. We still need better health services for mothers among others. We cannot achieve this without women getting into influential positions," she adds.
She points out that acquiring quality education and getting into top leadership positions is not enough, if leaders are not accountable to their people.
"We are the people who get pregnant; rapped and defiled. What do men know about us? Why should they make decisions for us on breastfeeding and pregnancies?" she asked.
Matembe says they started the journey with affirmative action and pushing for the 1.5 points for girls joining university, because it was hard for girls especially from rural areas to join university.
"This opened doors for more girls at university and other higher institutions of learning."
Importance of the training
The FOWODE programmes director, women and leadership programme, Elizabeth Ampairwe says there is still need to raise more transformative women who can break the barriers still affecting women to prosper.
She notes that women still lag behind in political engagement and other leadership positions where many critical decisions are made.
"Our main focus is to ensure that all girls start and complete school as a key. Yes; universal education was achieved but many girls still drop out due to lack of sanitary pads and early pregnancies among others. Maternal mortality is still a problem due to poor health services," she notes.
Adding; "We still have many issues to address and this can only be achieved when we have focused transformative accountable leaders in decision making positions ready to push for these concerns."
According to FOWODE; the percentage of women in Parliament is at 35% out of the 453 MPs, which is still low.
"We are proud that some of us broke the barriers to where we are, but we are the minority. Each of us must play their role to help other women rise up," she notes.
Ampairwe says the annual FOWODE camp is focused on extemporary leaders that have a vision and commitment to gender equality, social justice and social transformation; leaders who can critically assess local and global challenges and work independently in finding solutions.
Georgia Tumwesigye, the programme officer women and leadership programme, says the training started in 2004 and has so far groomed over 700 women cadres engaged in various leadership positions in higher institutions of learning, the private sector, public service, and political leadership and within their communities at the local level.
"These girls are given enough knowledge to understand deeply their rights and how they can use the same knowledge to help fellow women in their communities. We support those with outstanding project proposals aimed at lifting other women and those aspiring for some political positions. We also empower them through entrepreneur skills," she notes.
She says despite efforts to push for gender equality many women are still going through hell in homes and their communities due to cultural and religious norms where women are still seen as men's property.
Ampairwe stresses that both men and women need to sit at the decision making table for better results.
"We want to see improvements in political influence, health, education access and economic empowerment. We are proud that many women have joined the business sector," she notes.
She stresses that enforcement of gender laws remains a big challenge, a reason why women continue to be harassed and discriminated.
"Some women are still denied their right to property and education in some communities thus affecting their productivity. More girls continue to be sexually exploited. We think these young girls can sensitise communities on such issues from an informed view," she says.
Beneficiaries and eligibility
This year's third session attracted 30 young women from the districts including; Amuria, Kabale, Lira, Gulu, Kabale, Kampala, Kanungu, Kamuli, Kisoro, Lyantonde, Luwero, Buyende, Mityana, Masindi, Mukono, Namisandwa, Rakai, Rubirizi, Rukungiri, Soroti, Ssembule, Wakiso and Kapchorwa.
The training targets young women between the age of 21-26. "We always advertise in the papers and on our website. Those interested send in applications and they are vetted after some assignments," she explains.
The participants were equipped with skills in social and business entrepreneurship, emotional intelligence and communication skills and various subjects including; gender, governance and alternative leadership, feminism in Africa, gender and development, gender budgeting, conflict and human rights, the making of Uganda, me and my community, Africa women history, gender and culture.
Judith Ninsiima, from Mbarara, says she has realised the need for more women in leadership positions to easily push for their agenda.
"I have learnt to be positive and to stand by the truth if I want to be an influential leader. I have always been inspired by Winnie Byanyimna and Matembe; and I am looking at being a leader like them," she says.
Jennifer Aroch a graduate from Gulu University says the training helped her gain entrepreneur skills which she intends to use to start her own employment and also train other girls and women to change their lives.
"I graduated in Development Studies was not yet employed. I have been doing some research work with various groups and paid. I want to use the skills I got to start my job and train other girls," she notes.
FOWODE was established in 1995 by a group of women, with the aim of advocating for women rights to participate in leadership and decision making and for equitable decision of resources through gender budgeting