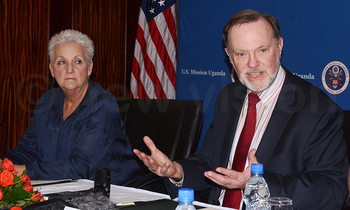 A top US envoy for Africa has advised President Yoweri Museveni and his Rwandan counterpart, Paul Kagame, to discuss and resolve any emerging contradictions for the good of regional security and stability.
"Rwanda and Uganda should discuss," Tibor Nagy, the Assistant Secretary for African Affairs, said on Friday during a press conference that he jointly addressed with the US envoy to Uganda, Deborah Malac, at Serena Hotel in Kampala.
He was responding to a question on what the US can do to ensure that the tension between the two countries is resolved amicably.
Nagy said Uganda and Rwanda share longtime friendly ties, and through discussion, the two neighbours can come up with lasting solutions for their differences.
Nagy held talks with Museveni on Thursday, which he described as "private" and "cordial".
"We discussed the state of relations between the US and Uganda. The US considers Uganda an important partner on a number of areas," Nagy said, underscoring that the purpose of his visit is not to mediate between Uganda and Rwanda.
On Saturday, Nagy started his Rwanda tour, and he is expected to hold talks with Kagame. On Sunday, Nagy will also visit the Democratic Republic of Congo (DRC).
Nagy said Uganda and Rwanda have a strong bond that is cast in the history of the two countries; the emerging differences can only be solved by the two countries and not external forces.
Recently Rwanda closed Gatuna and Cyanika borders, saying they are working on a one-stop border post at Gatuna. The Rwandan government advised traders to use the Mirama Hills border point.
Rwanda's foreign affair minister, Richard Sezibera, however, said Uganda is hosting armed adversaries against Rwanda, an accusation, the Ugandan government denies.