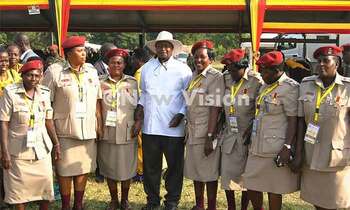 INTERNATIONAL WOMEN'S DAY - MARCH 8

Presented by Joseph Kizza

National celebrations were held in Bunyangabu district

________________________


It's a wrap


Happy Women's Day!


Yes, that face is familiar. Quiin Abenakyo, the reigning Miss World Africa, was recognised for putting Uganda on the global map.
#UgandaToday

____________________________________
Use dogs to deal with garden theft, says Museveni

After his discourse in Rutooro, President Museveni now switches to English to summarise what he has just said for the benefit of other non-Rutooro-speaking audience.

He starts off by saying that the area has been peaceful inspite of the choas that has been going on in neighbouring DR Congo. "I have told them that this peace will be maintained. Nobody will disturb the peace of Uganda."

"But I have been told there is rampant theft here, with people stealing crops like vanilla, bananas," says Museveni, adding that the should is simple. "Use dogs."

According to the President, he has been told that there is a canine unit in Fort Portal but they have never used the dogs to track thieves in this area because of the lack of means to transport them to the area. He tells the district leaders to ensure there is transport on standby in case dogs are required to be dispatched.

Museveni also says that he has never believed in road blocks after crime has been committed. Instead, installing security cameras on the road should do a better job of tracking criminals, like is being done in Kampala. Soon, this technology will be rolled out to the area, adds the President.

Relatedly, he makes reference to his speech last year to Parliament on security. "We plan to install electronic monitors in cars and motorcyles - but at the cost of the owner." The thinking here is: You can track a garden thief from the garden to the road using a dog, and then on the road using both security cameras and electronic monitors.


All legally held guns will be finger-printed. When this happens, once a cartridge is fired, we shall be able to tell which gun discharged the bullet. If any legally-held gun is used in crime, we shall trace it, this includes guns in private hands but licensed by the police. pic.twitter.com/9m4z5BxarW

— Yoweri K Museveni (@KagutaMuseveni) June 20, 2018

On infrastructure, Museveni says roads from Fort Portal all the way to Bushenyi are being worked on and that the money is available.

On electricity, he says the district should have a plan for electricity for every area and this cannot only be achieved by using solar energy to supplement grid electricity. He found it ironic that in one subcounty (Kabonera), there is power yet it has not reached the headquarters, as told by one of the locals.

He also told the area people about the key sectors for wealth creation, including commercial agriculture. He says fish farming, factories and mining are important sources of wealth for the masses.

"I also told them about the services. I told them that tourism brings in more money than coffee. I told them that they should not look at tourism as a competitor," he adds, pointing at such parks as Queen Elizabeth National Park.


From the amazing gorillas in Bwindi in Western Uganda to the breathtaking Sipi Falls in Eastern Uganda, any tourist would be spoilt for choice. Importantly, it is the warmth of Ugandans that would make any tourist feel at home here. Uganda is the best tourist destination. pic.twitter.com/bLGt8Zx5EM

— Yoweri K Museveni (@KagutaMuseveni) February 17, 2019

In terms of national interest, President Museveni says everyone should understand the importance of conservation. "I am not going to graze my cows in a national park. Everybody should know what is good for the country, so that we don't have a tug of war on what is clear".

The other source of wealth is ICT. He gives an example of a case of business process outsourcing (BPO), where an accountant is here in Fort Portal, does book keeping for a company in the UK, and sends it using the internet and then gets paid via the same channel.

Museveni also talks about remuneration of local leaders and proposes something. "Instead of paying the local council leaders, we shall form a SACCO because if we are to pay them we shall run bankrupt. This is a proposal."

In the same spirit, he also talks of the need to minimise expenditure on both interanal and external travel so that the monies are instead channeled to other critical sectors. "We need to cut down our expenditure on travel internally and abroad so that that money can help the people."

President Museveni also touches on the issue of environment, underlining the importance of proper farming practices. He also urge the people of the area not to be "lured by the opportunism of leaders" - politics of sectarianism.

"Don't fall for it. You may elect a leader on sectarian ground but when he is useless. Elect leaders because they are good workers. Assess their capacity to solve your problems."
#UgandaToday

____________________________________
Inner self of a woman


Forbearance, Patience and Courage made the inner self of a woman. Keep Glowing and the World will bestow you.
Happy Women's Day.#WomensDay #BalanceForBetter pic.twitter.com/9vIbR1Vf9t

— Lt. Col. Edith Nakalema (@edthnaka) March 8, 2019
'Let's appreciate health workers'


This Women's Day, let us appreciate our health workers for ensuring high quality medical services for all.
Their efforts have contributed to reduced Maternal Mortality, under 5 mortality, safe deliveries among many other achievements.

Thank you.Happy Women's Day to you! #IWD19 pic.twitter.com/IpB0phyI7L

— Ministry of Health- Uganda (@MinofHealthUG) March 8, 2019
#UgandaToday

____________________________________
Picture this . . .


Earlier at Rwimi Primary School during the march past.


#UgandaToday

____________________________________
Operation room for each police station

President Museveni says that each police station should have an operation room with personnel 24 hours.
#UgandaToday

____________________________________
PRESIDENT DELIVERS ADDRESS AT WOMEN'S DAY EVENT


The head-of-state is invited to speak to the nation by Janat Balunzi Mukwaya, the minister of gender, labour and social affairs.

This time around, President Yoweri Museveni does not go into a lengthy introduction of the people around, saying making this part of a speech brief saves time (he makes reference to what happens in neighbouring Tanzania, where introductions at official functions are very brief).

Donning a white shirt and his trademark hat, he says he will start his speech in the local dialect Rutooro, before summarising in English.
#UgandaToday

____________________________________
Women take full charge of Ugandan airspace


What a man can do, a woman too can. Nice move, CAA!


In celebration of the International Women's Day, CAA Uganda will have an all-female Air Traffic Control team to man the Ugandan airspace on Women's Day (2019). Here are some brief experiences of four of the ladies at your service #WomenInAviation #IWD2019 #WomensDay2019 @nbstv pic.twitter.com/dykVdNuQYF

— Uganda CAA (@UgandaCAA) March 7, 2019
#UgandaToday

____________________________________
Empowering women farmers


If women farmers had equal access to resources as men, numbers of undernourished people decreases as much as 17% — that's about 150 million people. #EmpowerWomen #IWD2018 @GenderAtState pic.twitter.com/bZt7t3VhGf

— U.S. Mission Uganda (@usmissionuganda) March 7, 2019
#UgandaToday

____________________________________
Women take the reins at Etop



New Vision's Godfrey Ojore:

Female staff of Etop Radio and Etop newspaper have taken full charge of broadcasting and reporting today as Uganda and the rest of the world celebrate the International Women's Day.

Etop Radio listeners in Teso region woke up Friday to only female voices on the airwaves, which is unsual.

When the men arrived at work for duty, they found out that most of their roles had been taken, leaving them with no option but to prepare tea and later serve their female counterparts.

"It feels good to have staff that respect women. How I wish every day is Women's Day!" said an excited Stella Ipas, the news editor of the radio as she received her tea from Felix Osujo, a senior reporter at the station.


#UgandaToday

____________________________________
WATCH: Around Uganda



Around Uganda: Women's day celebrations in Bunyangabu district
Details and more stories in the full bulletin
Visit https://t.co/smlDq3yHX2#NewVisionTV cc. @ruthdavoice #WomensDay #HappyWomensDay2019 pic.twitter.com/lsoAjmusEf

— New Vision UGANDA (@newvisionwire) March 8, 2019
#UgandaToday

____________________________________

LENT: You can eat meat today

Today's celebrations have come during the Lent season, when Catholics around the world are fasting.

But for the people of Mbarara Archdiocese, Archbishop Paul Bakyenga has "granted dispensation from the obligation of fast and abstinence" for today.

It means that in this particular jurisdiction, you can eat meat today despite it being a Lent Friday.


#UgandaToday

____________________________________

Celebrations in Kaberamaido

It's Women's Day celebrations in Kaberamaido district at Apapai sub-county headquaters.


#UgandaToday

____________________________________
A special gift to you


The women of Vision Group had a gift waiting for them at the office.


#UgandaToday

____________________________________

PRESIDENT YOWERI MUSEVENI ARRIVES

The President is presiding over the colourful ceremony.


#UgandaToday

____________________________________
Recognising the women of the nation


Kitgum Municipality MP Beatrice Atim Anywar is in jolly spirits.


Some guests are finding ways to shield themselves from the sun.


Hats off to the women of the armed forces.


The mothers of this nation.


#UgandaToday

____________________________________
A special production



As part of our #WomensDay special production

Don't miss the airing of the Magdalene movie, this #WomensDay 2:30pm

The movie is brought to you by @LIFEmuganda #UrbanMovies pic.twitter.com/ZXg6YR3ios

— Urban Television (@UrbanTVUganda) March 8, 2019
#UgandaToday

____________________________________

All eyes on women

Speaker of Parliament Rebecca Kadaga is here.


Once under the tent, she has a chat with the Prime Minister, Dr. Ruhakana Rugunda.
It is a well-attended event.
Florence Nakiwala Kiyingi, the state minister for youth and children affairs, is in a gomesi today.


Security minister Gen. Elly Tumwine is also around.
#UgandaToday

____________________________________
Hot day!


It's a sweltering day at the venue of this year's national celebrations, Rwimi Primary School grounds, with the temperatures at 27°C.

Humidity is at 41% and winds are travelling at 14 km/hr.


#UgandaToday

____________________________________

Recognising women

The International Women's Day is celebrated annually on the 8th of March to recognise the role and contribution of women to the development process all over the world.

This year's global theme is: Think Equal, Build Smart, and Innovate for Change' and it focuses on creating a paradigm shift for transforming mind sets to the goal of gender equality as well as identifying new ways of advancing the women's agenda at all levels.


#UgandaToday

____________________________________

It's a hot Friday in Bunyangabu district

The national theme is: Empowering women through innovative approaches to social protection: A pre-requisite for inclusive and sustainable development.

This theme recognizes the importance of providing social protection to women with the aim of minimizing their vulnerability, building their potential through innovative approaches so that they contribute to and benefit from the development process.