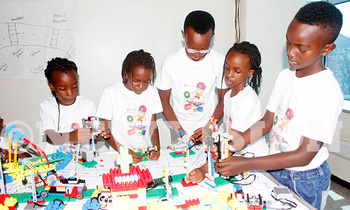 EDUCATION|TECHNOLOGY

KAMPALA - Government has pledged support to private projects designed to equip pupils with science and technology skills.

Launching the e2 Young Engineers Kampala, the Permanent Secretary of ministry of ICT and National Guidance, Vincent Bagiire on Tuesday, said the programme targets to nurture Uganda's next generation of scientists, innovators, creators and entrepreneurs through teaching basic scientific principles.

Code named e2Young Engineers for children aged between four and 15 years, the project runs a new Science, Technology, Engineering and Mathematics (STEM) programme designed in Israel.

The programme gives children an opportunity to learn while having fun building with the world's favourite building block-LEGO

The e2 Young Engineers Kampala, is an Israeli franchise owned by the African School of Innovations, Science & Technology (ASIST), a private institution.

According to the ministry, the project includes pre-school classes and after-school enrichment classes such as summer camps and birthday parties, where children are given an opportunity to learn while having fun.

Bagiire said, ''We will work with many schools and the Ministry of Education and Sports to provide Ugandan children an opportunity to participate in such programmes just like their age mates in Israel, United States, Canada, Japan, China, Italy, UK and South Africa.

He said the programme utilises an edutainment (education + entertainment) approach which helps transform the learning process into a game while introducing children to theoretical and practical knowledge in the fields of Science, Technology, Engineering, and Mathematics (STEM).

The Managing Director of ASIST Arinaitwe Rugyendo, said the programme is helping to compliment government efforts of skilling Uganda, a programme, which was launched in 2012 to address the skills gap in the country.

Rugyendo explained that the e² Young Engineers programme targets begun in July 2016 and is currently operating its first centre in Kampala City in Naalya along Kyaliwajala-Namugongo Road, Kira Municipality.

Rugyendo noted that the programme enables children to appreciate science, technology, engineering and mathematics principles at an early age.

He said at e² Young Engineers, they believe in supporting and helping parents realise that goal, by preparing their children for an evolving environment full of inventing, creating and initiating.

"Our STEM learning programmes start out teaching children fundamental scientific theories, and progress to advanced engineering and problem-solving topics as they move through our curricula," Rugyendo said.

Diarmuid Obriain, a researcher at the College of Engineering of Makerere University said, world over, technology is constantly developing and improving.

"Parents should understand the increasing importance of giving their children the best education possible in the fields of science, technology, engineering and mathematics," Obriain said.

He noted that by allowing children to immediately apply theories they learn at the start of their classes by building motorized LEGO bricks models that demonstrate the theory in action.

Obriain noted that research has shown that children on STEM programmes tend to appreciate and perform better in science and technology-related subjects than those that are not.