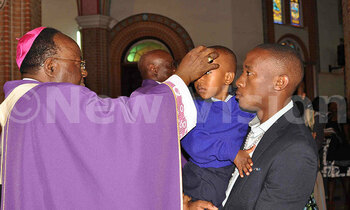 PIC: Archbishop of Kampala, Dr Cyprian Kizito Lwanga putting ash on a little boy's forehead to symbolise the beginning of Lent at Lubaga Cathedral on Wednesday March 6, 2019. (Photo by Juliet Lukwago)
LENT ASH WEDNESDAY
KAMPALA- As Uganda joins the rest of the world to mark Ash Wednesday, Archbishop of Kampala Archdiocese, Dr. Cyprian Kizito Lwanga has said fasting does not only mean to fast for food. Lent is a spiritual renewal and a period to repent.
He said if you used to mistreat, abuse people, murder, lie, this is time to repent. As human beings, however, we realise that some of our words, actions and thoughts have not been in conformity with the will of God that is revealed to us in the Ten Commandments, the Word of God and the teaching of the Church. Realising our human weaknesses, we should not be lost in despair but rather we should rejoice in the loving mercy of God.
Archbishop Lwanga said: "Time of Lent focuses more on the renewal, spiritual exercises, penitential liturgies, voluntary self-denial such as fasting and alms giving, pilgrimages to holy places, fraternal sharing, as signs of penance of our lives."
Archbishop Lwanga said the Lent season is a time of grace for intensive prayer, alms giving and fasting in order to turn our thoughts and actions to God as our Father and Creator.
He said this while preaching to hundreds of Christians gathered at Sacred Heart of Mary Cathedral, Lubaga at Ash Wednesday mass earlier today. He also said smearing ash on the forehead signified repentance.
The prelate also pointed out that Ash Wednesday is the day that marks the beginning of 40 days of fasting for Christians. The day represents the 40 days Jesus spent fasting in the desert.
He said this year in Kampala Archdiocese Lent season is being marked under the theme: 'Remember, Rejoice and Renew starting a fresh from Christ.
"Lent is a time for spiritual transformation and renewal, we, Christians prepare to celebrate the Lord's death and resurrection by a penitential season of 40 days," he said.
Lwanga called upon Christians to give alms to the poor and offer support to the needy during the 40 days of fasting. "Even if you don't have money, you have something you can give to others," advised the Archbishop
He added, "We start the season of Lent in our Catholic life and faith with the rite of smearing ashes on our foreheads. One may wonder, why should we smear ourselves with ashes? We smear ourselves with ashes as a sign of our repentance and humility in the presence of God. Biblically, ashes have a strong meaning of someone who has repented and is seeking to reconcile with God."
"I exhort all of you to use well this time of Lent so that it may truly be a moment of grace for all of us, by living the three fundamental pillars of Lent, prayer, fasting and almsgiving," Lwanga said.
Archbishop Lwanga was assisted by chancellor, Fr Pius Ssentubwe Male, Parish priest of Lubaga Cathedral, Fr. Joseph Mary Bbuye, Vice-Chancellor, Fr Joseph Sserugga and Fr. Honoratus Kazibwe.
However, Fr Bbuye advised Christians to undertake the values of lent for spiritual enrichment. There was need to pray to have peace.
Traditionally, Lent begins on Ash Wednesday and ends at sundown on Holy Thursday. Since this is more than forty days, some contend that Sundays are not counted in Lent. Instead, they argue, Holy Thursday, Good Friday, and Holy Saturday are counted instead.