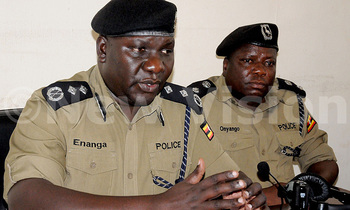 Kampala Metropolitan police spokesperson, Patrick Onyango. Photo/File

CRIME

KAMPALA - Police in Kawempe have recovered a stolen vehicle and arrested four people suspected to be behind a racket of car robberies.

The arrest of the four suspects (names withheld for investigation purposes) was after a concerned citizen tipped off police about a motor vehicle, a white Toyota Premio registration number UAK 672X, which was being suspiciously sold in Kawempe.

"Kawempe Police responded very fast and four thieves were arrested and the above vehicle recovered," Kampala Metropolitan police spokesperson, Patrick Onyango, said in a statement.

According to Onyango, the suspects have confessed to stealing vehicles from areas of Mukono, Kayunga and Buikwe districts.

"The owner of the above motor vehicle can go to Kawempe police station with the relevant documents pertaining to the car to claim his asset," said Onyango.

Onyango appealed to the public to always give police information whenever they suspect stolen vehicles in their areas or impending sale of such vehicles.