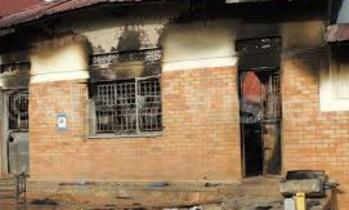 RAKAI SCHOOL FIRE
Human Rights Activists and family members of the six suspects in St. Bernard's Mannya SS fire have advised the Director of Public Prosecution to expedite investigations in the case.
They claim that delayed investigations have upset committal of the suspects to high court for trial which has affected them financially and psychologically.
The suspects including Alex Taremwa 18, Junior Mugarura 18, Dickson Kisuule, 18 and Edison Niyo, 21 (all students) appeared in Masaka Grade One Magistrates court.
Others are Michael Tayebwa, a security guard and a police officer Corp. Steven Nzeyimana.
The suspects have appeared in the Grade One Magistrate's court four times only for mentioning and further remanded due to incomplete investigations.
They first appeared before the Chief Magistrates Court on November 27, 2018. Other subsequent sessions were December 13, 2018, January 10, 2019, and February 15, 2019, all presided over by Adyeri Christopher.
But some parents have always protested claiming their children were innocent and needed not to spend longer time on remand.
On Friday 15, 2019, the presiding Magistrate adjourned the case until March 22, 2019 which provoked anger among the agitated family members.
The state prosecutor Victoria Ann Nanteza maintained that investigations usually take some time especially in very sensitive cases.
She explained that they handle every process carefully to avoid making blunders which may affect justice.
But Niyo's sister -Josephine Ingabire said she spends about Ugx60,000 on transportation to and fro in order to attend a court session in Masaka.
However to her disappointment the suspects are consistently remanded without committal.
Kisuule's father Moses Mujumba said that justice is always denied when investigations delay especially for innocent youths like his son.
He added that Kisuule was already in custody at Mannya Police Station two days before the dormitory was burnt. He had refused to go back home when the school expelled him for alleged misconduct.
Further still, Tayebwa and Nzeyimana only have one count of duty negligence. However, their relatives said that they want to stand surety for them but have not had an opportunity due to delayed committal by the DPP.
Hajat Shifa Kateregga, the Executive Director Human Rights Defenders Masaka (HURIDEM), said that although some judicial processes take some time, the students' fire case needed speedy investigations and trial.
She explained that timely prosecution of the suspects saves time and helps to clear doubt in the judicial system.
The gruesome incident occurred on Sunday November 11 2018 when unknown people torched Senior Three dormitory. Ten students died and 37 were injured plus property worth millions of shillings destroyed.
Speaking to the New Vision in his chambers, the Magistrate (Adyeri) said the case is capital in nature and cannot do much about it other than mentioning and remanding the suspects.
He explained that it is upon the (DPP) to determine the case for committal after investigations.
Adyeri further added that if the suspects spend six months on remand without the prosecution (DPP) concluding investigations, then the suspects have a right to be released by law.