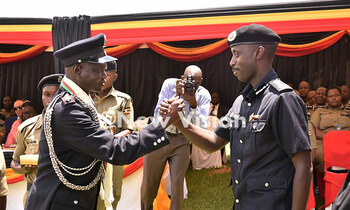 ROLLING NEWS THROUGHOUT THE DAY

Presented by Joseph Kizza
@joekizza

____________________________________


4:00pm


Good evening!


That's all for today. We meet again Thursday.

Cheers!


#UgandaToday

____________________________________

3:47pm


Sh280bn wanted for new national planes


Apparently, the two Uganda Airlines aircraft are due to be delivered within 10 days. Finance wants sh280b for their payment.


Finance State Minister David Bahati seeks a Supplementary Appropriation of Shs1.1 trillion, with Shs280b being payment for two Bombadier CRJ900 jets to be delivered within 10 days.

He led a team from Ministry of Finance to defend the request before the Committee on Budget pic.twitter.com/cCDWLrWBpV

— Parliament of Uganda (@Parliament_Ug) March 6, 2019
#UgandaToday

____________________________________

3:30pm

Makerere HR boss wanted in court over Stella Nyanzi sacking


New Vision's Farooq Kasule:

Earlier today, High Court judge Lydia Mugambe directed Makerere University human resource director Andrew Abuyang to appear in court today at 3pm without fail to be crossexamined over Stella Nyanzi's sacking.

Mugambe was compelled to issue the directive after Abuyang failed to honour the court summons for a second time. "I am standing over this matter until 3pm for Abuyang to appear in court without fail," he ruled.

Last year, Nyanzi sued Makerere University, seeking payment of her salary as per the orders of the University Staff and Appeals Tribunal. She accuses the university of contempt of the tribunal directives by not paying her outstanding salary arrears as it directed.

Nyanzi, who has spent over four months on remand over cyber harassment and offensive communication against President Yoweri Museveni, also wants court to reinstate her at the university.

Last year, the university tribunal held that Nyanzi's indefinite suspension was illegal and offended Section 63(2) of the Employment Act, 2006, which says that an employee cannot be suspended for more than three weeks or the inquiry period.
#UgandaToday

____________________________________

3:25pm


Four arrested in Kawempe, stolen car recovered


Police in Kawempe have arrested 4 suspects & recovered a stolen motor vehicle.The recovered car is Reg. No. UAK 672X, Toyota premio, white in colour.Yesterday, while acting on information about impending sale of the above car, Police responded & 4 thugs were arrested & the car.

— Uganda Police Force (@PoliceUg) March 6, 2019
#UgandaToday

____________________________________

3:10pm

Five primary schools closed in Bundibugyo

The Bundibugyo deputy Resident District Commissioner (RDC), Umaru Muhanguzi, has closed five primary schools in Bundibugyo Town Council for operating illegal boarding sections, reports New Vision's Geoffrey Nyamwongera.

Muhanguzi says the schools have poor boarding facilities yet they are not authorised to even have boarding sections. "Some schools are operating yet they have substandard facilities and the hygiene is so worrying."


#UgandaToday

____________________________________

2:30pm

RIP Nnalongo

A requiem Mass has been held for the late Nnalongo Emirina Maseruka, the mother of veteran journalists JB Wasswa and Josephine Maseruka. The Mass was led by retired archbishop of Lugazi Diocese Mathias Ssekamaanya at Our Lady of Consolata, Gayaza.

New Vision's Apollo Mubiru attended the prayers and took this photo of the white casket with a wreath laid on top of it and a framed portrait of the late beside it.


#UgandaToday

____________________________________

2:20pm

Naturalising refugees: Tanzania recognized


New Vision's Timothy Murungi:

During the ongoing high-level meeting of ministers in charge of refugees in the Great Lakes region in Kampala, Tanzania has been given special recognition for their efforts in naturalising refugees.

The meeting at Speke Resort Munyonyo is being attended by ministers of representative countries, UN and AU representatives, World Bank, civil society and members of diplomatic corps.

It aims to, among other issues, raise the visibility of the scale of refugee crisis and means of managing it.

Currently, there are over four million refugees and asylum seekers from Burundi, the Central African Republic, DR Congo, Rwanda and Sudan in the Great Lakes region.


#UgandaToday

____________________________________

1:50pm


Passing out of police officers at Bwebajja


Deputy Inspector General of Police Brig. Sabiiti Muzeeyi attends the ceremony.

This happened earlier today . . .


#UgandaToday

____________________________________

1:05pm


LUNCH BREAK


A breather . . .
#UgandaToday

____________________________________

12:57pm

Passing out ceremony of Police officers at Bwebajje


The passing out ceremony for 45 officers from the rank of assistant superintendent of police has taken place at the Police Senior Command and Staff College in Bwebajja, off Entebbe Road.

They took the intermediate command and staff course.

The aim of the four-month-long instruction is to develop senior officers' command, leadership and supervisory competencies to meet contemporary policing challenges.

Pictures from this event will be coming up after the break . . .
#UgandaToday

____________________________________

12:40pm


Grounded flights at Jomo Kenyatta Airport


In the Kenyan capital Nairobi, passengers had to wait under the shade outside Kenya Airways's departure terminal due to a strike by airline workers at the Jomo Kenyatta International Airport in Nairobi.


Hundreds of travellers were stranded at the international airport as riot police were deployed and teargas fired to disperse striking workers. With flights grounded since midnight, passengers were advised not to come to the Jomo Kenyatta International Airport.
Kenya Airways' CEO Sebastian Mikosz addressed the media about the situation at the airport.
Kenya's transport minister James Macharia also spoke to the media during the strike by Kenya Airways workers.
#UgandaToday

____________________________________

12:30pm


Hundreds of travellers stranded in Nairobi airport strike



Hundreds of travellers were stranded at Nairobi's international airport Wednesday as riot police deployed and teargas was fired to disperse striking workers.

With flights grounded since midnight, passengers were advised Wednesday morning not to come to the Jomo Kenyatta International Airport (JKIA) -- East Africa's busiest according to the Kenya Airports Authority (KAA) -- until further notice.


"Kenya Airways regrettably wishes to inform its customers and the general public that due to the illegal strike by Kenya Aviation Workers Union (KUWA), the airline will be experiencing disruptions in normal flight operations," a company statement said.

Inside the terminals, strikers faced off with police who fired teargas as they moved in to arrest union officials they accused of inciting workers.

Passengers waiting for flights, some for hours, were asked to leave the airport, and gathered in parking and waiting areas outside the building.

"I have been here since 3:00 am, and there is no flight, there is no information, we have just been told now to wait for communication," stranded passenger Mercy Mwai told AFP.

Another, Christine, questioned: "why are police using unnecessary force with teargas at an airport?"

Some passengers received medical treatment on-site for tear gas inhalation, according to an AFP journalist at the airport.

The workers, who had not announced their labour action beforehand, are angry about the planned takeover of the airport, operated by the state-run KAA, by national carrier Kenya Airways.

But Transport Minister James Macharia said workers need not worry.

"What they were fearing is that the proposed merger between KQ (the acronym for Kenya Airways) and KAA will result in job losses but we gave assurances that that will not happen," he told journalists at the airport, and promised flights will resume shortly.

"So this (strike) is completely uncalled for because the deal has not happened."

According to the KAA, more than 7.6 million passengers and 313,000 tons of cargo passed through JKIA in more than 111,000 aircraft movements in 2017.

The airport contributes just over five percent to Kenya's gross domestic product.

Kenya Airways chief executive Sebastian Mikosz said 24 departing flights, and two arrivals, were affected by the strike, but "we expect the situation to normalise during the day."

"We are set to resume operations, although the process is a bit slow," he said. "Our flights to London, Dubai, and Mumbai will be departing shortly."
#UgandaToday

____________________________________

12:15pm


Modern family planning method campaign


The RISE program, a modern family planning method campaign aimed at empowering women through innovation approaches to social protection, has been launched.

"RISE also seeks to strengthen and support the health system," tweeted Dr. Joyce Moriku Kaducu, the minister of state for primary healthcare, on Wednesday.


RISE project was launched by the Speaker of @UKParliament @RebeccaKadagaUG .The launch also engaged @MinofHealthUG leadership and development partners. pic.twitter.com/WV8hDSLrgY

— Dr. Joyce Moriku Kaducu (@MorikuJoyce) March 6, 2019
#UgandaToday

____________________________________

11:58am

Large study again confirms MMR vaccine doesn't cause autism


A study following more than 650,000 Danish children for over a decade has led researchers to the same conclusion as previous efforts: the measles, mumps, rubella (MMR) vaccine does not increase a child's risk of autism.

The study, which followed all Danish children born between 1999 and 2010 until 2013, compared the number of vaccinated and unvaccinated kids who were diagnosed with autism, and found no difference

"We found no support for the hypothesis of increased risk for autism after MMR vaccination in a nationwide unselected population of Danish children," researchers wrote in the US journal Annals of Internal Medicine.

The authors, from the Statens Serum Institut, the University of Copenhagen and Stand University School of Medicine, point out that their study comes to the same conclusion as a 2002 study that followed 537,000 Danish children.

And they cite 10 other studies on childhood vaccines, including six on the MMR vaccine, which also found no links between vaccination and autism.

In comparison to the hundreds of thousands of children studied for years whose data researchers say shows no link between the MMR vaccine and autism, the 1998 study that anti-vaccine proponents still often cite to claim a link included only 12 children.

That study was retracted by the medical journal that published it and the author, who had falsified the results, lost his medical license.



#UgandaToday

____________________________________

11:45am

Today in history


#UgandaToday

____________________________________

11:24am


YOUR COMMENTS: Byekwaso reappears in Germany


Here is what you are saying about Ugandan bodybuilder Ivan Byekwaso's reappearance after being previously announced dead . . .


Nyakake Angeline: This SA pastor is doing wonders. Now the dead are resurrecting from all corners of the world

Enid Isoke: Am not surprised bro laughing coughing and jokes a little bit of show threat ah all is a joke you are on spot

Hilda Atuhaire Crayce KJ: Where was he while we were being told he died?


*Angeline there is making reference to a South African pastor whose footage of him allegedly 'resurrecting' a 'dead man' went viral recently. A video of Pastor Alph Lukau of Alleluia Ministries International "reviving" a supposedly dead man sparked a social media craze as users took to the web mockingly mimicking his miraculous powers.
#UgandaToday

____________________________________

11:12am


'We cannot harbour anybody against Rwanda' - Foreign affairs minister



We cannot harbour anybody against Rwanda - Kutesa

The Government has dismissed accusations that Uganda is hosting elements fighting President Paul Kagame's government in Rwanda...https://t.co/QWs8Lkk8lM #VisionUpdates pic.twitter.com/CSgrl5BTP9

— New Vision UGANDA (@newvisionwire) March 6, 2019
#UgandaToday

____________________________________

10:53am

'I am not a ghost. I am still alive'


Seven months after he was wrongly pronounced dead, five-time Uganda bodybuilding champion Ivan Byekwaso has resurfaced in a live video chat on his Facebook page.

"I'm not a ghost. I'm still alive," he said before bursting out in laughter.

"Thank you people for your prayers; many people were wondering where I was, I was in prison here in Germany," Byekwaso, who looked to have lost weight, continued to narrate his ordeal.

He said he was imprisoned because of a love affair that went wrong, which had his would-be Ugandan lover that he met in Germany turn against him with a trumped-up rape case - not once but three times.

Byekwaso would have spent 12 years in prison upon conviction but was set free last week.

(Read full story here)
#UgandaToday

____________________________________

10:37am


Ash Wednesday beyond Uganda


At Saint Mary's Basilica in Secunderabad, the twin city of Hyderabad, Indian Archbishop of Hyderabad Thumma Bala marks the symbol of the cross with ash on the forehead of devotees during an Ash Wednesday service. The 40-day period of Lent begins today, with Catholics around the world observing the season which culminates in Easter Sunday.


Indian Archbishop of Hyderabad Thumma Bala was the main celebrant of the Holy Mass at Saint Mary's Basilica.


In Manila, the capital of Philippines, Catholic devotees touch a crucifix as they pray on Ash Wednesday at a church.


A Catholic nun applies ash to a woman's forehead on Ash Wednesday at a church in Manila.


#UgandaToday

____________________________________

10:24am

Ash Wednesday: 'From dust to dust'

During the Ash Wednesday Mass, worshipers typically have ash stamped on their forehead in the shape of a cross in a ceremony meant to show that a person belongs to Jesus Christ.

It also represents a person's grief and mourning for their sins — the same sins that Christians believe Jesus Christ gave his life for when he died on the cross.

"Remember that you are dust, and to dust you shall return," says the priest as he applies the cross of ash.

I have read somewhere that he can also say: "Repent and believe in the Gospel."

By the way, it is not mandatory that you have to have the ash on your forehead for the entirety of the day.

I have previously overheard someone wonder where the ash used for Ash Wednesday comes from?

Traditionally, this is collected after palms from the previous year's Palm Sunday are burned. They are then blessed before being used in the ceremony.
#UgandaToday

____________________________________

10:17am

Lent season begins with Ash Wednesday prayers


Christians in Uganda confessed their sins and professed their devotion to God at the start of the season of Lent on Ash Wednesday, a day of repentance.

Ash Wednesday is officially known as the Day of Ashes.
#UgandaToday

____________________________________

10:02am


PREMIER LEAGUE: Today's matches - including night fixture


The rest of ther five top-flight games will be played today, with one game - SC Villa v Kirinya-Jinja SSS FC - set to be played under floodlights at Mandela National Stadium, Namboole. That will kick off at 7:30pm.

Table leaders KCCA will be away at Tooro United FC while BUL FC will host Police FC. Maroons FC will entertain Bright Stars FC as Paidha Black Angels welcome URA FC.
#UgandaToday

____________________________________

9:55am


PREMIER LEAGUE: Ndejje hurt Vipers


As the Uganda Premier League title run-in intensifies, all the 16 teams across the board cannot afford any slip-ups. There is definitely a lot at stake both at the top of the table and at the bottom.

One team that will rue a missed opportunity are holders Vipers SC, whose title-defence charge suffered a huge setback on Tuesday with a bruising 2-1 defeat away to Ndejje University FC.

The Venoms beat Ndejje (1-0) in their season's opener back in September, but any hopes of completing a double and at the same closing in on leaders KCCA FC were rattled when Michael Ouma's side fell behind in the 23rd minute.

The Kenyan tactician, who has started his third month into the job as interim head coach following the departure of Mexican Javier Martinez Espinoza at the end of last year, watched his side punished by Robert Eseru at the Arena of Visions.

The visitors fell further behind 10 minutes into the second half, thanks to Anwar Ntege's strike, before Tito Okello restored respite for Vipers in the 64th minute by coolly slotting home from the spot. But there would be no comeback for the defending champions, who, with seven games remaining, missed a chance to go level on points with table toppers KCCA.

Meanwhile, 14th-placed Ndejje gave themselves a decent chance at surviving the drop with a third win in their last five games. They will hope that the teams immediately above them drop points as the league takes the curve for the home straight.

Next up, Vipers will be looking to re-ignite their title defence when they host Maroons at St. Mary's Stadium. Ndejje will be away at Mbarara City.

Meanwhile, also on Tuesday, it was blanks fired as the Express FC v Mbarara City FC game ended goalless.

Nyamityobora FC, who are 15th on the log, stunned Onduparaka FC with a 1-0 win at home to register a first win in the last seven games.
#UgandaToday

____________________________________

9:50am


Today in history


18 years ago today . . .


Today in 2001 - First elections in post genocide Rwanda held

Local district elections were held for the first time in post-genocide Rwanda. The polls were seen by both the Rwanda Patriotic Front & the international community as an important stage in the
transition process. pic.twitter.com/YoFltrUyyo

— New Vision UGANDA (@newvisionwire) March 6, 2019
#UgandaToday

____________________________________

9:43am


WATCH: Around Uganda


Five mauled by killer croc in Buikwe district. This plus more story highlights.


Around Uganda: Crocodile kills five in Buikwe
Details and more stories in the full bulletin
Visit https://t.co/smlDq3h75u#NewVisionTV cc. @ruthdavoice pic.twitter.com/c2Q3wQgPA2

— New Vision UGANDA (@newvisionwire) March 6, 2019
#UgandaToday

____________________________________

9:35am

Uganda 'a vocal advocate for regional integration'

Uganda's foreign affairs minister Sam Kutesa released a statement Tuesday on Uganda-Rwanda matters.

In the statement, he says Uganda has been a "vocal advocate for regional integration and building closer connectivity in trade between us and our neighbours including Rwanda".

The minister goes on to say that Uganda expects that all visitors to the country remain law-abiding "because those who act contrary to the law are dealt with in accordance with the law".

"It is not true that Uganda arrests, tortures and harasses Rwandans. It is well known that Uganda welcomes and maintains an open door policy for people of all nationalities, including Rwandans wishing to visit the country. It is false that Uganda hosts any elements fighting Rwanda. Rwanda knows this very well as it has been a matter of confidential communication at the highest level of the two countries," writes Kutesa.

Adding: "It is therefore unfortunate that movement of people and goods across our common border with Rwanda has been restricted. This harms our economies and social interaction and also threatens our integration efforts under the East African Community (EAC), which we have all worked hard to build.


STATEMENT BY THE MINISTER OF FOREIGN AFFAIRS, HON. SAM KUTESA ON RWANDA / UGANDA SITUATION pic.twitter.com/BxLQEU9XMP

— UGHighCommKIGALI (@UGHighCommRWA) March 5, 2019
#UgandaToday

____________________________________

9:25am

What the 'London patient' means for HIV/AIDS research


The "London Patient" is only the second person known to have shaken off the HIV virus during a 40-year AIDS epidemic that has infected 70 million people and killed half of them.

Experts universally hailed the case, even as they cautioned that the procedure that resulted in the likely cure -- a bone marrow transplant to treat blood cancer -- is too dangerous and costly to be applied as a general treatment for HIV, which can today easily be managed, though not cured, with pills.

"Whilst this type of treatment is clearly not practical for millions of people around the world living with HIV, reports such as this may help in the ultimate development of a cure," said Andrew Freedman, a reader in infectious diseases at Cardiff University in Wales.

Since American Timothy Brown became the first patient cured of HIV more than a decade ago, there have been three main theories as to how the cancer treatment he and the anonymous London patient underwent managed to unseat HIV in their bodies.

Sharon Lewin, director of the Peter Doherty Institute for Infection and Immunity in Melbourne and a leading expert on HIV/AIDS, told AFP it was likely one of two things had happened.

"The first is that CCR5-negative cells are resistant to HIV," she said.

The CCR5 gene, and the eponymous cell it codes for, almost certainly play a crucial role in the collateral HIV cure.

The vast majority of HIV virus strains use the CCR5 molecule, or receptor, as the port of entry into human cells.

With one exception: A rare variant of the gene known as CCR5-Delta32 -- carried by just one percent of Europeans, and virtually no other populations -- blocks HIV's attempts to invade and infect.

Not coincidentally, the stem cells that both patients received in the transplant came from donors with a double set of this rare CCR5 mutation.

The transplant, in other words, changed the key on the lock, and the virus could no longer get in.

"If we are going to talk about remission and getting people off of ART (antiretroviral treatment) for life, then targeting CCR5 therapeutically is an option that we need to explore further," University of Cambridge professor and lead author of the Nature study, Ravindra Gupta, told AFP.


In the decade between the two successful cases there were other similar operations, but the patients died of cancer before it could be determined if Brown's case was an aberration.

"In the second theory, you are mixing two immune systems, with your new immune system reacting against your original one," Lewin said.

Well-known to immunologists, this tug-of-war is called "graft vs. host disease", a non-fatal condition that can nonetheless cause severe discomfort.

But it also effective against cancer because the new "graft" cells work better against the disease.

"And maybe that's what's happening here -- the graft is eliminating any residual HIV," Lewin said.

Before Tuesday some researchers had posited a third theory: that it was the intense combination of radiation and chemotherapy ahead of the stem-cell transplant that floored the virus.

But the London patient's conditioning treatment was far milder than Brown's, leading many to conclude this was probably not responsible for vanquishing the HIV virus.
#UgandaToday

____________________________________

9:09am

Parliament wants answers over Rwanda-Uganda conflict


New Vision's John Odyek & Moses Mulondo:

Parliament has asked the Executive to prepare a statement to explain the causes of Rwanda's hostility towards Uganda. For the past six days, the Rwandan authorities have blocked Ugandan goods from entering their country and warned their nationals against travelling to Uganda, claiming safety concerns.

According to Police reports, even students who attend university and lower level education in Uganda have been barred by the Rwandan authorities. After concerns raised by some MPs on the matter, the Speaker of Parliament, Rebecca Kadaga, directed the Executive to present a statement on the matter on Thursday.

"I want the Government to take this matter seriously. We have continued to see blockage of goods. It has now gone to human beings. Can we get an explanation? Ugandans want to know whether they should plan to take goods to Rwanda. You need to give hope to Ugandans," she said.

Responding to some of the queries, Deputy Premier Gen. Moses Ali told Parliament that the sour relationship between the two countries was no longer a secret. "We cannot say we do not know what is happening. The Government is taking the necessary action. This House will be informed at an appropriate time when the Government is ready," Ali said. Gen.


Ali's response triggered murmurs of dissatisfaction from the legislators.

Kampala Central MP Muhammad Nsereko reported that over 100 Kampala traders had communicated to him that they were stranded with their merchandise at the border. "There are more than 175 trucks of merchandise stuck at the border at Katuna. The situation is affecting both Uganda and Rwanda."

"We cannot claim all is well when Rwanda is issuing travel warnings to Rwandans not to travel to Uganda. It is affecting our international image. It is affecting our tourism," Nsereko added.

Youth MP Anna Adeke said she had raised the matter earlier, but it was not taken seriously, "On December 18, last year, I raised this matter before it got to this level. I gave names of Rwandans who had been arrested and detained by the Government. I was surprised when the internal affairs minister wrote to me to give him the details as if I am in charge of detention facilities."

The Kilak South MP, Gilbert Olanya, said: "I have a person who works in Rwanda. He told me Rwanda has notified them that with effect from next month, they will no longer be allowed to work in the country. There is a terrible problem between Uganda and Rwanda. They are hiding some information."

Over the weekend, Rwanda Times newspaper quoted the Rwanda foreign affairs minister, Dr Richard Sezibera, attributing the conflict to harassment and arrest of Rwandans in Uganda. He also accused Uganda of offering a safe haven to armed groups that want to destabilise Rwanda.
#UgandaToday

____________________________________

8:57am

Today's cartoon

Some 21 top Police officers are under investigation for alleged use of fake papers to join the force and seek promotion.


#UgandaToday

____________________________________

8:56am

Today's cartoon

So what is our cartoonist saying today?


#UgandaToday

____________________________________

8:54am


Western Sahara talks 'to be held in March'



A UN envoy is moving ahead with plans to hold a second round of talks this month on settling the decades-old conflict in Western Sahara, the UN spokesman said Tuesday.

Horst Koehler, a former German president who has been leading the UN peace effort between Morocco and the Polisario Front, held a first round in December in Geneva that did not yield any breakthroughs.

The envoy "plans to convene a second roundtable of meetings in the second half of March in Switzerland," said UN spokesman Stephane Dujarric.

Koehler has been holding bilateral meetings to prepare for the talks between Morocco, the Algerian-backed Polisario, Algeria and Mauritania.

The Polisario fought a war with Morocco from 1975 to 1991, when a ceasefire deal was agreed and a UN peace mission was deployed to monitor the truce.

The Polisario is demanding a referendum on independence for the territory, which Morocco has flatly rejected.

Morocco, which annexed the territory after Spain withdrew in 1975, considers Western Sahara to be an integral part of the kingdom and has instead offered autonomy.
#UgandaToday

____________________________________

8:48am


South African singer charged after live Instagram assault



South African police said they had arrested and charged a musician on Tuesday after his pop-star lover Babes Wodumo broadcast live images on Instagram of him allegedly assaulting her.

After a public outcry, Mandla Maphumulo handed himself to the police in the Pinetown, a town on the outskirt of the southeastern city of Durban.

Maphumulo, whose stage name is "Mampintsha," was charged with assault and taken to a magistrate's court where he was granted 2,000 rand ($140) bail and ordered to return on May 15, police spokesman Vishnu Naidoo told AFP.

After his court appearance, Maphumulo told journalists that he was sorry for hitting Wodumo.

But, he said, he had been acting in self-defence after she first assaulted him.

He said he had filed a counter-charge of assault against her.

"I have been enduring violence from her," he said to reporters according to a clip on eNCA news channel.

The 24-year-old Wodumo, whose real name is Bongekile Simelane, is a celebrated performer of gqom music which blends traditional African sounds with house music.

Maphumolo is a kwaito musician -- a South African genre that bears similarity to hip-hop.

South Africa has among the highest rates of gender-based violence globally and the 38-second clip sparked a backlash from authorities, politicians and on social media.

The clip was subsequently deleted from her Instagram profile.
#UgandaToday

____________________________________

8:42am


Terror attacks on the rise in Mali - UN



A French commando stands near the door of a helicopter during a visit by the French Prime Minister to Operation Barkane's military French base in Gao, Mali on February 24, 2019
Security is worsening in Mali with terror attacks on the rise, targeting UN peacekeepers, Malian troops, international forces and civilians, UN Secretary-General Antonio Guterres warned in a report on Tuesday.

The threat from extremist groups has spread from northern Mali to the center of the West African country, complicating efforts to implement a peace deal with armed groups.

"Despite significant international efforts, the security situation has continued to deteriorate with an increase in the number of terrorist attacks," said Guterres in the report sent to the Security Council.

In 2018, there were 237 terror attacks, up from 226 in 2017 and 183 the previous year, said the report.

The Security Council is planning to visit Mali this month for a closer look at the conflict as it faces a June deadline to extend the mandate of the 14,000-strong MINUSMA peacekeeping force deployed there.

Mali has been struggling to return to stability after Al-Qaeda-linked extremists took control of the north in early 2012, prompting a military intervention by France.

Although the jihadists were routed in the French operation in 2013, large stretches of the landlocked state remain out of government control.

Most of the violence is centered in Mali's central and southern regions but it has also spread across its borders, affecting neighboring Burkina Faso and Niger.

A peace agreement signed in 2015 by the government and armed groups was aimed at restoring stability, but the latest UN figures on the terror attacks confirmed the accord has failed to stop the Islamic militants.

In January, 10 Chadian peacekeepers were killed in an attack on their UN camp in the northern Kidal region claimed by Al-Qaeda in the Islamic Maghreb (AQIM), one of the deadliest strikes against MINUSMA.

In all, 18 peacekeepers have been killed and 77 others injured in attacks in the past six months, the report said.

Despite the rising violence, Guterres reported progress in efforts to implement the peace deal, with over 1,400 combatants setting aside their weapons and new district administrations set up in the north.

"International pressure, including through the prospect of sanctions, was viewed as an important factor in accelerating the process," said the report.

France, which will lead the council visit to Mali along with Germany, is pushing for additional funding to shore up the G5 Sahel force set up in 2015 to root out the jihadists.
#UgandaToday

____________________________________

8:35am


Morocco Catholics urge freedom of conscience before pope visit



Senior Catholic clergy in Morocco called Tuesday for freedom of conscience and respect for migrants' rights, ahead of a visit by Pope Francis later this month.

The pontiff is due to visit the North African country on March 30-31 at the invitation of King Mohammed VI.

He is set to meet migrants and deliver a speech on inter-religious dialogue.

The archbishop of Rabat, Cristobal Lopez Romero, said Christians in the kingdom were "grateful to enjoy full freedom of worship".

But, he said at a news conference in Rabat, "we would be happy if the Moroccan people could enjoy all freedoms, including freedom of conscience."

An estimated 30,000 to 35,000 Christians live in Morocco, more than half of them sub-Saharan Africans who have headed to Morocco to work, study or try to reach Europe.

More than 99 percent of the country's population is Sunni Muslim, with Christians, Jews, Shiite Muslims and Bahais making up the rest.

Just over 27,000 are Catholic, according to the Vatican Insider newspaper.

Islam is the state religion and the king describes himself as the "commander of the faithful".

Foreign Christians worship freely and are protected by the authorities. But those who convert to Christianity -- estimated to be a few thousand people -- do so quietly.

Santiago Angelo Martinez, archbishop of the northern city of Tangiers, said his "greatest concern" was the rights of migrants, whom he said lacked legal recourse to defend themselves.

He criticised Morocco's authorities, which last August forcefully relocated hundreds of migrants from camps and homes near the country's Mediterranean coast, taking many of them to the far south.

It was done with "a lot of violence... which is not acceptable," he said.

"We sometimes lose hope and I hope that the Pope's visit will bring progress on this issue," Martinez said.
#UgandaToday

____________________________________

8:30am


CAR president meets pope, sticks by troubled peace deal



Central African Republic Faustin-Archange Touadera, during a visit to the Vatican Tuesday, stood by his country's peace deal the day after several militia groups rejected it and the new government.

"We are seeking peace, and in the agreement there are mechanisms which would allow us to continue to work," Touadera told reporters after meeting Pope Francis.

"We are committed to ensuring that this deal can bring peace to the Central African Republic (CAR)," he added.

Less than a month after it was signed, the Central African Republic's peace agreement is under strain after five militia groups on Monday either pulled out or rejected the make-up of the new government.

The peace pact, negotiated in the Sudanese capital of Khartoum before being signed in Bangui on February 6, bought together Touadera and the leaders of the 14 armed groups who control most territory in the African nation.

A new executive was formed on Sunday -- in accordance with the deal which called for an "inclusive government" -- but with all the main ministers remaining in post.


On Monday, one of the main militia groups, the Union for Peace in the Central African Republic (UPC), led by Ali Darassa, said the peace deal was "threatened if the government does not show a clear change of attitude".

Another group, the Democratic Front of the Central African People (FPDC) announced it was walking away in protest.

Within hours three other groups announced they also rejected the peace deal or were pulling out of the new government.

The current peace process is the eighth attempt to bring peace to the CAR, one of the world's poorest and most unstable countries, since mainly Muslim rebels ousted president Francois Bozize, a Christian, in 2013.

"It's a huge challenge," admitted Touadera.

"It's one thing to have an agreement, but it must be applied... and we need help from our friends," he added.

The Vatican, in a statement, said Pope Francis and diplomats had encouraged engagement to promote peaceful co-existence and "national reconciliation".
#UgandaToday

____________________________________

8:25am


Niger busts fake medicines lab



Police in Niger said Tuesday they had closed down a lab in the capital Niamey making bogus drugs and fake beauty products for sale in local markets and neighbouring Nigeria.

"We seized no less than 10 tonnes of fake medications made from local plants and other ingredients imported from abroad," police spokesman Adily Toro said on state TV.

Nine people, "none of whom had any medical knowledge," were arrested, he told AFP.

Some of the products aimed at regional tastes in beauty -- one, called "Dynawell," was supposed to help women to become obese, and another, "Bobaraba," to develop their breasts and buttocks, Toro said.

Others were supposed aphrodisiacs and anti-haemorrhoid medication.

Bogus, counterfeit or sub-standard medicines are a major health issue in developing countries, but especially so in Africa.

The American Society of Tropical Medicine and Hygiene estimated in 2015 that 122,000 children under five died due to taking poor quality anti-malaria drugs in sub-Saharan Africa.

Anti-malarials and antibiotics are the two medicines most likely to be out-of-date or cheap copies, it said.

In 2016, an operation launched by the Paris-based International Institute of Research Against Counterfeit Medicines (IRACM) and World Customs Organization (WCO) seized 113 million items of fake medication and 5,000 bogus medical devices at 16 African ports.
#UgandaToday

____________________________________

8:20am


Niger launches campaign to protect 6 mn children from meningitis



The impoverished Sahel state of Niger on Tuesday launched a campaign to vaccinate six million children against meningitis, which killed nearly 200 people two years ago.

Children aged between one and seven years will be immunised over the week-long nationwide programme, Health Minister Idi Illiassou said.

He called on parents to "massively" support the effort.

The two-billion-CFA-franc (three-million-euro, $3.4-million) cost is being mainly borne by the World Health Organization (WHO), GAVI Alliance, Rotary International and the UN children's fund, Unicef.

Niger lies in the so-called "meningitis belt" of sub-Saharan Africa, stretching from Senegal in the west to Ethiopia in the east, where outbreaks of the disease are a regular occurrence.

The vaccination programme in Niger is against meningitis A, one of the six groups of meningitis bacteria that can cause epidemics.

The disease is transmitted between people through coughs and sneezes, close contact and cramped living conditions.

The illness causes acute inflammation of the outer layers of the brain and spinal cord, with the most common symptoms being fever, headache and neck stiffness.
#UgandaToday

____________________________________

8:18am


Around the continent


Next up, a look at what's happening on the continent . . .
#UgandaToday

____________________________________

8:18am


Today's inspirational quote


"The Seven Social Sins are:

Wealth without work
Pleasure without conscience
Knowledge without character
Commerce without morality
Science without humanity
Worship without sacrifice
Politics without principle."


This is from a sermon given by Frederick Lewis Donaldson in Westminster Abbey, London, on March 20, 1925.


#UgandaToday

____________________________________

8:15am

Good morning, it's Ash Wednesday

Hello everyone, mid-week is here, and this particular Wednesday stands out because it is Ash Wednesday - one of the important days on the Christian calendar.

Why, you wonder?

Because this is when the Lenten season begins.



And it is from this important date that I pick today's dose of inspiration, which, as you should know already, I am going to share with you.