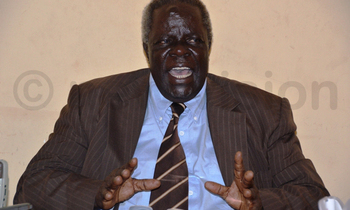 The Paramount Chief of Iteso, Emorimor Papa Augustine Lemukol Osuban has called for calm following the escalation of tensions at the border between the Iteso of Katakwi district and the Karamojong of Napak district.
The tensions have arisen over land at the border between the two communities.
In a statement issued by Osuban dated March 1, he quoted Article 29 (2) (a) of the Constitution saying "every Ugandan shall have the right to move freely throughout Uganda and settle in any part of Uganda."
Osuban said the issue should never cause any tension between the Iteso and the Karamojong because neither of them caused or created the boundary line.
Like most borders in Africa, the one between the communities was created, drawn in maps and introduced by colonial governments. The borderlines were adopted by the Ugandan government at the time of independence in 1962.
Osuban added that, the biggest border contention has been the Alekilek and Amaratoit villages plus Aiselem Market and Poron areas, adding that during the insurgency in Teso, the Karamojong settled in Alekilek and Amaratoit in the 1990s and claimed them to be areas under the jurisdiction of Napak district; but which the Iteso have been claiming are under Katakwi district.
"Iteso, too, have been claiming that Aiselem Market and Poron areas have been part of Katakwi land, which the Karamjong also claim are part of Napak land," he observed while calling on the two communities to respect the government's position on the border.
"In pursuit of a resolution of this border conflict, both the Iteso and Karamojong in the years 2002, 2014 and 2019 (last week) asked the Government of Uganda (Ministry of Lands, Housing and Urban Development; and Ministry of Local Government) to open the boundaries left behind for them by the colonial government.
In 2014, the Government, represented by a team headed by the First Lady, then Minister for Karamoja Affairs, Hon. Janet Museveni, with due diligence, performed her role to show us where the boundary lines are as left for us by the colonial government and adopted by the Government of Uganda at independence in 1962," the statement read in part.
The Emorimor explained that on February 19, 2019, the Tom Butime the local government minister also visited the disputed border to resolve the conflict and upheld the First Lady's report on the boundaries, which showed that Alekilek and Amaratoit Primary Schools fall under Katakwi district while Aiselem Market and Poron fall under Napak district.
Osuban implored the government, non-governmental organisations, civil society organisations both in Teso and Karamoja to support the Iteso and Karamojong in their pursuit for lasting peace, unity and development of the two communities.
He urged the cultural, religious and political leaders in Teso and Karamoja to desist from fuelling antagonism between the communities for personal, political or other gains, but instead work for the unity, peace and development of the people of Ateker.