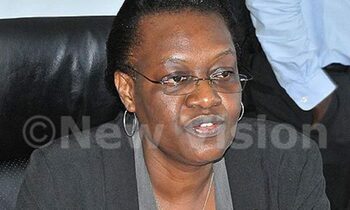 The Inspector General of Government (IGG), Irene Mulyagonja, has said she will comply with parliamentary rules in respect to her recommendation for a criminal investigation against MPs who investigated Bank of Uganda (BoU).

The ombudsman indicated last week that the inspectorate had asked the Internal Security Organization (ISO) to institute a criminal investigation against legislators on the Commissions, Statutory Authorities and State Enterprises (COSASE) committee.

The committee chaired by Abdul Katuntu probed the closure of seven commercial banks by BoU.

During plenary last week, Speaker Rebecca Kadaga and MPs, chided the IGG for her recommendation, interpreting it as an attack on the House and said it sought to bring the entire Parliament into disrepute.

Kadaga said the IGG would be summoned to answer some questions regarding her recommendation to ISO. Asked for a comment on the parliamentary outburst on Monday, Mulyagonja said, he will abide by the House rules.

"I know that issue has been referred to the Committee on Rules, Discipline, and Privileges and I am ready to appear before that committee to explain these issues. I have great respect for Parliament and the Speaker," Mulyagonja said.

Her recommendation is based on claims that COSASE members had their palms greased by the proprietors of the defunct banks and the Central Bank to write a report that didn't make tough recommendations against BoU officials.

She declined to discuss the issue further saying, "I do not have any more information to share."

The ombudsman was addressing journalists after the opening of training for focal persons (from government agencies) for the online assets and income declaration system at the ICT ministry in Kampala.
The online platform which was brought on stream in 2017 has lifted the compliance levels to 90.6% today.
When it was introduced, there were fears that it could complicate the property declaration effort because many civil servants are not computer savvy, but the inspectorate said it is impressed by the level of compliance.