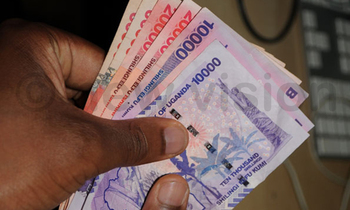 The Uganda Shilling was on the back foot, weakening as demand rebounded mainly from market players building positions in anticipation of dividend payments last week according to financial expert and market analyst Stephen Kaboyo of Alpha Capital Markets.
Trading was in the range of 3665/3675.
In the interbank money market, overnight funds traded at 7% while on week funds traded at 10%.
In the fixed income market, a treasury bill auction with sh220b on offer was held. Yields remained nearly at the same levels as the previous auction, printing at 9.50%, 10.57% and 11.50% for 91, 182 and 364 days respectively. All tenors registered oversubscription.
In the regional currency markets, the Kenya Shilling inched up supported by sizeable inflows from portfolio investors, diaspora remittances and horticultural proceeds. Trading was in the range of 100.00/20.
In the global markets, the greenback scaled a 10 week high on the back of a surge in US bond yields after the United States GDP topped expectations. Markets were keenly following the geopolitical events for possible clues on the direction of the markets going forward.
The Shilling closed last week at 3,689/3,708 to the dollar from the previous weeks' close of 3682.50/3692.50 buying and selling respectively. The Shilling opened the week at 3,698/.54/ 3,708.54.
"Outlook indicates that the Shilling is likely to face some slight pressure in the coming week as sentiment on dividend payouts gather momentum," Kaboyo said.