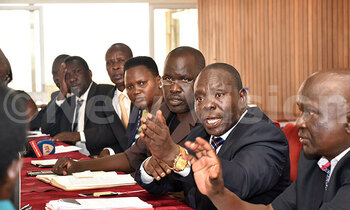 LAND CONFLICT
Members of Parliament from Acholi sub region have opposed a move by the government to compensate 374 families currently living in Apaa village, East Madi wildlife reserve to vacate the area.
According to a cabinet memorandum, the office of the Prime Minister proposed that each of the families, be given Sh10m, 20 bags of cement and 20 iron sheets as compensation for them to vacate the wildlife reserve and acquire land somewhere else.
However addressing journalists at Parliament yesterday, the MPs led by Okin PP Ojara (Chua county West), the chairman Acholi Parliamentary Group, no amount of compensation can cause the affected families to vacate their land.
"We are not interested in compensation that land is a settlement area, under what legal instrument are they moving to compensate them? We don't approve of it they are just doing it illegally," Okin said.
The MPs noted that the proposed sh10m is too little for the people of Apaa to lose their land which they said is the source of their livelihood since they use the land for farming and agriculture.
The legislators implored the government to respect, consult stakeholders and also be transparent and fair when resolving land disputes.
They further advised that the government focuses on immediate corrective, remedial and preventive conflict sensitive activities on the ground.
"People were living peaceful until when there was a conflict. How dare you come and say each household should be given Sh10m, where should they go," Gilbert Olanya (Kilka County) wondered.
There has been a long running conflict between the encroachers and the Uganda wild life Authority, which has been trying to repossess the land.
The land in question also trigged a dispute between communities in Amuru and Adjumani districts, with each claiming the right of ownership.
Last year, President Yoweri Museveni, directed Prime Minister Ruhakana Rugunda, to chair an inter-ministerial committee, to among others, establish facts regarding the conflict, meet the delegations of the two communities for talks aimed at finding an amicable solution.
Following the meeting, anumber of options were proposed but the OPM agreed to the one of getting the encroachers out of the reserve and give them resettlement packages.
Napak-Katakwii land row
In the same development, MPs from Karamoja sub region have petitioned the speaker of Parliament Rebecca Kadaga, urging Parliament to initiate processes aimed at permanently solving the border dispute between the people of Napak and Katakwii.
According to the leaders from Karamoja, the 1958 borders were altered by the then post -independence minister of regional administration, Cuthbert Obwangor who they said had interests to expand Teso.
" The leaders call upon the government through the department of lands and survey , to verify reaffirm and open regional/district boundaries , make known to the nation any alterations of historical information related to mapping after independence," Joseph Lomonyang, the chairperson Napak district said