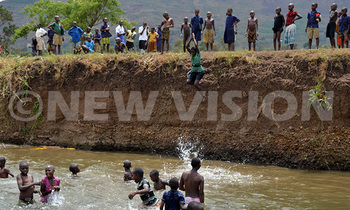 DEVELOPMENT

MBALE - Environmental Police has been directed to take action against hooligans attacking and assaulting Ministry of Water and Environment officials implementing Mpologoma catchment management plan programme in Busiu Sub County in Mbale district.

The directive was recently made by engineer Gaetano Okello, Assistant Commissioner in the Ministry of Water and Environment.

Okello told the New Vision that criminals in Busiu Sub County in Mbale district are resisting implementation of a $77m programme in their county, adding that on several occasions, they have attacked and beaten up their staffs while on duty.

He was addressing Chief Administrative Officers, LC5 Chairpersons, District Environment Officers and security officers from 18 districts in eastern region who turned up for the launch of the programme at source of the Nile Hotel in Jinja district.

He also decried the rate which erected pillors are being vandalized by what he termed as 'hooligans', adding that they are frustrating the progress of the programme.

In 2011, the Ministry of Water and Environment embarked at on preparation of catchment management plans as a tool for ensuring equitable access to and use of water resources, and safeguard of key natural resources for sustainable social-economic development of the country.

"The ministry was threatening to abandon the programme from being implemented at Busiu Sub County. They have on several cases assaulted and put life of our officials in danger. They also attempted to vandalize the equipments," Okello said.

Louis Mugisha, Kyoga water manager, directorate of water resources management accused some leaders of inciting the locals; by spreading harmful propaganda that government wants to grab their land.

Mugisha said that Busiu Sub County has set a record of frustrating government programmes noting that the most recent was the World Bank funded project worth sh55b which was later sent to Tororo district.

"Our staff have been assaulted and we have reported the cases to Police in Mbale but little has been done to bring the culprits to book. They do not want to see any government official move along river Manafwa," Mugisha said.