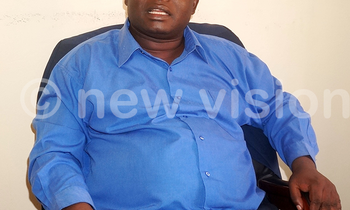 Ronald Bameka, the Lyantonde DVO talking to New Vision about the outbreak. (Photo by Davis Buyondo)
Lyantonde - Health authorities in Lyantonde are in rapid response operation to contain the widespread rabies outbreak in the district.

Cases of human and animals attacked by dogs are rising in Lyantonde town council, Kansagama, Lyakajura, and Kinuuka sub-counties.

World Health Organisation (WHO), defines rabies as an infectious viral disease that is almost fatal upon the onset of clinical symptoms.

So far, one minor only identified as Turyasingura, 9, of Kalagala village in Lyantonde town council, succumbed to rabies on Sunday (24/02/2019).

Suspected rabid dogs attacked him as he was going to a shop. Despite acquiring treatment, Turyasingura passed on.

Nine-year-old Evra Akampulira and a ten-year-old girl of Kanyogoga village, Kagara Parish, Kasagama sub-county were rushed to Lyantonde hospital in critical condition.

Dr. Ronald Bameka, the District Veterinary Officer (DVO) confirmed the outbreak saying it was first reported in January this year, thereby intensifying in February.

According to Bameka, over 200 stray dogs are suspected to be infected, while 16 goats and 3 head of cattle have been reported to have signs of the strain.

In a letter dated February 26, 2019, the veterinary department sought assistance from the Permanent Secretary, the Commissioner Livestock Health and Entomology in the Ministry of Agriculture, Animal, Industry, and Fisheries (MAAIF).

They are looking at eliminating stray dogs in the meantime and later on embark on a sensitisation and vaccination programme before the situation runs out of hand.

According to Bameka, in the 2018 census, Lyantonde had 7500 domestic dogs while the stray dogs were estimated to double the number.

"At the moment, we cannot tell how many dogs strayed from their homes since most of their owners do not care to cage or feed them, forcing them to leave home to look for food hence joining or forming packs," he noted.

Bameka further highlighted that a rabid dog will behave in an unusual manner from the time of infection.

"The infected dig will be dull without appetite for food, and then gradually become very angry." Then, he added, it will salivate, back constantly and bite almost everything including wood.

Way Forward

Dr. Moses Nkanika, the District Health Officer (DHO), said that the outbreak has caused panic among residents. He added that it is mainly caused by unvaccinated domestic and stray dogs.

He added that an appeal has been made concerning funding, to embark on a massive vaccination programme for dogs and cats.

He further advised that all infected goats and cows be killed and buried or burnt. Likewise, he cautioned owners of infected livestock, to avoid eating or distributing infected meat since it may spread the strain hence death.

Nkanika added that a crisis meeting was held on Wednesday with the veterinary officer, surveillance officer, and other departments for a way forward.

Affected residents

Residents in the affected communities claim that children are the most vulnerable since they are too weak to defend themselves.

Posiano Mweigye, whose son Turyasingura died of rabies said that they informed Kalagala local authorities about the dog problem but little was done not until his son was attacked.

In December last year, a pack of rabid dogs attacked George Sseremba, the Kijjampiki LCI chairperson, in Kibinge sub-county, Bukomansimbi district. He later succumbed to rabies. Also, 5 dogs, 7 goats, 2 sheep, and 2 cows were reported infected.

Dr. Sylvia Angubau Baluka, the President- Uganda Veterinary Association (UVA), maintains that rabies has been neglected yet it is a serious pandemic in Uganda and the world over.

She appealed to victims of dogs and fox attacks to go to regional hospitals for rabies vaccines.

WHO estimates that there are 55,000 rabies deaths every year in the world, while the Global Alliance for Rabies Control, estimates a total of 70,000 deaths with 10 million treated for bites from potentially infected dogs.