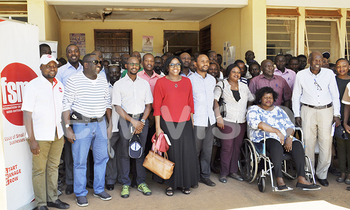 Team from UCC, RCDF, and SMEs during the launch of the digital literacy (Picture by Jackson Kitara )
GULU - 450 Micro, Small and Medium Enterprises (MSMEs), in Gulu, are attending a three weeks training in digital literacy and skills. The training is a push towards using the internet to carry out trade.

The training which is taking place at Gulu University has been organised by the Federation of Small and Medium Enterprises Uganda, with funding from the Rural Communication Development Fund, under the Uganda Communications Commission.

Among the MSMEs attending the training include; mechanics, metal fabricators, carpenters, tailors, and hair-dressers, who are expected to use computers to access information, advertise, buy and sell online.

Pastor James Opoka Anywar, a trainee said the digital training will help them to sell their products and access information and other goods online.

Gloria Lakot, a hairdresser, is expectant that the training will help her access new hairstyles fashions from the internet

Richard Oryema, a carpenter along D. Corti Lucile road in Gulu municipality, is hopeful that the training will give him an opportunity on how to a computer, which he says he never touched. In addition, he is looking forward to using his smartphone to access the internet. Oryema has been using the smartphone only to make and receive phone calls.

John Walugembe, the director of the Federation of SMEs-Uganda said the MSMEs employ an excess of 3 million people and account for more than 90% of the private sector, and contribute more than 70% to our national Gross Domestic Product (GDP).

He said in this way, they play a catalytic role in creating low-cost jobs, alleviating poverty, rapidly industrializing and fostering economic growth. He also added that MSMEs need digital literacy for broadband connectivity which facilitates innovation, efficiency, network effects, and positive externalities.
Micro, Small and Medium Enterprises in Gulu attending digital literacy training (Picture by Jackson Kitara)

Walugembe said a 2015 study by the Federation of Small and Medium Enterprises (FSME) found that only 9% of the 300 businesses interviewed have their contacts listed online, only 6% say that they advertise online, 22% admitted to having basic computer knowledge, 14% confirmed that they are benefiting from their online engagement, while 73% recognize that digital illiteracy is hindering them from running their businesses effectively and digitalizing their operations is important for their future growth.

He, however, said the participation of SMEs in digital skills training has been hindered by time, scheduling, cost, and content relevance constraints.

Dr. Nora Mulira, RCDF committee chairperson, Uganda Communication Commission said the trainees are using the "Digital Citizen and Digital Citizen Plus" curriculum of the internationally recognized International Computer Drivers' License (ICDL) which introduces them to basic skills and concepts in computer use.

"We want to increase broadband access and impact on marketing to reach out to customers with new product and service offers, boost the productivity of the SMEs' employees and the daily activities of the SMEs, which will lead to more efficient operations", she remarked.

The director for the rural development fund, Nyombi Thembo said the project seeks to address the digital illiteracy that is pervasive among MSMEs in Uganda.

He said the targeted MSMEs are being assisted to understand and harness the opportunities that ICT offers their businesses, through improving their skills and capabilities in basic ICT functionalities.