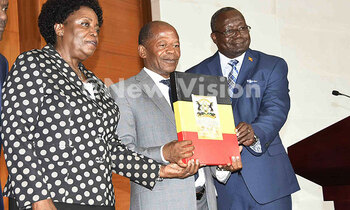 ROLLING NEWS THROUGHOUT THE DAY

Presented by Joseph Kizza
@joekizza

(Scroll down for earlier stories)

____________________________________


6:34pm


Good evening!


Hey good people, that's all for today - and for February. Let's meet again in March.

Cheers!

(Oh, by the way, if you are just getting here, scroll down for earlier updates).
#UgandaToday

____________________________________

6:30pm


PARTING SHOTS


I will leave you with these pictures at Parliament, where the Speaker of Hungary's National Assembly, in Uganda on a three-day working visit, was hosted by his Ugandan counterpart, Rebecca Kadaga, in Kampala.

Làszló Kövér, leading a delegation, gracefully bowed as he was welcomed by Kadaga, who was flanked by Okello Oryem, the State Minister of Foreign Affairs for International Affairs, and a team of legislators.


The visiting Speaker and his team were greeted by a group of Ugandan MPs on a warm Thursday afternoon . . .
. . . and then they were led into the parliamentary building.
Kövér signed in the visitors' book.

The 59-year-old was the acting president of Hungary from April 2, 2012 to May 10, 2012, following the resignation of Pál Schmitt.


The two leaders exchanged a majestic handshake.


Both delegations met and held discussions.
#UgandaToday

____________________________________

5:50pm

Uganda-Rwanda border situation: Engagements underway

In the video in the entry below posted on Twitter by Uganda Media Centre, Government spokerperson Ofwono Opondo talks of a "slight problem" at the Uganda-Rwandan borders and they hope the matter will be resolved soonest.

He says: "I would like to let Ugandans know that there is a slight problem at all the three crossing border points between Rwanda and Uganda - at Katuna, Kyanika in Kisoro and Mirama Hills in Ntungamo. Yesterday, we received information that Rwandese were not allowing crossings at Katuna. The reason given then was that the road towards Kigali was under repair. Unfortunately by this morning, they were not allowing even school children to cross from Rwanda to come and study in Uganda. Many Rwandese children at the border study in Uganda. They come in the morning, go back in the evening. They didn't allow them. The people who were travelling in commercial vehicles and other vehicles, if they are foreigners - they are not citizens of Rwanda, they are not citizens of Uganda - they allow them after checking to proceed. We are yet to establish if there is any other reason beyond the road construction work that they have given. The Honourable Sam Kutesa [foreign affairs minister] has been in engagement and we hope this matter will be resolved quite quickly."


.@OfwonoOpondo: Our appeal is to call for calm our officials (@UgandaMFA) are engaging #BilateralRelations pic.twitter.com/F3kU3mp5RK

— Uganda Media Centre (@UgandaMediaCent) February 28, 2019
#UgandaToday

____________________________________

5:40pm


WATCH: Uganda-Rwanda border situation: Uganda calls for calm


Back to that story earlier about what was going on at the Uganda-Rwandan borders.

The Ugandan government has come out on the matter, saying there are no "high tensions" between Uganda and Rwanda.

Government spokesperson Ofwono Opondo, speaking at Uganda Media Centre, has called for calm.

The Uganda Media Centre posted this video on their Twitter page:


.@OfwonoOpondo, Spokesperson Uganda refutes high tensions between Uganda and Rwanda instead calls for calm #BilateralRelations pic.twitter.com/i8U4tYsmkh

— Uganda Media Centre (@UgandaMediaCent) February 28, 2019
#UgandaToday

____________________________________

5:05pm

Museveni, visiting Hungarian Speaker hold bilateral talks

President Yoweri Museveni warmly received visiting Hungarian Speaker of the National Assembly, Làszló Kövér, at State House, Entebbe. Kövér is here for a three-day working visit.

The Speaker of Uganda's Parliament, Rebecca Kadaga, accompanied her counterpart to the bilateral meeting with President Museveni.

Okello Oryem, who is the State Minister of Foreign Affairs for International Affairs, was also present.

Details of what they talked about are not known yet.


#UgandaToday

____________________________________

4:45pm

NSSF HASH RUN: Vision Group pumps sh50m in charity run

Multimedia company Vision Group has contributed sh50m towards the NSSF Hash Run slated for March 17. Proceeds from the charity run will help to improve the status of schools in Kampala.

Vision Group CEO Robert Kabushenga, who is a seasoned runner, said "we are happy to join NSSF for the run", which in his view, "is the toughest run in Kampala".

"We at Vision Group do not stop at writing about these things. We go ahead to act and impact lives."

The challenge involves participants doing the seven hills that make up Kampala: Old Kampala, Makerere, Nakasero, Lubiri, Rubaga, Namirembe and Kololo.

"We are thrilled that you are joining us for the NSSF Hash Run to improve the status of schools in Kampala," said NSSF managing director Richard Byaruhanga during the handover ceremony at the Vision Group head office on Thursday.


.@VisionGrp has handed over a 50million UGX cheque contribution to @nssfug for the #NSSFHashRun19

In photo, @VisionGrp CEO hands over to @nssfug MD @rpbyaru #UrbanTVNews #VisionUpdates pic.twitter.com/492RjNGQLu

— Urban Television (@UrbanTVUganda) February 28, 2019
#UgandaToday

____________________________________

4:30pm

Hungary's Speaker of Parliament in Uganda

The Speaker of the National Assembly of Hungary, László Kövér, is in Uganda for a working visit.

Once at Entebbe International Airport on Thursday, the visiting Speaker was received by Gordon Wavamunno, who serves as the honorary consul of Hungary to Uganda.


In Pictures: Speaker of the Republic of Hungary arrives in Uganda for a working visit #BilateralRelations pic.twitter.com/6pspoWaAU0

— Uganda Media Centre (@UgandaMediaCent) February 28, 2019
#UgandaToday

____________________________________

4:10pm


Libya rivals agree to hold polls - UN


Elsewhere on the continent . . .


The head of Libya's internationally recognised government and a rival military strongman have met and agreed to hold elections aimed at ending years of instability, the United Nations said Thursday.

Unity government leader Fayez al-Sarraj met Khalifa Haftar on Wednesday in Abu Dhabi, where they agreed "on the need to end the transitional phase through general elections and on ways to preserve the stability of #Libya and unify its institutions," the UN's Libya mission UNSMIL tweeted.

The North African country has been torn between rival administrations and a myriad of militias since the NATO-backed overthrow and killing of dictator Moamer Kadhafi in 2011.

Chief among them are Sarraj's Government of National Accord, based in Tripoli, and a rival administration based in the east and backed by Haftar's self-styled Libyan National Army.

The leaders had agreed to a Paris-brokered deal in May 2018 to hold a nationwide election by the end of the year.

But instability, territorial disputes and divisions in the oil-rich country delayed those plans.

Talks in Italy in November laid bare deep divisions between the key power brokers, with some delegates refusing to sit side by side and Haftar snubbing the main conference to organise separate talks with international leaders.

United Nations envoy Ghassan Salame told the UN Security Council last month that he was planning to organise a national conference inside Libya within weeks to pave the way for elections.

But analysts have warned that the UN's efforts could be threatened after Haftar's forces launched an offensive into the south in mid-January, aimed at rooting out "terrorists" and foreign fighters.


Powerful Tripoli-based militias have condemned Haftar's operation as a power grab, although the GNA itself has not been as explicit in its opposition.

People traffickers have taken advantage of the chaos to turn Libya into a major conduit for migrants seeking a better life in Europe.

The LNA already controls vital oil installations in Libya's east, but its power struggle with the GNA has left the country's vast desert south a lawless no-man's land.

The rugged territory bordering Algeria, Niger, Chad and Sudan has become a haven for jihadists and armed groups, including Chadian rebels.

Libya's instability has also made it vulnerable to jihadist groups, which have carried out numerous attacks in recent years, including more than 20 in 2018 against institutions linked to the GNA and Haftar's forces.

But UN efforts to reach a political settlement and restore stability have so far failed.

The African Union last month called for a global conference in July to try to resolve the conflict in Libya.

It asked the AU Commission "to take, jointly with the United Nations and the Libyan government, all the necessary measures for the organisation of presidential and legislative elections in October 2019."

The AU's current chief, Egyptian President Abdel Fattah al-Sisi, has underscored the need for "African solutions to African problems."
#UgandaToday

____________________________________

3:40pm
Museveni congratulates Buhari upon re-election


President Yoweri Museveni has congratulated his Nigerian counterpart Muhammadu Buhari upon being re-elected in last week's re-schedulaed elections.

"I also congratulate Nigerians on conducting a peaceful election," he tweeted.

(Scroll down to the bottom of this page to read more on Nigeria)


I congratulate His Excellency @MBuhari upon his re-election as President of Nigeria. I also congratulate Nigerians on conducting a peaceful election. Uganda and Nigeria will continue to work towards strengthening their social, political and economic ties.

— Yoweri K Museveni (@KagutaMuseveni) February 28, 2019
#UgandaToday

____________________________________

3:17pm


Don't miss your copy of University Guide


The 2018 A'level results have been released. For those of you wishing to join university, the University Guide will be your companion in your quest for admission.


UNIVERSITY GUIDE 2019: Where and what to study

Inside this #UniversityGuide:
- Don't be cheated, go for government accredited courses and institutions
- What employers say about your university's graduates?

Pick up your FREE COPY in the @newvisionwire of Tuesday 12 March, 2019 pic.twitter.com/x12zw7Fv1t

— Vision Group Uganda (@VisionGrp) February 28, 2019
#UgandaToday

____________________________________

2:41pm

Ugandan radiologist gets international honour


In recognition of his pivotal role in the development of radiology, in particular ultrasound, in Africa and beyond, Professor Michael G. Kawooya will receive the ESR Honorary Membership at ECR 2019.

Professor Michael G. Kawooya is professor emeritus in the Department of Radiology at the School of Medicine, Makerere University, and College of Health Sciences in Kampala, Uganda.

He is director of ECUREI, an ultrasound-training institute in Kampala that is affiliated to the JUREI institute in the US.

He is also the director of the Centre of Excellence of the World Federation in Ultrasound in Medicine and Biology (WFUMB) in Kampala and chairman of the Mengo Hospital Research and Ethics Committee.

(Read more here)
#UgandaToday

____________________________________

2:23pm


Gabonese officials to handle Cranes' final AFCON qualifiers game


Uganda are already in the AFCON 2019 finals after securing a spot in November last year with one game to spare. That last Group L match is an away encounter with Tanzania.

It will be played on March 24 - a little over three weeks from today.

Meanwhile, the officials that will handle that game in Tanzania have been named. They are:

Eric Otogo Castane, the centre referee, who will be assisted by Moussounda Montel and Marlaise Ditsoga. Isidore Nze will be the 4th official. They are all Gabonese.

Mamoun Bushara (Sudan) will be the match commissioner while the referees' assessor will be Jason Damoo (Seychelles) and David Van Vuuren of South Africa as the security officer.

Egypt will host the tournament - the 32nd edition.

In the qualifiers, Uganda are the only side to have progressed from Group L. The other three teams - Tanzania, Cape Verde and Lesotho - can all still qualify, depending on their performance in the final group matches.

(Here is how Cranes qualified for AFCON 2019)
#UgandaToday

____________________________________

2:00pm


Who is entitled to a lead car?


New Vision's Moses Walubiri & Nicholas Wasajja:

The scene is quite familiar on Uganda's narrow and chaotic roads, especially in Kampala and its environs.

Amid a cacophony of taxis, bodabodas, private cars and pedestrians with no walkways all struggling for space, wailing sirens pierce the often sultry air.

For many road users, often tired after a day of hustling, or stuck in jam on the way to drop or pick a child from school, it's a harbinger for the arrival of a VIP.

And the vehicles of these VIPs are driven menacingly, sometimes on pavements, or on the wrong side of one-way drives. Many times, gun-wielding escorts of these VIPs literally shunt other road users off the roads.


On Wednesday, the Speaker of Parliament asked the minister of internal affairs, Gen. Jeje Odong a question that is on the lips of many Ugandans: "Who is entitled to lead cars?

"This needs to be addressed because they are everywhere. You are in jam and the next thing you see is a Premio with a lead car. Who is entitled to a lead car?" Kadaga said.

(Read full story here)
#UgandaToday

____________________________________

12:55pm

Results-Based Financing grant agreements signed with 51 districts

Under the Uganda Reproductive Maternal and Child Health Improvement Project (URMCHIP), on behalf of @MinofHealthUG, @DianaAtwine signed Results Based Financing (RBF) grant agreements with 51 districts. pic.twitter.com/OyMfQarKB5

— Ministry of Health- Uganda (@MinofHealthUG) February 28, 2019
#UgandaToday

____________________________________

12:35pm

Temporary diversion of Ugandan trucks at Rwanda border

A few minutes ago, Uganda Revenue Authority (URA) tweeted about the development.

"Our esteemed traders are advised to consider Kagitumba/Mirama Hills when transiting cargo to/from Rwanda," reads the message in part.


#TemporaryBorderDiversionAlert

Our esteemed traders are advised to consider Kagitumba/Mirama Hills when transiting cargo to/from Rwanda. You will be informed when the construction works are complete.@URA_CG pic.twitter.com/vwDLamonDS

— UgandaRevenueAuthority (@URAuganda) February 28, 2019
#UgandaToday

____________________________________

12:15pm

Ugandan trucks at Rwanda border: Rwanda's tax body writes to URA


Rwanda's tax body, Rwanda Revenue Authority, has written to Uganda Revenue Authority explaining the issue involving Ugandan trucks at the Uganda-Rwanda border point.

The letter seen by New Vision is dated Thursday, February 28, 2019 and signed off by Rosine Uwamariya, the commissioner for customs services.

From the information, it turns out it is a temporary diversion of heavy trucks from Gatuna to Kagitumba border post.

Here is the extraction in full:

In a bid to expedite the construction works currently taking place at Gatuna border posts that are aimed at extending smooth flow of goods and services at the border post, we are considering reducing the traffic of heavy trucks to allow completion of the OSBP (one-stop border post) infrastructure.

In view of the above, Rwanda Revenue Authority would like to inform you that with effect from February 28, 2019, all heavy trucks carrying goods destined and those transiting via Gatuna shall be temporarily diverted from using Gatuna Post to Kagitumba/Mirama Hills border posts.

The reduction in the traffic of these trucks shall provide ample space to the contractor to accomplish the works on time and the dates to resume the use of the route shall be communicated.

Thank you for your continued support and cooperation.

*********




#UgandaToday

____________________________________

11:48am

UGANDAN TRUCKS STUCK AT RWANDA BORDER

Meanwhile, away from the exams, a number of Ugandan trucks have been reported stranded at Rwanda-Uganda border points.


#UgandaToday

____________________________________

11:40am

Accessing exam results and collecting result slips

The UACE results have been uploaded on each centre portal and the heads of centre can download the results. Hard copies of the results and the result slips will be available from the UNEB head office in Ntinda, Kampala from 2:00pm today.

Odongo had said that some heads of centre have not been keen on cross-checking the results of their candidates and sending any queries or reforms in time. "We advise them to do so and personally submit their queries or amendments to the board not later than 15 days after the release of the results.

That means they have two weeks to do so.

For individuals, you can access the results through SMS.

Type UACE < Space> Index Number e.g. UACE U03400/001 and send to 6600 to get your results or those of your friends or family. Note that this service is only available on the MTN and Airtel networks.

You can also CLICK HERE >> https://ereg.uneb.ac.ug/results to access your results online.
#UgandaToday

____________________________________

11:33am

How to weigh your scores entry into university

Here is a sample calculation:

Assuming you wanted to study medicine at a public university, this is how you would calculate your weight. The essential subjects for bachelor of medicine and bachelor of surgery are biology and chemistry, while its relevant subject is either mathematics or physics. Its desirable subjects are general paper or sub maths. Assuming you got a distinction in general paper and a point in the subsidiary paper and also scored AAA.

This is how you would calculate your entry score. Essentials: Biology 6x3=18 Chemistry 6x3=18 Relevant: Maths 6x2=12 Desirable: General Paper 1x1=1 One more point for subsidiary pass would be added to the score. Your sub-total score would then be 50. More so, the O'level results also count for university entry. If you got a distinction in each of the considered eight subjects, then that would be (8x0.3=2.4). The O'level and A'level performance score for such a student would then be 52.4.
#UgandaToday

____________________________________

11:27am

How to weigh your scores entry into university


New Vision's Conan Businge:

Three months after Senior Six candidates sat for UACE, the education ministry has released the results to the public.

But the next question for the students will now be whether they qualify to join the university or other tertiary institutions. According to government policy, a student requires two principal passes to be admitted at a university. But due to the stiff competition, various institutions come up with cutoff points. But how do you calculate the entry points?

About four years ago, the education ministry issued a policy guidelines, requiring all students to reduce the principal subjects from four to three.

This is on top of general paper and one subsidiary subject. Unlike in the past where subjects taken at A'level were grouped in four categories, universities now group them in three categories. In the past, the admissions board was considering essential, relevant, desirable and others categories; when weighting students, results for admission to public universities. But the 'Others' category has been dropped, in the new admissions guidelines.

For one to be admitted at the university, they must have done a combination of three subjects and general paper, on top of sub-maths or computer studies as a subsidiary. sub-maths and computer studies replaced what used to be the fourth subject in the combination. Weighting criteria The essential subject for the academic programme one applied for weighs three points, the relevant two points and desirable one point.

The essential A'level subjects for university programmes must be passed with a principal pass. For a given candidate, not more than three subjects taken at principal level shall be considered in weighing in respect of the cut-off points. Not more than two subjects shall be designated as "essential".

A pass with a distinction or credit in a subject taken at subsidiary level such as general paper, sub-maths or computer studies shall carry one point.

A subsidiary pass ranges from grades D1 to C6. In case of programmes where "Essential" subjects may be three or more, an "Essential set" of subjects is defined. The best-performed two subjects of the essential set shall be designated as "Essential Subjects" and weighted three. The third best done subject from the 'Essential Set' shall be designated as the "Relevant Subject" and weighted two.

For O'level grades, distinctions 1 and 2 carry 0.3 points, credits 3 to 6 carries 0.2, passes 7 and 8 carry 0.1 and Fail (9) carry 0.0 respectively. For A'level grades, the conversion scale is A=6, B=5, C=4, D=3, E=2, O=1, F=0.

Totalling points The O'level weight of a candidate for any programmes in the university, is obtained by multiplying the numbers of distinctions/credits/passes, by the relevant weights and adding up for the distinctions, credits and passes actually obtained by the candidate. The A'level weight, for a given programme, of a candidate is obtained by multiplying each subject grade point by the relevant weighting factor and adding up all the subjects taken and passed.

The combined weight of a candidate for a given programme is obtained by adding the O'level weight obtained, to the A'level weight got. The best candidate for each programme is the one with the highest combined weight. Candidates are selected on merit out of those who apply for a programme as their first choice plus those who apply for the programme as second, third and fourth choice.

If they have not been admitted to programmes of their earlier choices. All choices are considered. Other tertiary institutions As the First Lady and education minister Janet Museveni, said recently, "Success in life is not only about joining university education. You can still make it in life through other tertiary institutions. You may even have better opportunities through those tertiary institutions."
#UgandaToday

____________________________________

11:10am

Proposed grading for UACE

In case you are wondering, here is the proposed grading for the UACE 2018:

F9 (0-34)
P8 (35-39)
P7 (40-45)
C6 (46-49)
C5 (50-59)
C4 (60-69)
C3 (70-79)
D2 (80-89)
D1 (90-100)


#UgandaToday

____________________________________

10:52am

MINISTER RELEASES 2018 UACE RESULTS TO THE PUBLIC

Minister Muyingo says it is "with great pleasure that I release the 2018 Uganda Advanced Certificate of Education examination results to the public".
#UgandaToday

____________________________________

10:48am

2018 UACE: 'It is unacceptable'

Muyingo says that he is glad that incidents of exam malpractice are low, but is keen to note that the war against exam malpractice is like that against corruption - it cannot be UNEB's work alone, especially with the low staffing. All stakeholders should be involved.

He adds that Government will continue to support UNEB to "control and eliminate this vice."

Earlier, the minister had said that it is "unacceptable" that only 10% of the disciplines registered for were sciences versus humanities.
#UgandaToday

____________________________________

10:45am

2018 UACE: 'You can run for MP'

In his remarks, minister Muyingo says that the "very high" rate of 98.6% of candidates qualifying for an award of UACE is impressive.

He says some of them can even vie for seats in Parliament in the future.
#UgandaToday

____________________________________

10:40am

UNEB HANDS OVER 2018 UACE RESULTS TO MINISTER

UNEB chairperson Mary Okwakol hands over the results to the minster of state for higher education, John Chrysostom Muyingo, who is representing the education and sports minister and First Lady Janet Museveni.


#UgandaToday

____________________________________

10:37am

2018 UACE: Getting your results

On your mobile phone:

Type UACE < Space> Index Number e.g. UACE U03400/001 and send to 6600 to get your results or those of your friends or family or visit https://ereg.uneb.ac.ug/results to access your results online.
#UgandaToday

____________________________________

10:33am

2018 UACE: Results of 91 candidates withheld

Odongo says that this time round, the results of 91 candidates from 21 centres were withheld. This has been done in accordance with Section 4(3) of the UNEB Act, Cap 137.

Some of the identified cases involved external assistance, substitution of scripts, smuggling of unathorized materials into examination rooms and impersonation.

And as is practice, the affected candidates will be accorded a fair hearing by UNED before a verdict is made.

Meanwhile, one centre numbered U2804 (Seesa HS, Kakungube) in Kasanda district has been withdrawn for "gross violation of examination regulations both at UCE and UACE".


#UgandaToday

____________________________________

10:33am

2018 UACE: Problems in sciences

The UNEB executive secretary says that in science disciplines, one of the problems identified was the theoretical approach to instruction, which reflected in how candidates answered questions. This, he says, was the same problem seen in the UCE exams.

There is very little practical experience imparted to the candidates. He points out scenarios where some candidates in Biology did not dissect their specimen provided and instead went on to draw diagrams from crammed memory.
#UgandaToday

____________________________________

10:26am

2018 UACE: Better performance than in previous year

From the analysis of the overall candidates' performance, a very high percentage of candidates - 98.6% - qualified for the award of the Uganda Advanced Certificate of Education, which Odongo says is similar to 98.5% of 2017.

Remember that to qualify for a UACE award, you need to get at least a Subsidiary Pass in a Principal level subject..

And at the gender level, female candidates have performed better than their male counterparts at all levels. A total of 41,296 female learners registered for the A'level exams last year - which is 41.6% of the total number of candidates who took the exam.

It is noted that while the gender parity has been attained at UCE (O'level) at the UACE level, the gap between males and females taking the exam is still wide, representing a ratio of 42:58.

There was an improvement in performance in 2018 compared to 2017 at the 2 Principal and above pass levels. More candidates have attained 3 Principal level passes.

We are told that the failure rate has dropped from 1.5% in 2017 to 1.4% in 2018.

Last year, there were 177 Special Needs candidates, compared to 192 in 2017. The categories under here include blind, low vision, deaf, severe physical impairements and dyslexic.


#UgandaToday

____________________________________

10:17am

2018 UACE: Absenteeism dropping

Uganda National Examination's Board (UNEB) executive secretary Dan Nkorach Odongo says the board is delighted to note that absenteeism is "gradually decreasing", with last year registering a 1% rate.


#UgandaToday

____________________________________

10:13am

2018 UACE: 'Smooth process'

Happening now at the President's Office in Kampala.

Uganda National Examination's Board (UNEB) chairperson Mary Okwakol says the exams were smoothly conducted from November 12 to December 6 under the theme: Integrity and security in the management of examinations is my responsibility.

Okwakol says 99,576 candidates registered to sit the exam from 2,094 centres. This was in comparison to 101,269 candidates from 1,918 centres in 2017 - a decline by 1,693 candidates (1.7%).

As many as 98,524 candidates appeared for the exam, compared to 100,066 the previous year, which is a decrease of 1,524 candidates (1.5%).

Meanwhile, we learn that 18,546 candidates registered under the UPOLET programme.

#UgandaToday

____________________________________
10:13am

2018 UACE exam results set to be released



#UgandaToday

____________________________________

10:10am

South African national dies in hotel in Kampala


New Vision's Henry Nsubuga:

Shock gripped workers and guests at Golden Tulip in Nakasero, Kampala on Tuesday night, when a South African national died in his hotel room. Preliminary Police reports indicate that Fred Johannes Steinberg, 54, arrived at Golden Tulip at around 8:00am on Tuesday. He flew into Uganda aboard Kenya Airways and booked into room 602 at the hotel, where he was discovered dead hours later.

The deceased was identified as regional director in charge of Africa for Commercial Refrigeration Services, a company based in Sandton, Johannesburg, South Africa. Before the Uganda trip, Steinberg reportedly made a stopover in Nairobi, Kenya, where he is said to have had business meetings. Police, quoting hotel staff, Wednesday said someone who identified herself as Steinberg's daughter called Golden Tulip hotel reception from South Africa at around 9:00pm, seeking to talk to her father.

"The daughter reportedly asked the hotel receptionist for assistance, saying she wanted to talk to her father but calls to his cellphone remained unanswered," a detective said.

Detectives have since secured the hotel's closed circuit television camera footage to establish what happened from the time Steinberg entered the hotel. Detectives said they found an assortment of human medicine in Steinberg's room. Steinberg's body was taken to Mulago Hospital mortuary for a post-mortem examination.
#UgandaToday

____________________________________

9:57am

Jiggers wreak havoc in Buikwe schools


New Vision's Henry Nsubuga:

Two Church of Uganda founded schools in Wakisi division, Njeru municipality in Buikwe district have been overwhelmed by jiggers.

Naminya parish priest Daniel Nsubuga Lubuto identified the schools as St Paul Mt Zion Primary School in Lukaaga cell and St James Church of Uganda Primary School in Wakikoola B cell. Lubuto said he was shocked by the condition of the pupils were during his pastoral visit to the schools last year.

"Most of the pupils' feet and fingers were almost rotting as a result of jiggers. I mobilised Good Samaritans, who joined me in extracting the jiggers from the children. We also disinfected the pupils," he said. Lubuto.
#UgandaToday

____________________________________

9:53am

Pressure piles on Kyaligonza, calls for his resignation

On Wednesday, internal affairs minister Gen. Jeje Odongo stepped forward on the floor of Parliament to deliver a statement on the recent incident of assault involving retired Maj. Gen. Matayo Kyaligonza and his two minders. The episode, caught on phone by bystanders, had traffic police officer Sgt. Esther Namaganda on the receiving end of a physical attack by Kyaligonza and his bodyguards.

Odongo said the two soldiers UPDF soldiers, a corporal and a private, were arrested and are under detention at the Makindye Military Police Headquarters. They will be subjected to the military judicial procedures, legislators heard.

The minister said Kyaligonza, who is Uganda's ambassador to Burundi, has been summoned by Police to make a statement to be used to "process this matter to its logical conclusion".

He was keen to underline that Sunday's incident is "regrettable and detestable" and that it is "our norm" that "no act of indiscipline by members of the security agencies will be tolerated".

When the cue for legislators to react to the minister's statement arrived, a barrage of criticism over Kyaligonza's actions ensued.


"The Code of Conduct of Public Service spells out the conduct of public officers and the disciplinary actions to take in the case similar to Kyaligonza's. By now the ambassador must have been interdicted," said Soroti Municipality MP Herbert Edmund Ariko (who is pictured above).

Mitooma Woman MP Jovah Kamateeka said the appointing authority should withdraw Kyaligonza. "I know the people of Burundi will not accept him. Kyaligonza doesn't reflect the character of Uganda, he must resign. He should also be held accountable by compensating the officer he assaulted."

Calls for resignation also came from Butambala MP Muhammad Kivumbi. "If there are issues under which public officers should resign, this is one of them. Kyaligonza carries a title of His excellency and that makes the case grave for a man of his caliber."
#UgandaToday

____________________________________

9:47am

Today's Ras toon

Following the Police officer Sgt. Esther Namaganda traffic incident at Seeta, Maj. Gen. Matayo Kyaligonza has warned that he is not a person to joke with.


#UgandaToday

____________________________________

9:40am


Muted reaction to Buhari's re-election in Nigeria



He was welcomed as the "Messiah", a skilled former military man and anti-corruption champion who would tackle the insecurity and graft that have blighted Nigeria for decades.

But four years after he was first elected, there was no repeat of the fireworks and dancing in the streets to mark confirmation of Muhammadu Buhari's second term as president.

Some blamed the fact that most people were sleeping when the result was confirmed on Wednesday morning. Even several hours later, though, the celebrations were muted.

In Lagos, Nigeria's bustling commercial centre, where Buhari won a tightly fought contest, the daily hustle carried on as normal.

"Look at the faces of the people, look," said 63-year-old Ade Monday, from his perch on a bench overlooking the teeming markets of Obalende in the south of the city.

In 2015, celebrations in the area were joyous, he said. "Last time people thought he was like the Messiah coming but now look, the Messiah has failed us."

Buhari himself warned when he was first elected that the weight of expectation was unrealistic, whatever the dissatisfaction of people with the outgoing government.

In many respects, last Saturday's election was a referendum on his first term -- and the reception to his win a sobering dose of reality.

During his first term there was a 15-month recession caused in part by falling global crude prices that led to millions of job losses.

Almost half of the country are unemployed and under-employed (43 per cent), reliant on barely manageable daily wages.

Some 87 million people -- nearly half the country -- live in extreme poverty on less than $1.90 a day, reflecting the gulf between a monied minority and almost everyone else.

Insecurity is widespread, not just the Boko Haram Islamists Buhari pledged to eradicate. Bribery and corruption remains a part of daily life.

In Kano, a city in the heart of Buhari's support base in northwest Nigeria, celebrations were also more subdued compared to last time round.

"In 2015 there were celebrations as soon as Buhari was declared the winner because the announcement was made in the afternoon," said shopkeeper Yusuf Abdulaziz Baba.

"I didn't sleep until after the declaration, I was listening to the radio all night long," said Yusuf Abdulaziz Baba, a young shop owner in the old part of the city.

He and a dozen other young men quietly tidied outside the campaign office of Buhari's All Progressives Congress (APC) party before afternoon celebrations.

Eventually, crowds took to the streets, waving wicker brooms -- the APC symbol -- and shouting "Sai Baba!" (Only Buhari), his Hausa-language campaign slogan, and "Four more years!"
#UgandaToday

____________________________________

9:35am


Mozambique president, Renamo leader resume peace talks



Mozambique's president and leader of the main opposition Renamo held peace talks on Wednesday, reviewing efforts to integrate former rebels into the police and army, the presidency said.

It was the first meeting in eight months between President Filipe Nyusi and Ossufo Momade, who was named the group's leader in January after the death of the party's veteran head Afonso Dhlakama.

The pair met "to review progress made in the implementation of the memorandum of understanding on military matters and set out the next steps to speed up the process," the presidency said in a statement.

In the mid-1970s, Renamo fought a brutal 16-year civil war against the Frelimo government that left one million people dead before the fighting stopped in 1992.

The group has since transformed into a political party but it retains an armed wing, with fresh clashes erupting in 2013 between Renamo rebels and government troops.

The fighting lasted three years, with peace talks beginning in 2016 between Nyusi and Dhlakama.

The last time they met in July, Nyusi and Momade made progress on key sticking points -- the disarmament and integration of former Renamo rebels into the police and army.

And at Wednesday's talks, the two hailed "effective" progress.

"The two leaders reaffirmed their determination to continue and maintain dialogue at the highest level.. and agreed to sign a peace agreement marking the ultimate cessation of hostilities as early as possible," the presidency said.

Mozambique goes to the polls in October to pick a president, members of parliament, provincial governors and provincial lawmakers.
#UgandaToday

____________________________________

9:30am


'5,000 cases of tropical parasite in Libya'



At least 5,000 cases of a potentially deadly tropical disease have been registered in Libya in the past six months, the country's health ministry said Wednesday.

Leishmaniasis, which is caused by a microscopic parasite spread by sandflies, creates ulcers and disfiguring scars, and one variety can attack internal organs.

It is often associated with poverty and poor urban sanitation.

"There are currently 5,000 patients who are being treated," said Ahmad al-Qarari, who heads the centre for disease control at the health ministry of Libya's UN-backed unity government.

But he told AFP that these were only cases which have been registered by the authorities, noting that the extent of the problem remains unknown because some patients do not seek treatment.

Qarari said the World Health Organization was providing Libya with treatment from India and that a new batch of medication was due next week.

Most of the cases were registered along North African country's Mediterranean coast west of the capital, Tripoli.

Mansour Souleiman said he contracted the disease while harvesting olives in December.

"I noticed small lesions (on my skin) and at first I thought they were caused by insect bites," he said at a clinic in Tripoli where authorities provide treatment.

Within a month they became ulcers, he said.

According to WHO estimates published in 2018, there are about 700,000 to one million cases of leishmaniasis globally every year, with 20,000-30,000 people dying of the disease.
#UgandaToday

____________________________________

9:25am


Fiery crash at Cairo train station kills 20



A hurtling locomotive crashed, derailed and caught fire at Cairo's main train station on Wednesday, killing at least 20 people in the latest disaster to strike Egypt's rundown railways.

The country's transportation minister resigned hours after the accident.

The train engine appeared to have slammed into the buffers at the end of the track at high speed, sparking a major blaze that blackened the walls of the Ramses station.

Firefighters were seen hosing down the charred wreckage of the locomotive as security forces guarded the site.

Twenty people were killed and 40 injured, the health ministry said.

Ahmed Ibrahim, a jewellery salesman, said he was on his way to work when he heard a loud explosion.

"I ran to see a lot of people injured. I had to carry a young girl with my own hands," he said, apparently still in shock.

"I saw bodies cut in half. I'd never seen that... I never thought I'd ever touch dead bodies."

The train driver was arrested and an official investigation is underway, the prosecutor general said in a statement.

It said the driver had left his cabin without turning the engine off, so that the train careered onwards at full speed before smashing to a violent stop.

CCTV footage circulating online showed the locomotive smashing into the barrier without slowing down. People walking on the platform were enveloped by smoke.

Separate footage filmed inside the station showed a fire engulfing the train and a nearby platform and people rushing to help the casualties.

Photos that emerged after the crash showed several scorched bodies scattered around the wreckage.

Several people were seen in videos running around and screaming for help after catching fire.
#UgandaToday

____________________________________

9:20am


Sudan slams Western powers for rebuking state of emergency



Sudan has hit back at Western powers for calling President Omar al-Bashir's decision to impose a nationwide state of emergency a "return to military rule" in the African country.

The United States, Britain, Norway and Canada had on Tuesday rebuked Sudan over the state of emergency.

"Those countries have no right to intervene in Sudan's affairs," Khartoum's foreign ministry said in a statement.

"In President Bashir's measures they saw only the state of emergency but not his call for holding a dialogue," the statement said.

"The state of emergency will not impact freedoms of people and their rights".

Bashir declared the year-long state of emergency on Friday after a sweeping crackdown led by security agents failed to suppress more than two months of protests against his three decades in power.

The president also dissolved the federal and provincial governments and appointed 16 army officers and two officers from the feared National Intelligence and Security Service as provincial governors.
#UgandaToday

____________________________________

9:15am


Frustration drives Algeria's 'shockwave' protests



Mounting frustration at their ailing president's bid for a fifth term has brought protestors to the streets in Algeria, where Abdelaziz Bouteflika is the regime's candidate for April elections.

Bouteflika, in power for 20 years, has rarely been seen in public since a 2013 stroke. He is currently in Switzerland for what his office calls "routine medical checks".

Thousands have taken to the streets to protest against the 81-year-old's candidacy in recent days.

Did the government expect protests?

The authorities were probably aware that a bid for a fifth term would be unpopular.

But it was difficult to foresee how the nearly unprecedented protests would escalate so quickly.

Complacency may have set in because Bouteflika's successful 2014 bid was accepted "relatively easily", according to Louisa Dris-Ait Hamadouche, who teaches political science at the University of Algiers 3.

For Zoubir Arous, a sociologist at the University of Algiers 2, the architects of the bid for a fifth term "have made a big error".

"They did not anticipate that society had reached this level of maturity and (political) consciousness," he told AFP.

The government's stubbornness in sticking with Bouteflika even amid protests "is an under-estimation of the shockwave" already in motion, Arous said.

For fellow sociologist Nacer Djabi, the regime did not see the protests coming because its leaders have "lived in isolation for 30 years and are cut off from the people".
#UgandaToday

____________________________________

9:10am


DR Congo child soldiers surrender arms and amulets



"For me, the war is now over." If words alone carry weight, there are hopes that a brutal conflict in Democratic Republic of Congo may draw to an end.

The words were spoken by Mado, a hard-eyed child fighter all of 12-years-old from the deeply-feared Kamuina Nsapu militia in central Kasai region.

Along with several dozen adults, the young girl marched out of the brush and into the town of Kananga, some 700 kilometres (450 miles) east of Kinshasa, where they surrendered their weapons.

There they laid down old rifles, machetes and good-luck charms at the governor's feet following the surprising victory of Felix Tshisekedi who was elected president after December's elections.

Like most of the Kamwina Nsapu fighters, Tshisekedi comes from the Luba tribe.

With them were two other children -- one aged about 10 who had a red bandana around his head and a large hunting knife in his hand. Red is the colour of the militia, which mixes politics with mysticism and took up arms against Kinshasa in August 2016 after its tribal chief, known as the Kamwina Nsapu, was killed by troops.

Since then, the uprising has claimed at least 3,000 lives and displaced another 1.4 million people. The conflict eased off in 2017 and the situation has further improved since Tshisekedi took office in January, ending the 18-year iron-fisted rule of Joseph Kabila.

Dressed in a filthy skirt and tattered vest, her feed bare, Mado lays down her amulet alongside a small knife and a red bandana. She was a "Yamama", she explains, a girl fighter who had been encouraged to join the militia by her father.

"There were 10 young people. One of us is dead. Our job was to save our country. Before heading off to war, we went to a tshiota (initiation site) to call on our ancestors for help."

Regional governor Denis Kambayi, whose presence seemed to intimidate her, accused the militia of co-opting "young prepubescent girls by giving them amulets".

"They tell them that they are invincible," he said.

When such children turn themselves in, they are sent to UNICEF, the UN children's fund, which takes them to a centre to help re-educate them. There, Mado gets her own brand-new set of clothes and the shot at a very different future. "I want to study," she says. Her dream, she explains, is to become a primary school teacher.
#UgandaToday

____________________________________

9:07am

Around the continent

What's going on around Africa, you wonder?

A brief look at that next up . . .
#UgandaToday

____________________________________

9:02am

Today's inspirational quote

It's the conclusion of the second month of the year but on this day, candidates of last year's Uganda Advanced Certificate of Education (UACE) - or A' level, if you prefer - national examinations will get to know the fruits of their labour today.

And for that reason, I thought I would inspire you along those lines . . .

"Success is not final; failure is not fatal: It is the courage to continue that counts."

There you go.
#UgandaToday

____________________________________

9:00am

Good morning

It's the last day of February. I am glad you are here. Before we march into a new month, let's get this day out of the way.

Time to clean off the dirt and ready ourselves for a brand news chapter.

So how about a dollop of inspiration to get us started, huh?