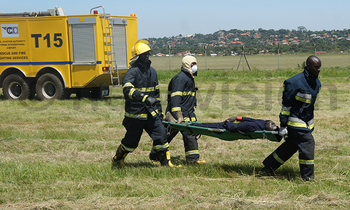 An aircraft with a pseudo name 'Speed Air TA 042' and carrying 82 passengers on board, was hijacked on Wednesday morning while flying over Uganda's airspace before the pilot was ordered to land at Entebbe International Airport.
After a protracted "hostage negotiation and rescue mission," the aircraft was cleared to proceed to the initial destination but "crashed" on take-off, with passengers and crew on board.
This was the simulated scenario during a mandatory full-scale emergency exercise conducted to test for Entebbe Airport's readiness in case of such circumstances, as one of the requirements for the International Civil Aviation Organisation (ICAO).
The exercise presumed that some people lost their lives and a number of survivors were critically injured, which sparked off a mock emergency situation involving airport firefighters and other rescue agencies that were called in to save the lives.
Medics plus ambulances from various hospitals were summoned, where those assumed to be in critical condition, were rushed to hospitals in Entebbe and Kampala.
According to Fred Bamwesigye the deputy managing director for Civil Aviation Authority (CAA), this was the first time where simulation of an aircraft hijack and a hostage-taking situation was conducted, away from the usual aircraft assimilation exercises and fire drills.
"This time, the emergency situation featured aircraft hijack and crash, with both activities being held one after the other," noted Bamwesigye, terming the exercise as a success.
Vianney Luggya the CAA public affairs manager remarked that, unlike the previous emergency exercises, this one was conducted in a likely actual situation, whereby most of the workers at the airport and other stakeholders were caught unaware.
"This is the same reason why even media was blocked from accessing that scene, only to be briefed later on," said Luggya.
He added that this time around, more security agencies were involved including, Uganda People's Defence Air Force, Uganda Police Air Wing and the Aviation Police among others.
Entebbe among the best
This year, CAA and Entebbe airport were awarded the prestigious ISO 9001:2015 Quality Management Systems (QMS) certificate by the United Kingdom Accreditation Service (UKAS), following compliance with stringent requirements.
ISO certification implies that the holder has systems and processes in place that meet the needs of all interested parties in the aviation industry, among which include; security and safety of airport users and their luggage.
Luggya noted that, this was the second time CAA and Entebbe airport were receiving the prestigious certification, after the first ISO 9001:2008 was issued in 2016.
"A team from UKAS and ICAO keep monitoring and making an assessment whether we have not deviated from the set standards. After that close supervision from both teams plus other key players in the aviation industry, we were found to have maintained a high standard in service delivery, hence our certificate was renewed," explained Luggya.
Passenger increase
Bamwesigye the deputy managing director stated 190,264 as the number of additional passengers who used Entebbe airport in 2018, making a total of 1,840, 264 way above 1.65m passengers registered in 2017. He attributed the increased number of passengers, to Ugandans traveling for external employment in the Middle East, plus the increase in the number of tourists visiting the pearl of Africa.