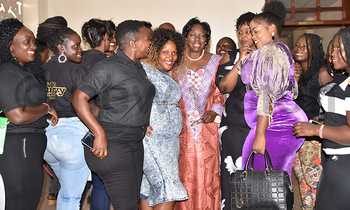 Clad in tight-fitting jeans, and black t-shirts, Miss Curvy Uganda contestants stormed Parliament on Wednesday seeking an audience with the Speaker of Parliament Rebecca Kadaga to set the record straight about the controversial pageant.
Led by Anne Mungoma, the chief organiser of the inaugural edition of the pageant, the ladies defended the pageant saying it was misconceived by Ugandans as one that is aimed at promoting sex tourism.
"We felt offended when critics of this pageant, branded our event as one aimed at promoting sex tourism and this is not true. We want to showcase Uganda through fashion and dances as curvy women," Mungoma explained to Kadaga.
According to Mungoma, curvy women have over the years been sidelined as not attractive and competent enough to take part in beauty pageants such as Miss Uganda, with only slim women being considered.
Mungoma noted that just like the slender Ugandan women, curvaceous women have the potential to promote Uganda using their abilities.
"Many Ugandan women are created in a plus size way, so we want to use our beauty and size to promote tourism. We believe anyone is a tourism ambassador," she said.
She noted that because of the increasing stigma against plus size women, many plump women including school children, have been affected with some girls dropping out of school.
To gain confidence, Mungoma said the Miss Curvy pageant is one of the avenues through which, she wants plus-sized women to have confidence and show the world that they size matters.
At Parliament, some of the contestants who turned heads among MPs, journalists and Parliament staff, shared their experiences and challenges as plus-sized women.
Esther Among told Kadaga that the pageant was a good platform for women like her, saying she has been underlooked and stigmatised for her body.
"It is not a choice that we are plus sized. Imagine marrying with small body size, give birth to children and you gain weight and all over a sudden, your husband chases you away saying you have gained weight and he tells you, are not the woman I married. We have to embrace these women," Among said.
The organisers explained to Kadaga that the pageant has been recognised as a beauty pageant around the world including in Africa, with countries like Nigeria having annual pageants.
Mungoma said they would use the pageant, to promote tourism through cultural dances, fashion among other tourist attraction avenues to promote Uganda.
"Count on me"
Seeming convinced, Kadaga appreciated the organisers for the idea, pledging to support the event. She admitted to having a misconception about the pageant being aimed at promoting sex tourism.
"I thought I should give you the opportunity to be heard. There was a perception that Miss Curvy was for sex tourism but it is like any other pageant such as Miss Uganda and Miss Earth. I am happy I meet you to explain this to me, you can count on me," Kadaga said.
Kadaga who had initially opposed the idea of Miss Curvy noted that plus-sized women should also be given a platform rather than being discriminated against.
She noted that winners of the Miss Curvy pageant can always partner with people like Miss Uganda Quiin Abenakyo and promote the country using their beauty and talents.
Bunyole West MP James Waluswaka who rushed to Kadaga's chambers at Parliament to catch a glimpse of the contestants said he was in support of the pageant, adding that it had been misunderstood by Ugandans as one aimed at promoting nudity.
The pageant which has received the endorsement of the ministry of tourism has since been opposed by members of the public including religious leaders, politicians and the civil society as one aimed at promoting sex tourism and objectifying women.
Kadaga however assured that she would sell the idea to Parliament, saying the pageant has great benefits for the country.