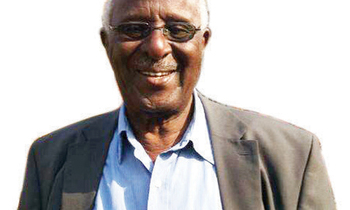 FARE THEE WELL
KIRUHURA - Residents of Ankole region and in particular Kiruhura district will on Sunday February 23, 2019 lay to rest 93 year Mzee Hezron Kakuyo who is the father of Uganda National Roads Authority Executive Director Allen Kyoheire Kagina, Makerere University Council Chairperson Lorna Magara, Jocelyn Kyobutungi Rugunda wife to Prime Minister Ruhakana Rugunda and Caleb Kakuyo, the former Chief Commercial Officer at the National Housing and Construction Company among others.

Kakuyo, who passed away at the age of 93 on Tuesday due to heart attack while travelling to Kampala for treatment will be laid to rest Sunday at Kikatsi, Rwandorwera, Nyabushozi, Kiruhura District.

Kagina in an interview with Saturday Vision noted that her father died at around 6; 30 am on his way to Kampala. "I got a call at around 100am on early Tuesday morning that my dad was in pain. I talked to him and he indeed and realized we couldn't wait until daybreak I sent two people to bring Mzee. On the way here, I spoke to Mzee three times and the last time we talked was at around 5; 30 am. He was quite weak,"

Kagina said. After about an hour one of the people who had gone to pick him called her up and told her that Mzee had stopped breathing. "It didn't register in my mind immediately that he was dead" crestfallen Kagina said.

Dr. Ben Mbonye one of the Directors of Nakasero hospital that was supposed to attend to him told mourners at his vigil that he got a message from Kagina on Tuesday morning at around 6 am informing him that Kakuyo was on the way to Nakasero hospital. "We agreed we should see him first thing in the morning. When I sent her a message to find out details about the medical visit, she told me Mzee had gone to be with the Lord," Mbonye said.

Kagina says that they rushed to the hospital and when the vehicle arrived family members could not believe that their pillar could not speak or breathe anymore. "It was traumatizing because to me he was larger than life," she says. She says that Kakuyo was a healthy man and even though the postmortem report indicated he had died of heart attack, during his last check up, the doctor said he was in an amazing shape of his age.

To many, Kakuyo was a trail blazer and a true leader of his time. Not only did he instill great values on those whose lives he touched wherever he was posted to work both as administrator , Sazza Chief and also a Provincial Secretary.

He was a pillar who touched a great generations and left his pattern forever imprinted in their hearts.

Who was he?

Born on February 2, 1926, Kakuyo joined Kinyasano Elementary Vernacular School between 1935 - 1940, Kigezi High School 1940 - 1941, Mbarara High School 1941 - 1943.

He would later join the Kings African Rifles between 1944 - 1946 and trained in the East African Army Medical Corps, qualified as a NursingOrderly and was sent to Burma during the World War II.

When the war ended, he trained as a Medical Assistant, Masaka Medical Training Centre. 1947 - 1949, qualified and worked as a Medical Assistant,Masaka Training Centre as a Tutor for one year in 1950.

Between 1951- 1954, he worked as a Medical Assistant in Kabale Hospital & Rukungiri Medical Centre as Officer-in-Charge.

In 1954, he was appointed as a Gombolola Chief in Nyakagyeme, Rujumbura County, in Rukungiri district. Between 1957 - 1958 he went back to Britain and took a course in Public and Social Administration and he obtained a Diploma in Public and Social Administration.

In 1959 November he became a Sazza Chief of Kinkizi. 1964 - 1969: -Became District Commissioner Kasese district and later also served in the same position in Fort Portal in charge of Tooro region and In Masindi in charge of Bunyoro region.

1972-1974 he was appointed District Commissioner Busoga District based in Jinja. 1974 -March, 1976: he was appointed the Provincial Executive Secretary (Deputy Governor) Busoga Province.

He retired from the Civil Service in March 1976. 1980 he worked as Chairman, District Service Committee, and Mbarara district for one year.

Between 1982 - 2011: -Worked as a Councilor, Kikatsi LC3 in an Advisory capacity as an Elder. He then retired in 2011 and settled on his farm in Kikatsi sub-county, Nyabushozi County in Kiruhura district.
He was married to Catherine Kyonyoyo with whom they had 10 children but lost two of them. Kyonyoyo passed on in July 1985.

In 1988, Kakuyo remarried Vaster Kyampeire and had six more children. He is survived by children, grandchildren and great grandchildren. He was a committed person and a dedicated public servant with a great mind and kind.

Kakuyo has also been described as a great administrator who was respected and held in high stature. Many who spoke at his vigil described him as very professional with his work and he had the drive of integrity in everything he did. He had no need to look over his shoulder wondering if anyone had seen him do anything wrong. To many his legacy will never be forgotten.

Recalling his father's wisdom in resolving issues, his son Caleb told mourners at the vigil in Mutungo of an incident in 1964 when he was sent to quell the Rwenzururu revolt in Rwenzori. "In 1964 when Kakuyo was an Assistant District Commissioner in Kasese, he received instructions from the then Prime Minister Apollo Milton Obote to go to Bwera and crush a rebellion by the Rwenzururu kingdom. Kakuyo was given a police unit together with the General Service Unit Personnel to go and fight them," Caleb narrated.

On reaching the ground where the rebels had assembled and while at a distance of about 100 meters, he tried he send his emissaries to go and speak to them but they all feared.

"He then informed the leader of the troops to form an extended line and be ready to fire at them. But then he realized that the rebels were armed with bows, arrows and spears. With his experience of war in Burma, he realised this would be a massacre. He asked one of the officers to get him a loudspeaker so that he could talk to the rebels to surrender and go back home. That was what he did and they war ended," Caleb noted.

Supreme Court Judge Justice Jotham Tumwesigye who is a relative and a friend to the deceased said he was very much interested in discussing public affairs. "Whenever he was with me, he would not hesitate to ask questions."

"You couldn't avoid him. He was so friendly and always looked for people and told them how they were related," Tumwesigye said. He urged the children to follow this up because it helped cement people together.

Moses Ali Second Deputy Prime Minister recalls his first meeting with Kakuyo when he was the Minister of Provincial Administration. "That is how I got to get in touch with Mzee Kakuyo. He was the Provincial Secretary in Jinja. As a Minister of Governors and District Commissioners we had had several meetings and I had personally been to Jinja and we had exchanged telephone contacts with Mzee Kakuyo. At the time you didn't know when you would face problems and would need quick support," Ali told mourners

He noted that a lot of information on key Government officials was being fabricated at the time and that Kakuyo faced the similar fate causing him to flee the country to Rwanda. "We agreed that he should find his way out of the country and he left for Rwanda. We studied the situation until it cooled down and then allowed him to come back and we defended his absence and he was reinstated," Ali said.

Former Commissioner General of Uganda Revenue Authority, Elly Rwakakoko described Kakuyo as a very wonderful parent and that his loss was a very big loss. "He was always talking about unity and when received the call from Allen that he had passed on it was shocking. I was very depressed. He has gone to rest. If you look after children very well. You never die. You just rest," Rwakakoko said.

He thanked all the children for the support had they rendered to Mzee Kakuyo. He assured the family that they would stand by them during this trying moment.

What others said about Kakuyo

Conrad Nkuutu (Tullow Oil Uganda's Head of Corporate Affairs)

Nkuutu's father Shaban Nkutu, was post-independence minister for works who was kidnapped by Idi Amin Soldiers in Jinja in January 1973. At the time Kakuyo was a District Commissioner in Jinja.

"Three members of my family approached Kakuyo and asked him for emergency assistance as District Commissioner of Jinja when my father was abducted by Idi Amin's Military Intelligence officers led by Captain Issa Habib Galunbe in Jinja in January 1973," Nkutu said.

Nkutu says that they were told me that Kakuyo tried his best with strenuous and desperate appeals for Dad's life to the Garrison Commander of Gaddafi Barracks, Col Hussein Mohammed, who firmly rebuffed him with lies and threats during a meeting they held with him at Crested Crane Hotel.

Col Hussein Mohammed claimed angrily that "Hon Shaban Nkutu has already been freed by the army and returned to his residence at Rippon Gardens (Jinja). Find him there and never ask me about him again!"

Meanwhile President Amin was announcing that former Cabinet Minister Shaban Nkutu had fled to Tanzania and anyone with information leading to his capture will receive a Shs500, 000 reward.

The late Kakuyo was traumatized by the gunfire abduction, brutal murder and seeing shop keepers abandoning unlocked shops and fleeing Jinja town when word went out that Dad's body had been recovered from the River Nile, followed by the disappearance of his body in the hands of the army and police, from Jinja Hospital Mortuary.

In later years Nkutu met Kakuyo's son Caleb Kakuyo who told him that his Mzee Kakuyo has told his family that story every Christmas, saying it was his worst experience in decades of public service.

Allen Kagina

We were a large household. My dad had ten children with my mother before he later on remarried and had six more children but the household had more people because we had cousins and nieces living with us. We had a lot laughter, fights, playing and one felt the sense of this great big and warm family. My father was extremely loving to the of spoiling us, especially the girls. He would be tough with the boys where necessary. My earliest memory of him is that he would want us to exercise with him each morning.

Attending was church was not an option. Education was a must. In those days girl's education wasn't as big as boys but for us there was no such concern.

What I picked from him and which for me it has been the guiding light in my career is hard work, no room for slackening. Whatever you put your hands to do, do it well. Don't do mediocre work. Make sure whatever you do, do it with integrity and what you say should be consistent.

Since my dad passed. I have had so many people send me messages either telling me how he impacted on their lives. He was kind not to just us but even strangers. That was him.

My father got saved in 2007. He told us that one night he was sleeping and at about 4 am in the night, he had a voice asking him, what more do you want in life? What have I not given you? He said that at that point he reflected and realized that God had given him everything he had ever asked for. God had given him life, family, wealth which was enough for him and so got up from his bed, knelt by the bedside and gave his life to God.

He loved the bible so much and would call you and quote a scripture. He prayed for us every single day. He would call me and ask me about work and also tell me he was praying for me and that he knew it was a tough job. The faith of this man was incredible.

When he retired he went into farming. He loved cows and even at 93 he would wake up at 5 am to wake up the farm workers to milk cows and take them out to graze. I found this an amazing thing. It was a carryover from his life as an administrator because he was always up even then.

Ruhakana Rugunda, Prime Minister Uganda

My home in Kabale is part of the Kabale Municipality. As a young boy I would go and listen to the district Councilors and Chiefs in the late 50's.

After the Lukiiko meeting I saw a smart man moving out and I asked who he was and I was told it was Kakuyo. I was interested in knowing more about him since he was our saaza Chief.

20 years later I got into a relationship with a young lady who coincidentally was his daughter and that was how he became my father in law. I would say he was a Ugandan who had in his 93 years of life given enormous contribution to the development of Uganda especially in the field of governance, in the areas of Public administration, uniting the population, development especially in different parts of the country where he was an administrator, he helped develop a sense of nationalism and fought against narrow thinking.

He laid a special foundation for his family and the special areas where he touched. He had immense experience having started off as a health worker, he was in involved in the Second World War, and he went for specialized training in the United Kingdom. He was a great administrator, a great trainer of young people and he was sharing widely his knowledge.

He discussed with the young and old, gave them wise counsel, never failed to raise mistakes if he felt they had been committed. Its people like him that Uganda needs. Those who will call a spade a spade, and who would be looking for positive things in somebody and not negative things.

He had passion for education and supported many youngsters whose parents were unable to pay school fees. You would find children both biological and non-biological children at his home and he was investing in them for the common good for the country.

He built relationships. In many areas you go to throughout the country you will find people he worked with asking about him. He tried to get the best out of people. Reduced conflicts like in the Kasese-Bwera case. He wanted to solve issues logically and not mechanically. That openness of bringing up children who make mature decision and who are not chained or stopped because of tribe or clan or ethnicity, I regard that as very good up bringing where we the parents of today need to learn from that experience.

The way he treated Ben Mbonye. He was the best friend to Mbonye's father and also best man but when the young Mbonye was going to school, he took over and fully acted as his father. He looked at children in a broader sense.

We should emulate Mzee Kakuyo and learn to work for our country first. We must search for knowledge. He was not satisfied as medical assistant, he was not satisfied in administration, he kept on looking further and using that knowledge to support the country. Having children who are broad minded and open and look at the world in a holistic manner. He was also someone who would tell you his mind whether you liked it or not.

Susan Muhwezi

Mzee Kakuyo who we called Grand Pa, was a pillar in the family, society and nation at large. He stood so tall, was a gentleman with passion, nobility and he looked after so many of us. When our father died he took care of us as a family and made sure that I together with my other siblings from the Kabonero family including Richard and the others got married.

He was always there when you needed him without being imposing. He had such a generous heart. He was the one who personally drove me to Namasagali College in the early 80's when the security situation in the country was tense.

I would come for holidays at his home and his wife Catherine was a very kind woman. We were many children and we fitted in the house well. We loved him. He was the uncle, Great Grand Pa. Do you know what it is like having a grandfather who is speaking fluent English and is smart?

He made you feel great in his presence. You knew you were the best and his favorite and everybody felt so.

He could call you to find out how you were faring on in marriage. He would talk to me and at the same time talk to my husband Jim. He was a pillar.

What I have learned from his life is that he is a nationalist and you can tell this from the diversity of people in his family. His was a truly refined human being. He commanded respect. He encompassed goodness.

The legacy he lives behind which we can emulate is that we should love one another irrespective of whether we are related or not.

Kakuyo was not tribalistic. He looked at the good in people. I loved him and showed it to him. There was nothing I wouldn't tell him.