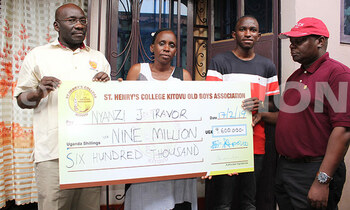 EDUCATIONT|CHARITY

WAKISO - The New Vision on February7 published the story of 17-year-old Trevor Jonathan Nyanzi of Kirinya, Bweyogerere in Wakiso district calling out good Samaritans to help him obtain school fees for his A level education.

Following his appeal for support, the old boys of St. Henry's College Kitovu through their umbrella body, St. Henry's College Old Boys Association (SHACKOBA) have come to his rescue with a full scholarship for his A-level education at the Masaka based school.

A group of representatives from the association recently visited Nyanzi at his home in Bweyogerere and handed him a cheque worth shs9.6 in school fees support for his S5 and S6.

Nyanzi is a former student of Kingdom High School in Wakiso district and scored aggregate 10 in last year's UCE exams but his future until Sunday remained uncertain after his mother's illness and job loss.

At his former school, he was always a school fees defaulter but was lucky to be allowed to sit his final UCE exams without full payment of the fees.

However, after completing his exams, he tried to do casual labour at the school in a bid of offset the debts accumulated in the previous terms after his mother failed to raise the fees amounting to sh1.8m. He, however, was unable to offset this big debt.

This support from SHACKOBA comes as a huge relief for the family. Nyanzi expressed uncontainable gratitude and pledged to continue studying hard. "I am so excited that God has answered my prayers and I promise my sponsors and my mother that I am not going to disappoint you, I will study and become a doctor," an ecstatic Nyanzi said.

His sickly mother on the other hand couldn't help but cry and kept expressing her amazement at how God had chosen her son in a country full of very many needy children.

The SHACKOBA team was led by the association president, Apollo Kivumbi. Also part of the team were other committee members including Emma Matovu Bugoba, Raymond Sawula, Zziwa Charles and Peter Ateenyi.

During this visit, Kivumbi stated that handing Nyanzi the cheque marked SHACKOBA's official launch of a new Scholarship Scheme meant to benefit new students to study at the college and that Nyanzi was the first beneficiary.

"The old boys association has been having a scholarship fund for the best S.4 students who have been at St. Henry's College Kitovu. As of today, 14 students have benefited from the fund. This fund is still ongoing," Kivumbi explained.

He also called upon members of Civil Society Organizations, parents, companies as well as members of the public to come together to pool funds for the scheme to enable many more disadvantaged students and individuals attain education.

This is part of the projects that the old boys and the school have ear marked to work upon as they prepare to celebrate 100 years of its existence in 2022.